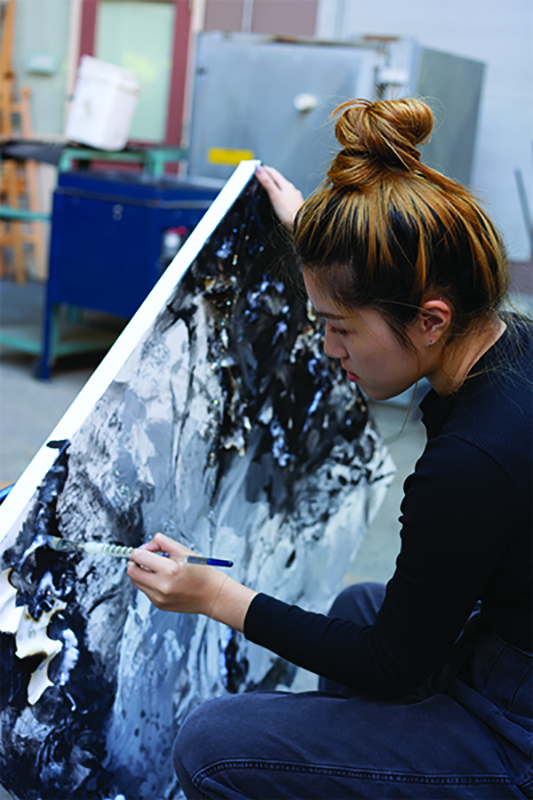 From actors to artists, Paly's artistic culture is a breeding ground for talented youth. One individual, Jennifer Wu, has shown an outstanding ability to overcome obstacles and achieve the goals to which she sets her mind. Wu has always found a great love for art and at the young age of three, she began broadening her skills by taking classes. From there, she recognized the value of her skills and began to explore her artistic expression. It wasn't until her freshman year of high school, that Wu decided she wanted to commit to an art college. Ever since then, she has worked extremely hard to ensure this dream becomes a reality.
In the summer of 2018, after completing her sophomore year at Paly, Wu enrolled in RISD Pre-College, a six-week-long program designed for visual artists. The days were long, and with eight hours of class and eight hours of homework, sleep proved to be essential to complete this work. Although there were many late nights, she learned how to efficiently manage her time as the intensive work persisted.
Another hallmark of Wu's high school art career was the Congressional Competition. Because contestants were allowed to submit up to two art pieces per year, preparation work for the competition was long and laborious. These requirements, however, compelled her to challenge herself. Wu was able to compose two pieces for the competition, each averaging out between 60 and 65 hours of work. "After the competition I was featured on the headline for World's Journal and S.F News," Wu said.
She has entered competitions and had her art displayed in exhibitions, all while further exploring and creating pieces. Wu has had her art featured in the Palo Alto Art Center and the Palo Alto district office. "Last year in China, I did an international abstract painting show; in that show I listed my painting for 7K and receive the new talent award." Wu said. " I donated one of my art pieces to the school wellness center." These exhibitions are not only an opportunity for others to view her art, but they also show her prestige as an artist.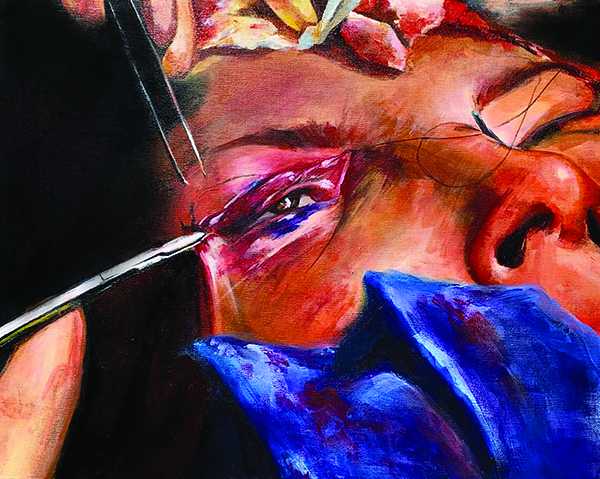 Through her time as an artist, Wu has been able to focus her talents on one particular aspect of art: fashion. By challenging herself with art and fashion, Wu continuously improves her artistic skills. For example, to expand her abilities and concepts behind her art, Wu uses uniquely different mediums such as, oil paints, fabric collages, gouache and digital art for each piece she creates. "The mediums I use differentiate from every art piece I make," Wu said. "I usually pick which ever material will perform best and tell the story the best." As Wu explores a variety of ways to create and deliver her art to convey a message, her pieces are not restricted to one style of creating art, or even traditional art form.
In her portfolio, Wu first displays a series of traditional oil paintings that show her technical skills. These paintings she created when she first began exploring art do not lack in concept, but focus on painting skills she has worked to develop over time. As Wu advanced her skills, she began to expand her style in subsequent pieces as she became more certain of what she wanted to convey in her art. "In my latest realistic oil painting, "Old Beijing," there was a little change in style because I am more sure of what I want," Wu said. "Old Beijing" displays of a snapshot of a group of men, with one leaning on a red pole. In creating this piece, Wu looked to Matisse and Munch for inspiration, drawing from their brush strokes and paint application.
"After my realistic period, I developed who I am as an artist, making art with ideas or social problems that I truly believed in," Wu said. Wu began to break stereotypes and create art that conveyed her personal thoughts and opinions. As she became more comfortable with her personal style, she created the painting "Breakthrough." "In 'Breakthrough,' I see this painting as a midpoint in my high school art life. I wanted to show how I've broken out of the 'Asian standard artists' stereotype, only able to paint photo-realistic oil painting, through my fashion, abstract and emotional pieces I painted later on," Wu said. In creating this piece, Wu drew inspiration from Anthel Adam's black and white landscape photographs. Drawing from the monochromatic nature of these images, Wu created an abstract series using similar color schemes.
Wu wants to channel her artistic talents into the fashion industry to contribute to changing society's standards. "I want to have an exclusive brand with no bias, no exceptions, making everyone's dream to feel beautiful and confident," Wu said. "I know this is an ambition, but this is why they say so 'dream big or go home' right?" As a fashion designer, she aspires to break stereotypes, beauty ideals and reach inclusivity beyond size 0 models. She wants consumers to feel confident and careless about judgment while wearing her clothing designs.
In creating art and conveying her thoughts on social issues through her pieces, Wu has also explored who she is as a person and an artist. "I would say I'm a very dual-personality artist," Wu said. Growing up in a traditional Chinese household has not always been easy for Wu and her goals as an artist, as her family often did not understand her decisions in pursuing art. "They support me to do the art I love, although I did have a hard time explaining some of my more emotional and abstract art to them," Wu said. Even so, Wu's family supports her in traveling to exhibit her art and meet with representatives from internship companies or colleges. Her siblings are also involved in art, as her older sister is an opera singer and her younger sisters are dancers and ice skaters.
Wu provides an inspiring example of a struggling artists pushing boundaries and breaking modern day stereotypes through ambition and relentless determination. She shows that the constructs of society are no match to one's passions and desires. Wu is a source of success to other artists trying to individualize their style of art and will continue to influence students even after she graduates this spring.
Photos by: Natalie Schilling and Jennifer Wu