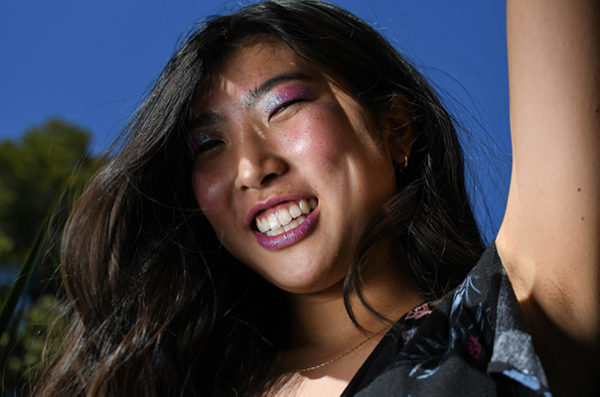 Luscious eyelashes, flawless skin, pink lips and lightly flushed cheeks; throughout time, makeup has offered women the ability to attain these coveted, unrealistic features. Now, the intention of the makeup industry has shifted from a focus of painting perfection to manifesting individual identity. Rather than a tool used to achieve the principles of beauty, makeup is now employed as a form of expression and as an art itself.
For as long as many can remember, the makeup industry has been heavily dominated by females, both the creators and consumers, the concept of men using makeup being taboo. But what many are not aware of is that from the Archaic Period through the 19th century, makeup was primarily used by men; it wasn't until the early 20th century that makeup emerged as notably feminine. Moving into the 21st century, a transformation in the makeup industry has taken place, becoming one of the most versatile artistic forms.
As men become more involved in the makeup industry either as makeup artists, drag queens, or everyday consumers, big name brands are making increasingly pronounced efforts to embrace more fluid artistic and gender ideas. This includes companies like Glossier, Covergirl, and Tom Ford, who have begun including both men and women in advertisements for the same products— which furthers the notion that makeup is universal. One recent notable campaign was YSL's photoshoot for their new makeup collection, Shimmer Rush, which is inclusive towards all men, not just makeup artists and drag queens. The campaign featured masculine male models sporting natural looking makeup, including brow gel and concealer. As society becomes increasingly accepting of gender-fluidity, the role of make-up, as exemplified in this recent initiative, will continue to evolve as an artistic canvas for self-expression, will becoming accessible to a wider and more diverse consumer audience.
Beyond just widening their production to attract and include men, new brands have formed, such as "him" and "Formen," and are specifically targeting an all-male audience and are helping to change the way people look at the industry. Influencers like James Charles, a popular beauty Youtuber, serve as the forefront of this movement centered around diminishing established cultural and gender norms. Charles' amassment of 15 million subscribers on YouTube exemplifies the power of this movement, where he has served as a catalyst of the idea makeup's purpose can extend beyond society's limited concept. His tagline, "Unleash Your Inner Artist," appears within "The James Charles Palette," his most recent collaboration with the popular brand Morphe. The 39 different shades featured, ranging from colors like "Guac," a pigmented green, to "Sister," a shimmery rose gold, attract all different types of people who are interested in exploring this art form. "Have fun, express yourself and try something new; […] who knows, you might love it. We all have an artist within us," Charles said in an interview with Paper Magazine.
With the mission of radically challenging stereotypical beauty ideals through creativity and self-expression, Dazed Beauty is pushing boundaries and breaking barriers in the beauty industry. Originally founded as Dazed & Confused in 1991 as an alternative style and culture magazine, this newly launched company and community platform strives to be a "culturally provocative" force through their prominent online presence and website. Dazeddigital.com acts as a business which "continues to champion radical fashion and youth culture, defining the times with a vanguard of next generation writers, stylists and image makers." With their innovative and bold content approach, Dazed claims on their website that their company is "the most influential independent fashion and culture title in the world." Additionally, our digital age has elevated the booming beauty industry onto a visible and shareable platform, gifting "beauty gurus" from all backgrounds, the ability to obtain millions of views and followers across various social media sites. Dazed Beauty has taken this movement in stride, obtaining an Instagram following of almost one million since their launch in September 2018. When one takes a look at the images displayed on the Dazed Beauty social media platforms, they will find a wide array of striking and unorthodox content, with posts that include boldly-colored and digitally-enhanced hair and makeup, exhibited on the bodies of well-known celebrities such as Kylie Jenner, Travis Scott and Kate Moss. The company's creative director and makeup artist, Isamaya Ffrench, is "excited to explore new territories in beauty with a distinctly digital angle," he said. "This is beauty for the social media age. Our aim is really to redefine beauty itself—for everyone." Editor-in-Chief Bunny Kinney explains that Dazed Beauty is working to represent the changing face of fashion, and feels that the beauty industry is a key component to this shift. "Beauty feels like the new fashion, particularly for young people," Kinney said. "It's personal, it's individual, it's accessible… We want to reflect those experiences and tell those stories. Beauty provides a toolbox, and a canvas, for people to start experimenting with the person they are becoming both inside and out."