Fresh Off the Runway
"Seeing these models motivates me the most to continue modeling because maybe one day, I too can be not just a model for clothes, but a model for the younger generations to not doubt their capabilities and show the world, their full potential." – Aimee Dossor
Particles of makeup saturate the air, shimmering in the repetitive camera flashes. Suddenly, the deafening shouts of directors and backstage staff destroy the fragile scene, only serving to heighten the nerves of the models, who are moments away from hitting the runway. Though to an outsider, this chaos may seem too much to bear, these individuals are headstrong in their purpose and can overcome this unease with a rush of adrenaline. To them, it is almost their second nature to begin to take one step in front of the other— chin up, eyes forward, lips pursed — as the show starts.
A model's profession has been seen as an idealistic and luxurious career, as they shape both the expectations and trends of society. While it is seen as a career so unattainable that models are granted immediate fame and status, many do not see that these icons, "are just like us." The modeling industry has grown so immensely that individuals are actually getting recruited off the street. The models seen in fashion shows have become younger, resulting in a shift of the perception of high fashion brands, but also transforming these individuals' childhood experiences.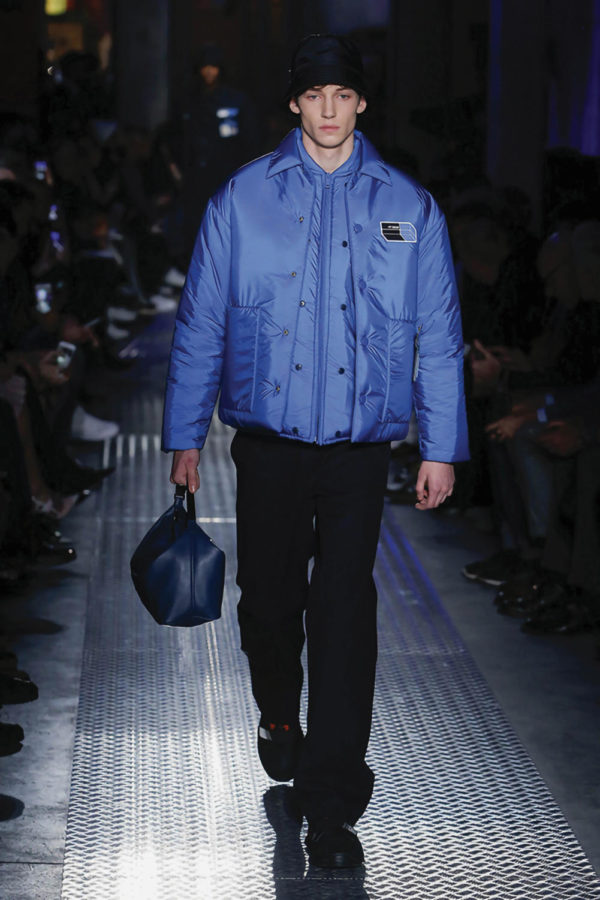 JAKOB ZIMNY
Since being introduced to the modeling world in January 2018, Jakob Zimny, a German model and high school senior, has had an extraordinary experience working in the industry. Zimny was never looking to become a model, instead, he was approached in the street by an agent of a popular German modeling agency. Without thinking anything would come of this opportunity, he happily agreed.
Unlike many other models working for years to become recognized and recruited by established brands, Zimny's first modeling experience was for the Prada Fall Winter 2018 runway show in Milan. "It was so unreal actually being behind the scenes of something you only know from the internet and pictures," Zimny said. "It was weird having people take photos of you and styling your hair, but it definitely felt good"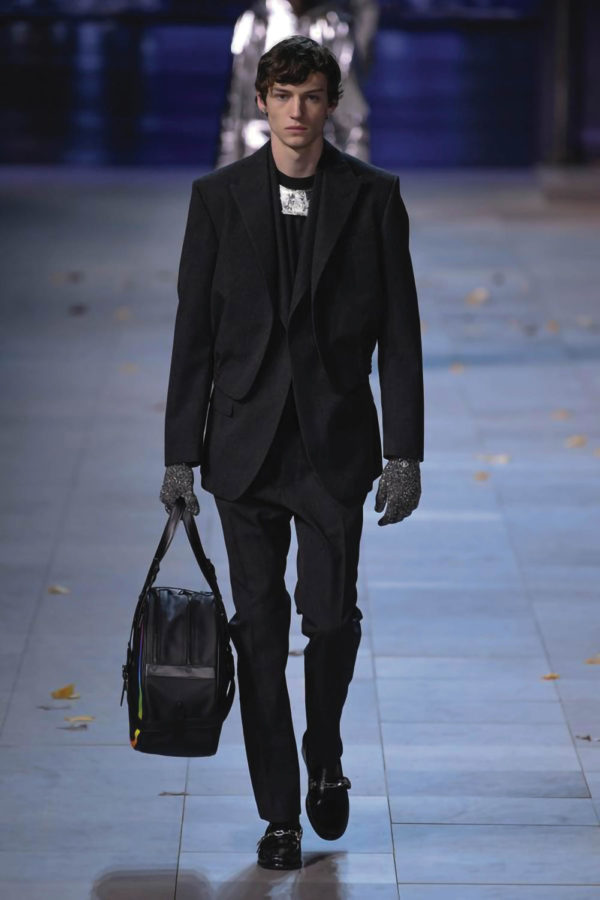 Since then, he has worked with brands such as Louis Vuitton, Dior, Alexander McQueen, Hugo Boss and Balmain. "My motivation to continue is that I have the opportunity to do something not everybody is able to do," Zimny said. "I have been building up relationships, meeting new people and just traveling around the world. It's just cool that I have so much fun but I'm still working."
Amidst the fast pace of an ever-changing career, Zimny has attained a transformative experience reachable only by few. However, in order to advance in this career, Zimny has to travel during the school year, and in forcing him to miss class and important schoolwork. Fashion week only perpetuates this difficult cycle where, he can barely eat or sleep, making it even more difficult to balance his studies.
Zimny experiences a variety of reactions when he reveals that he is a model; most people are immediately supportive, yet there are many times when individuals will feel it appropriate to ask him about his salary or if he can connect them with agencies to become models as well.
Despite Zimny's apparent struggles in the modeling industry, female models are faced with even harsher conditions and much more pressure than male models. The point where the male and female modeling industries begin to diverge is in the essential standards the models feel they have to meet. "The female modeling industry is way more serious and has many more restrictions," Zimny said. "Male models don't necessarily have to watch what they're eating or be on a diet. Girls have to sacrifice their health a lot more; [I remember a time] before one show [where] this one model even lost consciousness."
KELSEY MORA
Upon being scouted at a volleyball tournament, Kelsey Mora, a seventeen-year-old at Lydian Academy, declined the offer to model thinking it was too risky and time-consuming. One year later, Mora was approached by the same woman who told her that she saw the potential in Mora and that she could go far in the modeling world. This second time around, she was more open to the idea and decided to seize the opportunity.
"I like to meet people and I meet really cool people, like photographers and makeup artists and stuff so it's really fun," Mora said.
Modeling has helped her discover her passion to express art in different forms, and is now a major part of her life. She strives to work as a runway model full-time in the future with the support of her agency.
Although this agency accommodates her busy school schedule, Mora still finds very little free time with the demanding job. She often travels around the world in order to further her career, which sometimes results in her missing school; as seen with Zimny, balancing school work and modeling is a difficult feat. In 2018,, Mora had planned to go to Mexico City for two months to work with Vogue and Calvin Klein, yet had to decline this offer due to the amount of school she would miss.
Mora's parents have still been very supportive of her modeling career, yet others are not as open to her unique choice of profession. "People get weird about [my job]," Mora said. "I never bring it up unless somebody else brings it up because I feel like it's weird, [as] some people are so judgemental."
Regardless, Mora has continued to appreciate the intricate processes that the fashion industry is rooted in. Ever since her first experience as a model, Mora has learned to accept what her profession entails: being vulnerable with strangers. "I was really nervous [my first time,] obviously because I'd never [modeled] before, but the photographers will help you and are also super nice," Mora said.
AIMEE DOSSOR
Aimee Dossor, a teen model from Japan, has been modeling on and off since she was two. When Dossor was 13, her interest in fashion and beauty suddenly expanded, and when she began to consider modeling as a future career, she worked to get signed to an agency. "I went to the audition and I got in," Dossor said. "At first, I went to walking lessons and the agency introduced me to many different types of jobs so [that] people can know my name and face."
At first, she primarily modeled for magazines and advertising campaigns, but the older she became, the more runway experience she gained, in turn fostering maturity and independence. +
However, Dossor's modeling career has not come easily, as she struggle]s to find a good balance between school and modeling. She often questioned whether going to an audition is worth missing volleyball or basketball practice. "Working as a model while trying to maintain good grades, after-school sports and a social life is almost impossible, so I have to make a lot of sacrifices," she said. "But I know that it takes time, patience and sacrifices to get to the best place I can be."
While she has loved what she does, Dossor is not sure whether modeling is something she wants to do in the future."In five years, I hope to see myself in college," she said. "I don't know if I will continue modeling but I'm hoping that my experience as a model can connect to my study of design, art and fashion."
However, modeling is not completely out of the picture yet. "I am thinking of going to a college outside of Japan, so modeling abroad might be very interesting," Dossor said.
Dossor doesn't take the career she has been lucky enough to have for granted. She strives to be a powerful and influential person who inspires young girls; "supermodels such as Gigi Hadid, who works with UNICEF, Adwoa Aboah, an activist for girls, and Zendaya, also an actress and singer, are living proof that models can create, advocate and contribute to the world in a much more meaningful way," Dossor said. "Seeing these models motivates me the most to continue modeling because maybe one day, I too can be not just a model for clothes, but a model for the younger generations to not doubt their capabilities and show the world, their full potential."
The process of becoming a successful model is a long one, but the job does not end there. Every model experiences the unique pressures of balancing their job and outside life. With this, they must build oneself up in this career by having outrageous work schedules, strict diets and well-developed connections. But the experiences that young models have are unlike anything else, and Zimny encourages any aspiring models to get involved. "It's very exhausting and you [have to] be comfortable," Zimny said. "[Modeling has] changed my life for the better because now, I have insights in a business not a lot of people [have] and I've experienced things that only a few people are able to "
About the Writers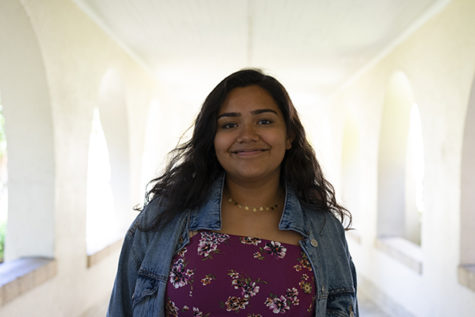 Sukhman Sahota, Creative Adviser
2018-2019 - Staff Writer

2019-2020 - Social Media Manager

2020-2021 - Creative Adviser

Hear more about me!