Greek Life
With many seniors heading off ot college in the fall, a new decission looms: whether or not to go greek.
Hang on for a minute...we're trying to find some more stories you might like.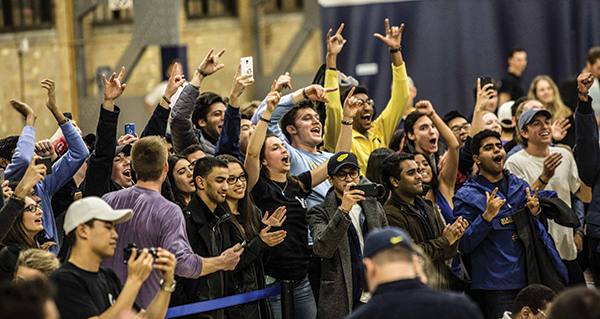 Kappa Kappa Gamma, Pi Kappa Alpha, and Phi Delta Theta are only a few of the Greek names that can be spotted on college campuses across the country. Membership in Greek organizations is central to many students' collegiate experiences, and the bonds made within a sorority or fraternity often last a lifetime. However, students' experiences in Greek life are not necessarily identical at all universities across the country.
Greek life is an important part of the social scene at all types of schools across the U.S.; however, the atmosphere that surrounds Greek life can vary tremendously from one school to another. At Stanford University, for example, Greek life feels more relaxed. "I think Greek life at Stanford is a lot more low-key than it is at some other schools," said Kylie Callan (Palo Alto High School class of '16), a current freshman at Stanford who recently joined the Kappa Alpha Theta sorority. The Greek community at Stanford is smaller than at some larger schools; however, the inclusivity of Stanford's Greek environment makes it a key aspect to social life at Stanford. According to Callan, "many of the parties open to freshmen are fraternity parties, and there are many events thrown by Greek organizations that are open to everyone, so in that way [Greek life] feels prominent."
Most students, regardless of the school they go to, are exposed to Greek life for the first time during a period of time called rush, when they visit sororities or fraternities in order to find the house that is the best fit for them. At many schools, the first opportunity for students to rush is in the fall, and the process lasts about a week. At Stanford, however, students undergo a process similar to rush called "recruitment" that takes place during the first weekend of spring quarter. The timing of recruitment allows Stanford students to settle into college life and learn about the Stanford community before choosing which sorority or fraternity to join. "The fact that we do not go through recruitment until Spring quarter makes it so that people usually have a lot of friends in many other sororities, so we continue to do joint events and meet more girls in other sororities than we might if we joined sororities at the beginning of the year," Callan said.
In contrast to the late cycle of recruitment at Stanford, rush at University of Alabama begins before students are even admitted to the university. According to Oliver Rowles (Paly class of '15), a sophomore at Alabama, rush starts for guys "whenever they can make it down to Tuscaloosa [the location of University of Alabama] for a party… or an event at the house where we get to know the kids and see if they seem like a good fit with us."
Similar to many large schools in the South, Greek life is a huge part of life at Alabama. "Greek life at Alabama is probably the biggest thing here besides the football program. If you aren't an athlete, you're in a sorority or fraternity, essentially two paths" Rowles said. A whopping 36 percent of Alabama students participate in Greek life, and their social lives are often determined by their fraternity or sorority's schedule. "I can't really imagine not being in a Greek organization here," Rowles said. "Greek life runs pretty much every facet of my life here besides classes and school work; whatever you're doing the upcoming weekend always has to do with your organization." Greek life at Alabama is more than just a part of student's social lives. "Greek life is probably at the height of seriousness out of all schools here," Rowles said. "It's who your friends are and who you hang out with and pretty much how you're defined."
"
I have made the most amazing friends through Greek life. There's so much comfort in knowing that the girls I've met in my house will be there for me no matter what."
— Paige Anderson (USC)
At University of Southern California (USC), Greek life is not quite as prevalent as it is at Alabama, however, it feels just as large to the community. "Technically, I believe 20% of students at USC are involved in Greek life but being a part of it the community seems much larger," said Paige Anderson (Paly class of '15), a sophomore at USC.
Part of the reason that Greek life at USC feels so large lies in the organization of the Greek houses themselves. "We have an actual 'Greek row' that all of the houses are on," Anderson said. "I think that being situated on Greek row definitely contributes to Greek life's popularity because it makes it much more of a community knowing some of my best friends are literally right next door, and I can see them whenever I want."
Unfortunately, the USC administration is not as enthusiastic as its students about the school's Greek community. "The USC administration has definitely always had a negative outlook on Greek life and especially in recent years has really tried to crack down on it,"Anderson said. "USC students have begun fighting back, but it's hard because the administration really dislikes the stigma that comes with Greek life in general."
This negative view of Greek life is mirrored at University of Wisconsin-Madison, where administrators have developed a hostile stance against Greek life in general. "The Dean of Students said several years ago that she wants Greek life to end at Wisconsin by 2020, and since then, more than half of the houses, both sororities and fraternities, have been disciplined for minor incidents," said John Carter (Paly class of '15), a current sophomore at Wisconsin. "Multiple fraternities have been kicked off campus in just my two years here, and at any given point in time there are several houses that are suspended."
The critical outlook that some school administrations have on Greek life commonly stems from the unfavorable stereotypes that often surround sororities and fraternities. According to Rowles, "everybody assumes you're privileged and stuck up just by being in a Greek organization." Carter has noticed similar behavior, noting that "a limited number of people dislike Greek life and will make certain assumptions about you fitting the typical stereotypes of 'frats boys' and 'sorority girls'."
Regardless of any potential drawbacks or stereotypes that surround the community, many students agree that joining a fraternity or sorority is a wonderful experience. Although rush can be stressful, students concur that it is important to focus on being yourself and learning about the Greek community at your school during rush. "Rush is a time to meet new people and decide where you fit in best," Carter said. "Be outgoing, make new friends, and use it as an opportunity to talk to older students about their experience at your school." Anderson agreed, adding that "it's so important to go into the experience with confidence and know that there is going to be a perfect fit for everyone, even if that means it's not what you originally expected."
The friendships formed and the memories made through Greek life are some that will last a lifetime. "I honestly would never have expected for it to be such an incredible experience" Anderson said. "I have made the most amazing friends through Greek life. There's so much comfort in knowing that the girls I've met in my house will be there for me no matter what, and to have such an amazing network of people who are always willing to help has made the transition to college so much easier." Rowles characterizes his Greek life experience as "amazing, better than I could have ever asked for. I've had some really great experiences here through Greek life and love every second of it."
Overall, Carter believes that "joining a fraternity was one of the best decisions I've made in college; my participation in Greek life has introduced me to some of my best friends and has made this big school feel more like a small community." When asked if he would alter his Greek experience at all, Carter responded: "I wouldn't change anything."