Goodbye to Store-bought Pies
As the holiday season approaches with many quarantining inside, now is the perfect time to learn how to make versatile homemade pies.
4
MIN READ
Quarantining has been an experience in which many people have begun to expand their skills of baking. I happen to be one of those people and of the variety of baked goods quarantine has led me to bake, my favorite would have to be pie.
I made a blueberry pie for Thanksgiving, and for the ingredients, you will need two cups of unsalted butter, five cups of flour, 1/2 cup of sugar, 1/2 teaspoon of sea salt, six tablespoons of water, and four tablespoons of vodka for the crust and lattice. Five cups of blueberries, 1 tablespoon of lemon zest, 3 tablespoons of lemon juice, half a cup of sugar, 1/4 a cup of cornstarch, 2 tablespoons of butter, and a pinch of salt for the filling. One egg yolk and 1 tablespoon of cream for the egg wash at the end.
I started off by combining the flour, sugar, and salt in the food processor, pulsed it a few times, and added two cups of butter that were cubed. After pulsing the butter and dry ingredients together, your butter should be shaped into the size of beans, and the butter should be pretty evenly distributed.
I then slowly drizzled in the vodka and water while letting the mixture of butter and flour pulse until it forms into a crumbly mixture. Vodka is a great ingredient for making pie crust because it limits gluten development which can turn dough too hard to roll out.
Take your dough out and onto a clean surface or a pastry mat. Make sure everything is combined, it may be crumbly at first but the more you knead, the more it will become more doughy and ready to be rolled out. I cut the dough into slices and place them on top of each other and kneaded to ensure the dough would end up very flaky.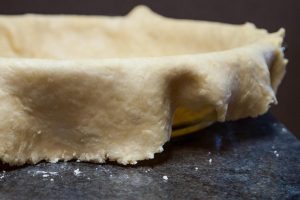 Once your mixture has finally been kneaded to the doughy form, you can begin rolling it. Use a rolling pin and continue to roll until it has formed a thin layer that is large enough to be placed into your pie dish.
Once you have placed it over your pie dish, you can use a knife or scissors and cut off the excess dough that may be hanging over the edge of the dish and use your fingers to shape the dough on the edges into a pattern.
Let the crust sit in the fridge while you make the filling for the pie. For this recipe, I made blueberry pie, however the process for other fillings are fairly similar.
Rinse and let the blueberries dry, meanwhile, zest one tablespoon of lemon and leave 3 tablespoons of juice for the filling. Once the blueberries dry, I put in cornstarch, sugar, lemon, a pinch of salt, and then combined thoroughly and added to the pie dish.
The dough recipe allows for you to make two batches, half of the batch for your crust and half for the lattice. Before placing lattice, grate two tablespoons of butter or cut into tiny cubes to place on top of the filling.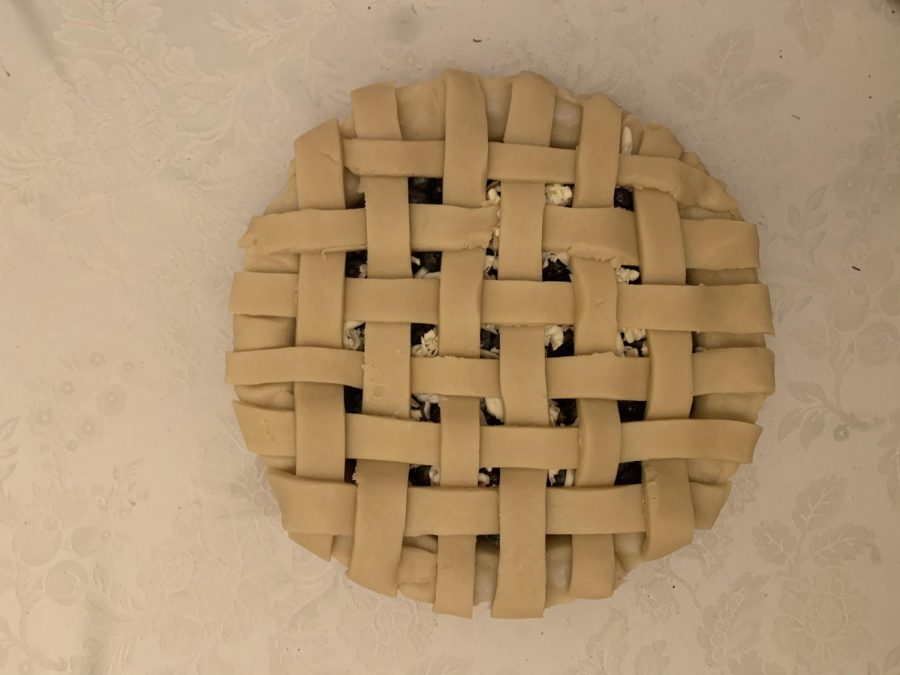 Now for the hardest part, making a presentable lattice for your pie. You begin to roll the leftover pie dough, ideally into a thin rectangle. Cut the dough into long thin strips and place the first strips over your pie
You want to fold every other strip in half, place the rest of the strips next to the half so it is over the strip that is not folded. Once you place the strip, unfold the strip over the other strips.
Fold the strips you did not fold and repeat the same process. Keep doing every other strip until your pie has formed a lattice. Trim the excess dough and fold together the edges.
Combine the egg yolk and cream and brush over the pie. When baking the pie, you will want to tent the edge of the crust, using tin foil, to make sure it does not overcook and burn.
Preheat your oven to 425°F and bake for 20 minutes at 425°F, then remove the tent and bake for 50 more minutes at 350°F, or until your pie is golden.
Let the pie cool and serve.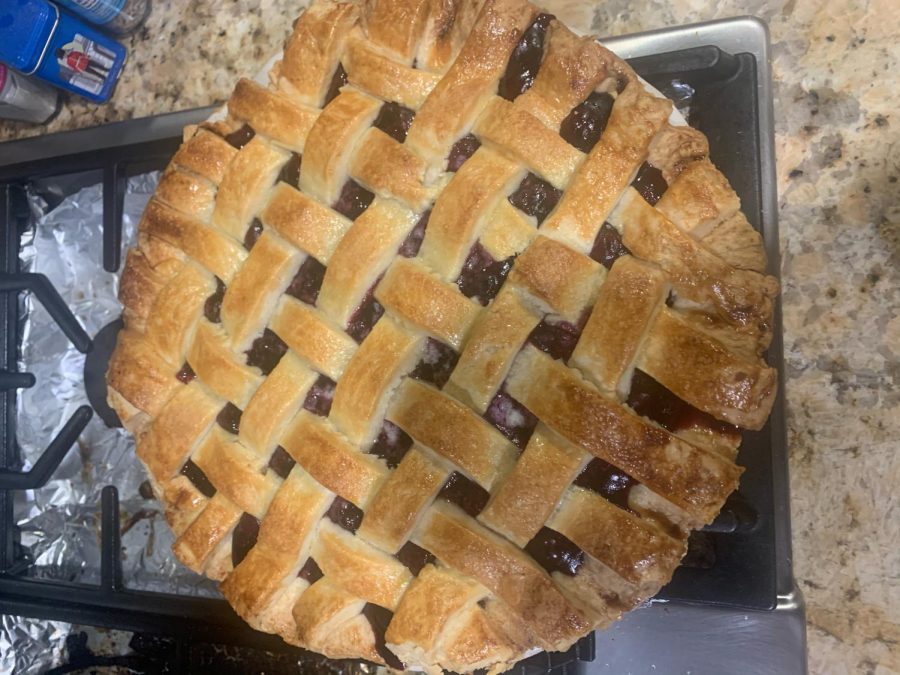 Tips
Making pie crust can definitely be done without the help of a food processor, you can use your hands and combine the ingredients together, however it does require more time and work.
To ensure your pie will come out perfectly without any burnt edges, tent the edges with tinfoil.
Vodka is unnecessary, however it helps to combine the dough and does not activate the gluten to much. If you want to avoid adding vodka, add 4 tablespoons of ice water instead.
Instead of making everything at once, you can pre-make your dough before and store it in the freezer. Pre-made dough can last a few months in the freezer, just allow it to defrost and reach room temperature before rolling.
Others try the recipe
Aanya Kumar, a junior at Paly, has always loved to bake, but did not ever think to make her own pies. She tried out the recipe and says it was a hit at her Thanksgiving dinner.
"Although making a pie takes a lot of time and effort, the outcome was great because it is so much more flavorful than buying a pie pre-made and it was a fun activity to do with my family," Kumar said.
The process of making a pie is definitely one that may seem too long and tedious; why not just buy some pre-made dough or a frozen pie one can wonder, but the results of making a homemade pie will surely stop you from ever buying one from the store again!