The Great Outdoors
Students find sanctuary in spending time doing their favorite outdoor activity and exploring California's natural wonders.
4
MIN READ
From the crowded cities to the mellow mountains, California is known as a land of opportunity. Surrounded by many diverse regions and climates, this large state has been exploited for resources as far back as its admission to the union. Today, California is known for its bright city lights and a hub of fame and fortune. It has become easy to turn a blind eye to the awe of the natural land as we often get caught up in the chaos of our day to day lives. Many Paly students who enjoy the outdoors recognize the benefits that spending time in nature has on their mental and physical health and how they in turn view the world around them.
Nicolo Defendi-Cho
For sophomore Nicolo Defendi-Cho, there is never a trail too hard to conquer with his mountain bike. Defendi-Cho discovered mountain biking from watching countless Youtube videos and knew he had to try it out. Now, mountain biking is one of the most prominent parts of his life. Defendi-Cho enjoys biking during the summer because he has the opportunity to go five times a week. During the school year he goes at least three to four times a week when he can. Defendi-Cho looks forward to Hucksgiving, a mountain biking event held at Carlmont High School every year just before Thanksgiving. "A bunch of people get together and we all ride the jumps and it's really fun," Defendi-Cho said. He also enjoys biking in Lake Tahoe and all over Santa Cruz as well. "You really feel at ease in nature," Defendi-Cho said. "Mountain biking helps you immerse [yourself] in the woods and it feels like you're part of it as you run along through them."
Catherine Reller
A trip to the snow serves as an escape for senior Catherine Reller. From a young age, Reller has been encouraged by her dad to enjoy all the benefits the outdoors has to offer. "It is a really good time to reflect on yourself and figure out what you want without all of the chaos happening at home," Reller said. She has gone backcountry skiing on an overnight trip near Mount Shasta and regularly skis at Squaw Valley which overlooks Lake Tahoe. "I will always remember this powder day I spent with my dad when all of the roads closed and we were alone on the mountain," Reller said. With the soft snow absorbing all of the sound waves around them, the silent outdoors made Reller and her dad feel like the only people in the world.
Alden Backstrand
After spending several weeks bound to the confines of her bedroom walls, sophomore Alden Backstrand's mind wandered far into the great outdoors. For as long as she can remember, Backstrand has been hiking with her family and at age nine her love for backpacking began to develop. For countless years, Backstrand would go backpacking with friends at summer camp and it was there that she made treasured memories. Due to the pandemic, Backstrand could not make her way back to camp, but she was able to create her own backpacking group with a few friends from camp. Over the summer, Backstrand and her friends backpacked at Desolation Wilderness in Lake Tahoe where they put all of their camp skills to the test and destressed from life's chaos. "It cleansed my mind and soul," Backstrand said. "I felt the mountains within me."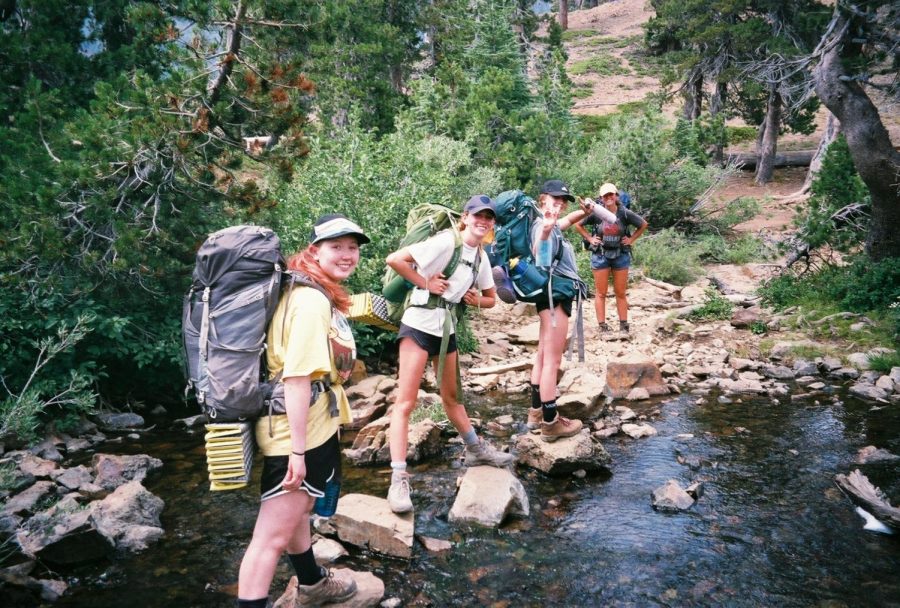 Natalia Cossio
One summer morning, junior Natalia Cossio began her day expecting to go on a small hike. But soon the buildings grew sparse and Cossio found herself on a 30 mile hike from Palo Alto to Santa Cruz. As she walked along the Pacific Coast Highway with her sister and her sister's boyfriend, they shared memories that will last a lifetime. From a young age, Cossio has had an infatuation with the outdoors as her parents encouraged her to go outside. Because of their influence, her love for the outdoors has grown exponentially over the years. "I prefer Santa Cruz Mountains apart from local reserves such as Arastradero or Foothills because it is still close but not as boring," Cossio explains. "Spending time outside helps me exercise and boost my mood with nature as a double benefit and an added layer of beauty."
Reed Schulman
Being the only person for miles, climbing a boulder deep in the lush California wilderness is reasonably daunting to some, but to sophomore Reed Schulman, it's just what the doctor ordered. "Mentally, it's a place where just being in nature calms yourself," Schulman said. It was not until three years ago that Schulman picked up bouldering— a type of rock climbing that does not require ropes or harnesses. Schulman was able to climb crags; which are essentially rugged rock faces, multiple days a week because of the endless amount of free time that came with the pandemic. One of Schulman's favorite crags is at Castle Rock State Park in the Santa Cruz mountains. The reward received from hard work when bouldering is what helps Schulman keep a clear head amidst all the craziness. "Popping out on the boulder after working at it for sometimes weeks at a time," Schulman said. "That's a pretty good feeling."
Elizabeth Fetter
From swimming more than 20 hours a week to not being able to swim at all was a big switch for sophomore Elizabeth Fetter. At the beginning of quarantine, running kept Fetter busy, but she often found herself getting injured. In order to maintain consistent exercise she decided to try cycling, and she picked it up quite easily. "I went from 30 to 50 to 80 to 130 [miles] in a span of a couple weeks," Fetter said. Whether it is a short ride through Portola Valley or her most treacherous ride to the Santa Cruz Beach Boardwalk, Fetter is able to experience scenic landscapes while also getting a solid workout in. "It's just a nice time to be by yourself and it's not as physically taxing [on your body]," Fetter said. Fetter, a multiple sport athlete can make just about any sport or activity look easy.