Going "5 Cm Per Second"
Sophomore Alisha Bernatzki goes off the wall with their newest album
3
MIN READ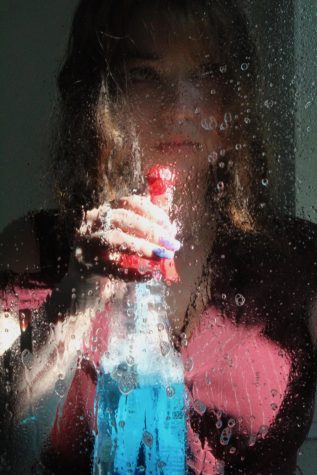 A jazzy rhythm bounces on the keyboard. Whoosh!—something like a gust of wind pans through your headphones. Backup vocals jitter back and forth, another gust later and—at last—their lyrics hit you.
This is the song that kicked off sophomore Alisha Bernatzki's latest EP "Hollow" last Halloween. The two-track album took inspiration from IC3PEAK, a Russian duo known for marrying dark graphics with the ultra-niche genre of witch house music.
"Halloweeny—I love that song to death," Bernatzki said. The other track, titled Utilization, was Bernatzki's commentary on American capitalism.
Even before "Hollow," Bernatzki had already garnered some two years of songwriting experience through the release of "Lilac" (their debut EP), a single and several song covers. Still, they're never satisfied with their work.
"I think I'm good at writing songs," Bernatzki said. "But every single song I listen to, I think about what I could have done better."
Luckily, Bernatzki is constantly exploring new genres; in fact, the style gap between "Hollow" and "Lilac" was striking for many listeners. With "Lilac," Bernatzki converted their friends into fans with lyrics about love, loss and angst—traditional themes of any teenage life.
But compare one of their earliest songs with another from "Hollow":
"I feel like my music style is always changing," they said. "It's not like cooking where you follow the recipe and it's done. With writing music especially, you have to first find what you're going to write about."
Left: One of Bernatzki's first singles, bearing a close resemblance to bedroom pop.
Right: Six months later, "Utilization" has a far more experimental and offbeat sound
What's Next
Bernatzki is dedicating their next song to a friend who just went through something very difficult and personal. The friend, a longtime fan of their music, inspired extra thoughtfulness in Bernatzki's process.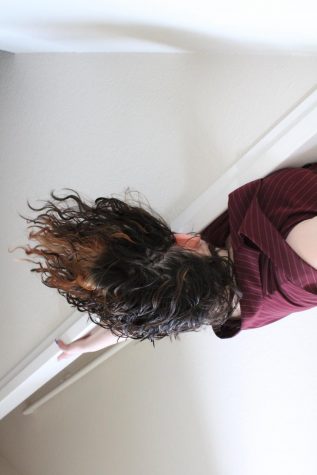 "This is the most meaningful song I've ever written," Bernatzki said. "I wanted to put everything I could into it … because it's not just for me. It's for a person I care about very specifically."
For a while, Bernatzki was constantly jumping from producer to producer. The first charged more than they were comfortable paying. Another would mix the song free of charge but worked with equipment that made file transfers a total headache.
And just when Bernatzki thought they had found the perfect match on Tiktok—no charge, compatible software and great sound—the producer stopped responding to Bernatzki after one song was mixed. To allow for greater flexibility, Bernatzki is hoping to self-produce their next hit.
"This song has taken me three months to write just with piano and vocals. I haven't even begun recording it," Bernatzki said. "But I am going to do that eventually. These things you can't really rush."
Farther Down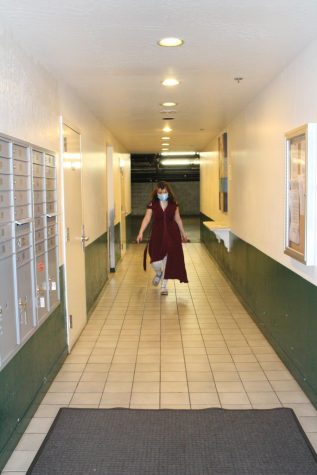 The future holds a lot of options for Bernatzki. Outside of the recording studio, Bernatzki's theatre experience frequently lends them a lead role in musicals and plays. They've also experimented with stand-up comedy, visual arts, their own baked goods business and are quick to pick up a tune on the guitar.
"Technically, my dream would be, yes, to become a singer-songwriter. Whatever, like a Taylor-Swift-type thing," Bernatzki said. "But I probably will pursue that later in the future."
For now, none of that really matters to Bernatzki—they see music solely as a side project.
"Like, yeah, I'm putting effort into it. But it's not something that I'm staking my life on," Bernatzki said. "I'm [expletive] 16! I'm not trying to be the next Billie Eilish!"
About the Contributor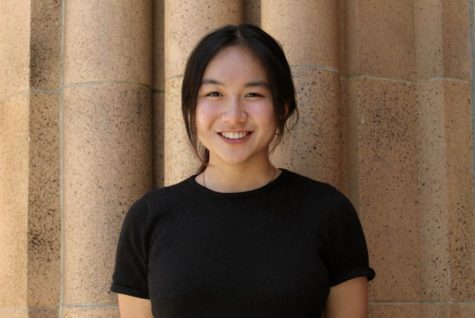 Audrey Guo, Creative Advisor
2020-2021 - Staff Writer

2021-2022 - Digital Design Editor

2022-2023 - Creative Advisor

I joined C-Mag because of our amazing page designs and...