Everyone Belongs at the Skatepark
The skate community is making strides to overcome its exclusive past
6
MIN READ
Skateboarding started as a surfing substitution in the 1950s, where rickety trolley wheels were drilled onto wood planks. These days, skateboarding is an Olympic sport, and it has become widespread, even reaching the Paly community. Skateboarding has grown in popularity, with the sport cultivating a strong and bonded community.
"I've seen a lot of people skating, of any age, any race and gender," Kieran Wagner, longtime skateboarder and senior at Paly, said. "If anybody wants to skate, they can skate."
The skateboarding community has changed from what it once was and is now known for being more inclusive and border-free when welcoming newcomers. After all, sticking together is a key aspect of the community, as it initially was a niche subculture.
"[The skateboarding community] has always been accepting of outsiders," said formal professional skater and Paly photography teacher Kenna Gallagher. "It was always for the kids who really didn't fit into the norm," said formal professional skater and Paly photography teacher Kenna Gallagher.
Hailing from Santa Cruz, Gallagher's skating grew from a longtime passion into a profession for many years. Sponsored by Krux trucks, Gallagher rode around Europe and competed. Today, she continues to skate casually. However, gender inequalities that remained with her at the beginning of her career continue to follow her in the competitive skater world.
"
There was a period where there was a lot of homophobia in skateboarding… And I think now we've pushed beyond that in a lot of ways."
— Kenna Gallagher, photography teacher
"The pay gap is a huge division between genders," Gallagher said."I don't know what gives [males] permission to have their prize money be twice as much [as females]." Gallagher and other female skaters continue to be short-changed. Some of her friends, X-games competitors, continue to rake in far less money than their male competitors.
With all her experience, Gallagher has seen progress within the skating community. "There was a period where there was a lot of homophobia in skateboarding," Gallagher said. "And I think now we've pushed beyond that in a lot of ways."
This issue was solved by an increased acceptance of LGBTQIA+ members, leading to more of their involvement within the community.
"There's some beautiful queer groups of skateboarders and really inclusive skate companies," Gallagher said. "I think everybody is starting to realize that it's an everybody sport."
For senior Kat Thomsen, another female skater at Paly, the typical pros and cons of skating exist in Palo Alto as well.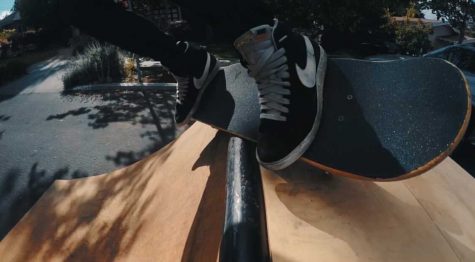 "Whenever I go to a skate park, it's usually one or two girls, if any," Thomsen said. "There's not much diversity. But, I think in terms of access or equality, skaters are super open for newcomers."
Overall, being a minority in the skating community is not easy, and it is a fantastic step that the community is not only growing, but diversifying at the same time.
"Skating as a woman has more recently come to be empowering," Thomsen said. "I think the image of women in skating has improved… now it's just about getting the numbers up there."
With increased diversity comes a need for changes in the mindsets of skaters, something that has, for the most part, been largely achieved, thus creating what many skaters believe to be a welcoming and open community.
Paly freshman Keshav Srinivasan, who has been skateboarding for four years now, recalls a sense of openness towards new skaters from when he first started.
"If you're new, they'll always help you start off," Srinivasan said. "Then you'll always be friends with them."
It's clear from Srinivasan's experience that skateboarders want to see their peers do well and improve. Thanks to the friendliness of the skateboarding community, Srinivasan feels that he has experienced a positive impact, being a part of it. The mentorship that was lent to him at times when he felt like giving up taught him important lessons, like how to persevere.
"The first time I went to this park called Rengstorff in Mountain View, and I was trying to drop in on the ramp for the first time, this guy came up to [me] and fully just held my hands while going in on it," Srinivasan said.
At the same time, however, Srinivasan has also noticed that some skaters feel reluctant to let beginners into the skateboarding community. A cause of this issue is that skateboarders were ostracized for their sport for such a long time, therefore instilling an instinctual need to find other skaters who were in the same boat as they were.
"
Skating as a woman has more recently come to be empowering… I think the image of women in skating has improved."
— Kat Thomsen, senior
"A lot of [the] time, skaters, we're really trying to preserve skate culture, the old culture, because it used to be a sport that you wouldn't [be] cool if you skated," Srinivasan said.
Srinivasan believes this mentality that some skaters still cling to is what may be holding the community back from unbiasedly welcoming newcomers.
This intense connection that forms between many individuals within the community is what leads to the overwhelming sense of support that many feel once they've been welcomed into the skating community — giving the sport its admirable reputation. Harry Myers, a senior at Paly, notes this encouragement as a memorable part of how he was welcomed into the community back when he began skating. Myers, who has been skating for the past four years, ever since his mom gifted him a skateboard for Christmas, recalls being nervous the first time he went to a skatepark.
"I really, really practiced by myself, so I wouldn't just be a complete newb at the skatepark," Myers said.
However, when he arrived, Myers experienced an overwhelming amount of support — the polar opposite of what he had been preparing himself to face. After showing off a few of the tricks he had been practicing, Myers was applauded by all of those around him. Oftentimes, when skateboarders complete a new trick, it will grab the attention of those around the person and create a sense of celebration.
"It gets the attention of everybody [and] feels really good — when you land something, and everyone's smacking their board on the ground or clapping," Myers said.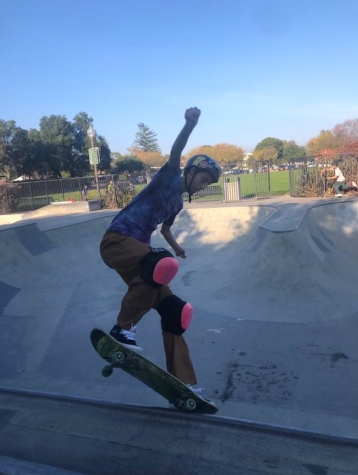 Unity within the skateboarding community is also heightened by the distinct sense of style. Skate fashion, which is heavily marketed by mainstream brands today, was founded out of necessity. People were just trying to figure out what would be the most comfortable to move around in.
Thomsen notes that over the years, media such as movies and TV transformed this seemingly niche fashion style that began on the racks of thrift stores into the modified version that exists and is sold by popular clothing stores like Urban Outfitters today.
"It's definitely film and the media that perpetuated [skate fashion]," Thomsen said."[However], it obviously started with skaters and the very surf-vibe, skater-vibe." Because of its unique style, Thomsen also believes that skate fashion embodies individualism, making it easy for skaters to identify one another.
"I think [skate fashion] plays a role in the sense that it's like a uniform," Thomsen said. "You can definitely make out other skaters by the stuff they wear." The sense of individuality within skate fashion also contributes immensely to the comfort that many skaters feel towards experimenting with their styles, something Thomsen finds especially great about it.
"It embraces the funky stuff and the weirdness — that's what's really good about it," Thomsen said. "Skaters can feel free to experiment with fashion however they like, and however they decide to experiment with it, skate culture will be like, 'Yo, that's sick.'"
Myers shares his thinking and believes that the skating community's positive outlook on style variety allows skateboarders to try out different forms of self-expression to see what appeals to them.
"In the past, skateboarding was really such a stereotype, like you were this if you were a skateboarder, but now, you can wear whatever you want," Myers said.
In the end, while skate fashion may vary from person to person, what stays the same across the board is the overwhelming amount of support that skaters project towards each other's styles.
"It was my whole life…everything came from skateboarding and working at skate shops, being a part of the skateboard industry I still have these lifelong connections," Gallagher said. One thing is clear: if a skateboard is lying around in your garage collecting dust… give it a try.
Photos courtesy of Kat Thompson and Kieran Wagner