Featured Artists: Teacher Edition
A deep dive into Paly teachers' creative outlets
8
MIN READ
Most students associate their teachers solely with the classes they teach and don't think of the activities they do and numerous talents they have. At Paly, many teachers have special and impressive hobbies outside of teaching that are a significant part of their life such as cooking, refurbishing items, ceramics, painting and drawing and crafting surfboards.
Steven Ferrera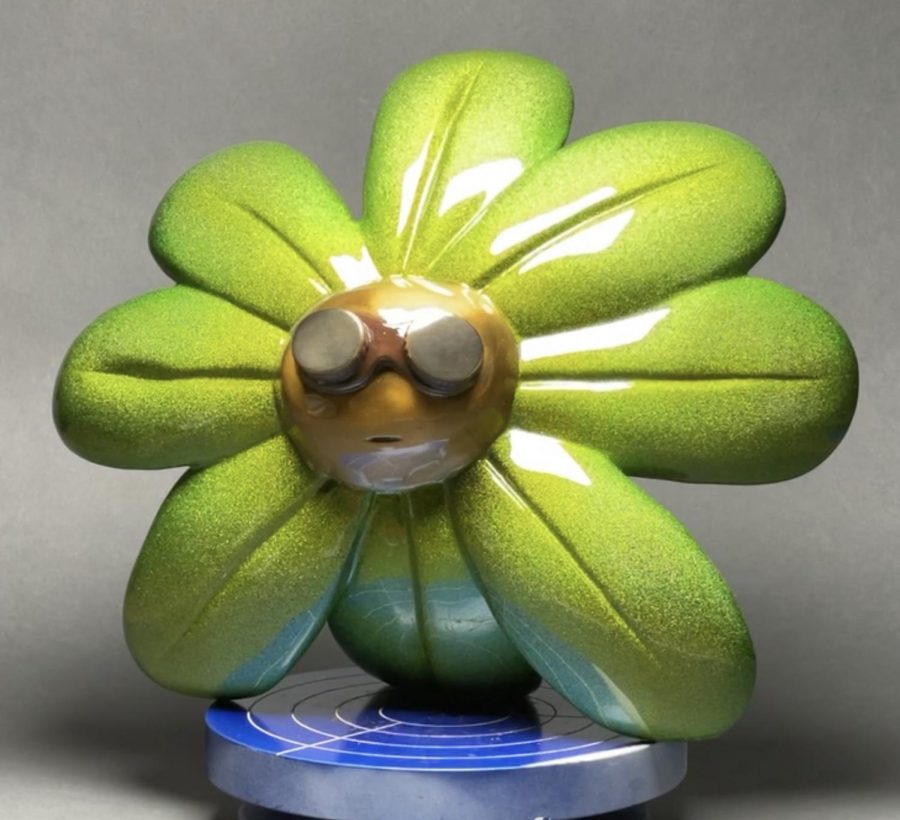 Flying Flower by Steven Ferrera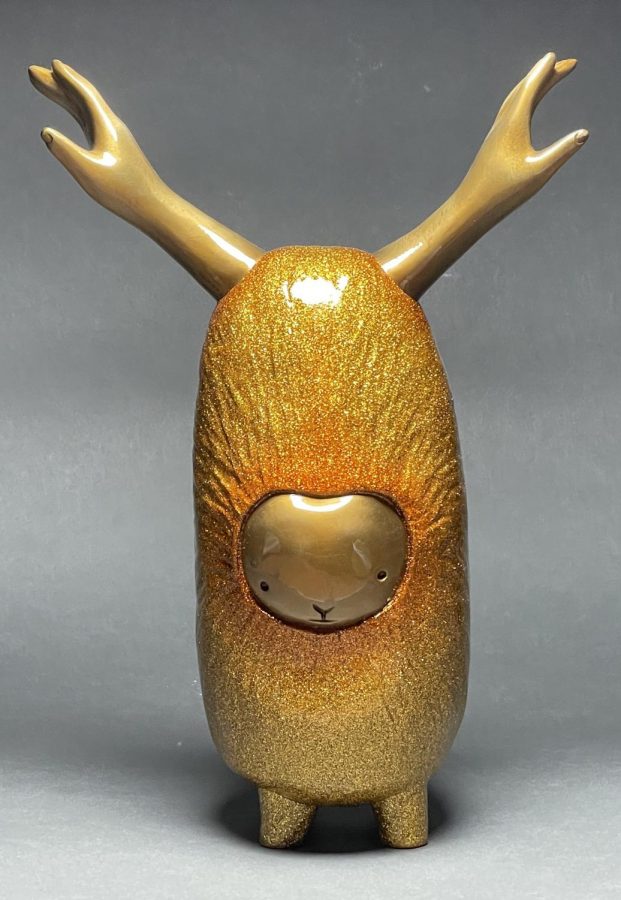 The Conduit Series by Steven Ferrera
For ceramics and sculpture teacher Steven Ferrera, art is more than just a creative outlet. He has been an artist his entire life and decided to pursue the art of sculpting in college, earning his bachelor's degree from University of California, Santa Cruz and his master's degree from San Jose State University. Before teaching at Paly, Ferrera worked in an animation studio and ran a glass blowing studio.
Through woodworking with his dad, Fererra had his first defining introduction to art. "My dad had a really big garage woodshop," Ferrera said. "It started out as my granddad's….that's where I hung out when I was a kid."
He would go out into the woodshop to spend time with his grandfather who was often already there to escape the stress of his everyday life.
"That was his little sanctuary, and I would go hang out with him and watch him build birdhouses," Ferrera said.
Ferrrera culminated an enjoyment of working with different tools and being able to watch his grandfather precisely create works out of wood.
"I liked the tools, opening cabinets and seeing all sorts of random tools," Ferrera said. "They fascinated me. I wanted to know what they did."
Ferrera's first experience with creating wood sculptures was through birdhouses and paddle boats.
"I just liked making stuff," Ferrera said. "I used to make paddle boats and go around the neighborhood and sell them to people even though there were no rivers or lakes around my town."
As a young child, his parents would sign him up for summer art classes. Throughout college, Ferrera became increasingly interested in fire, glass, metal casting and foraging. His love for that type of art has continued to the present day. Ferrera has recently been crafting bronze sculptures. In the future, he would like to explore making sculptures out of concrete.
"
Art—it's part science, part magic and a little mystery involved.
— Steven Ferrera
A piece that really speaks to Ferrera that he has made lately is a bronze sculpture painted with retro glitter flake auto paint.
"What makes a piece special is if the proportions are correct, if [the art has] personality and the colors work well," Ferrera said.
One of his sculptures, from his series named Conduits, is Ferrera's take on how many Mesoamerican cultures believe that animals with antlers are sacred.
"The horns are like a conduit to the gods so they can communicate with the gods," Ferrera said. "I like that whole idea of creatures being conduits."
Ferrera used to do much more abstract art, but he finds that now almost all of his work is more representational. He believes that when you're first learning a process, it is more about understanding the process, so abstract is the best way to grasp the concepts.
Ferrera enjoys experimenting with new mediums of art, and the opportunity to inspire young artists in his classes.
"Art—it's part science, part magic and a little mystery involved," Ferrera said.
Eric Bloom
Social sciences teacher, Eric Bloom is most often seen lecturing about various historical time periods, social justice and economics. But what many don't get to see is his creative side which he explores by cooking food from different cultures and upcycling clothing and furniture.
Bloom has been cooking for as long as he can remember, but has recently focused on perfecting his new interest in creating different styles of the Spanish dish, paella.
"Cooking for me is one way I use my artistic side, with paella specifically, because I feel as if it's this new challenge," Bloom said.
Bloom's passion for history leads him to discover eccentric and rich cultures in history and try a variety of new recipes, having learned the culture behind them.
"Paella can only be made with a certain type of pan, and it includes all of these traditions for each type of paella that is made," Bloom said. "Those little changes between the types of paella interest me because I enjoy finding the meaning and history behind simple things."
Not only does Bloom cook food from all around the world, he also has a passion for upcycling old items and he has upcycled clothing through Sashiko, a traditional Japanese embroidery.
"Sashiko is where you take clothing you would usually throw away and turn it back into something usable and wearable again," Bloom said. "I really do more of what's called boro, which is kind of a junky version of it."
While the history he discovers inspires him to create works of art, Bloom is also inspired by things he sees in his day-to-day life.
"When I see things I think are cool, I want to learn how to make them…I'm kind of a DIY guy," Bloom said. "For me, it's doing something that has value that I don't have to pay for, that is a really cool idea for me."
"
For me, it's doing something that has value that I don't have to pay for, that is a really cool idea for me.
— Eric Bloom
Another way that Bloom both saved money from and renewed an old and unusable item, was through a set of chairs he found on the side of the road. Bloom noticed the chairs were destroyed and unusable in their current conditions, so he decided to take them home and re-weave them.
"I ended up [weaving] four chairs, and although it wasn't necessarily hard, I still [fixed] them all out of pieces that were going to be thrown out," Bloom said.
Bloom anticipates furthering his creative ways to fix antique items around his house, developing his cooking talents, and even beginning new creative hobbies. "One thing I have been thinking about starting is painting and drawing," Bloom said. "I'm hesitant to do it because I know that I'm not very good at it, but I remind myself that I also didn't know how to make paella before practicing."
Ben Bolanos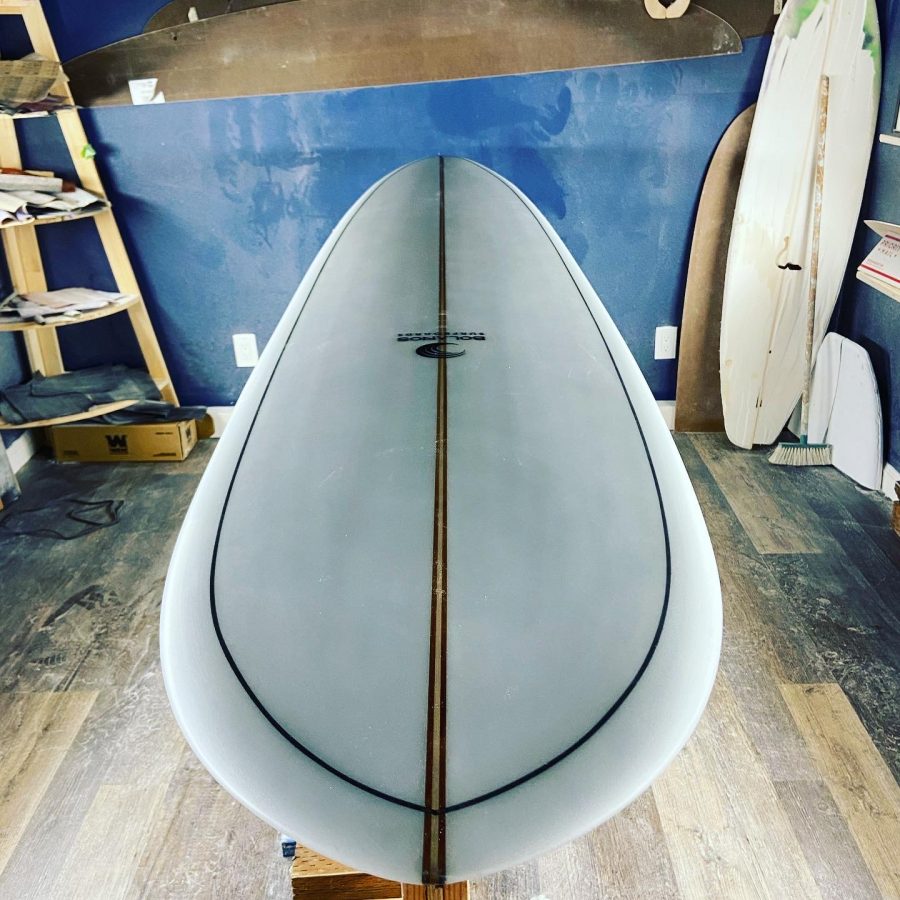 Photos courtesy of Ben Bolanos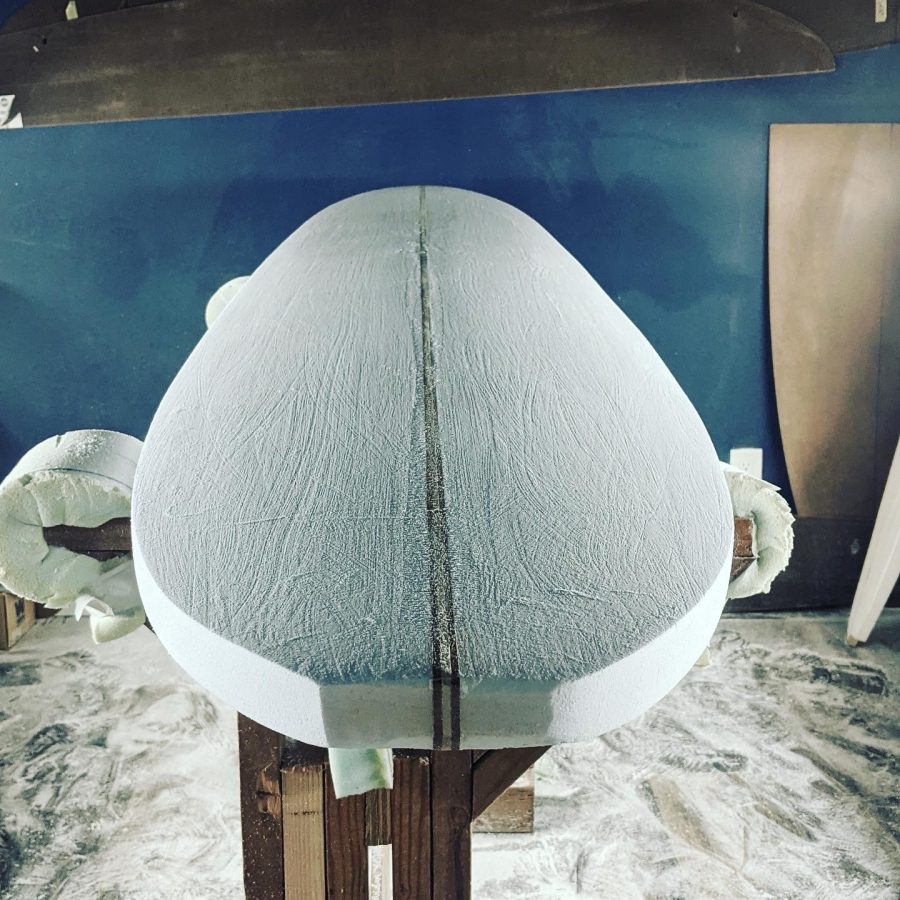 Though most well known at Paly for being a sociology teacher, Ben Bolanos is also a skilled surfboard crafter. His hobby started as a necessity, and later turned into a side job he could do in his freetime.
While Bolanos did not start handcrafting surfboards until recently, he grew up surrounded by art.
"I wasn't into handcraft arts, but I was always drawing and sketching as a kid. My mom was an artist, so she taught me all sorts of stuff; pottery, oil paintings, sketching," Bolanos said.
Bolanos did not start crafting boards because he thought he would enjoy it, but instead to cut back on expenses.
"Part of it [the reason I started making surfboards] was to save money because boards are really expensive," Bolanos said.
Bolanos began his journey by watching other people create boards, including YouTube videos of master shapers. He never took classes from experts and does not plan to in the future, but believes the best way to learn is by failing and learning from your mistakes.
"
I'm not even famous, but I don't know of any other Latino who makes boards in California, which makes it more special to me.
— Ben Bolanos
"I would never call myself a master. There's still mistakes I make, which is one of the best ways to learn," Bolanos said. "It's just trial and error until you get it right."
Bolanos has broadened his horizon on what he is capable of, and is now making some of the most complex boards. "I want to make a glider," Bolanos said. "It's a longboard that's usually around ten plus [feet] long, or even sometimes 11 feet or 12 feet."
Bolanos stands out when it comes to the board making business which is dominated by white men.
"Most of the business in shaping is just men. White men. There's about two shaper women that I know in Santa Cruz, and then there's me," Bolanos said. "I'm not even famous, but I don't know of any other Latino who makes boards in California, which makes it more special to me."
Bolanos continues to craft and sell boards in his spare time outside of teaching. "It's just a side job that happened to be a hobby of mine that I enjoy," Bolanos said. "I'm not in it for the money, I just love the ideas and visions that I've made possible."
Tracey Atkinson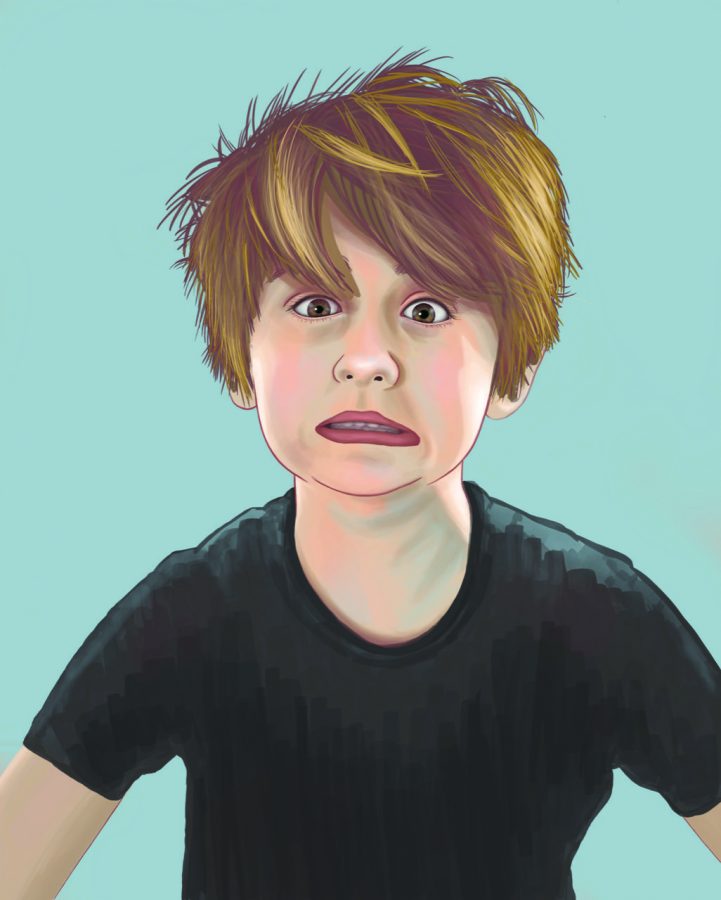 "
It meant a lot that my [painting of my] student was helping someone else. It was a little tiny painting but I still loved it.
— Tracey Atkinson
Tracey Atkinson, one of the art spectrum and painting and drawing teachers at Paly, is known for her artistic talent. Many of her students can see her work displayed around her classroom but they aren't aware of how long art has been a part of her life; she has been creating art since she was just two years old.
"When I was little, my mom noticed that I really liked to draw and make a mess and she encouraged it," Atkinson said. "It just kept going from there."
Atkinson continued to make art as she grew up and decided to pursue her passion in college.
"I wanted to be an illustrator, but I also thought education was important," Atkinson said. "I split my time between making art for myself and helping others to make art."
Though her days are filled with teaching classes and taking care of her own children, she tries to fit in time to make art whenever she can.
"I try to make something little every day even if it's just a drawing," Atkinson said. "Sometimes I will see something somewhere, I will see a color, some lines I think will be interesting, or I will be teaching something and I'll just get a creative spark from the materials and it goes from there."
Despite the fact that Atkinson has made many pieces of art, her favorite is a small painting she made, portraying a student who was meaningful to her.
"It [the piece] was a student that had a rough life and it was a little tiny painting like the size of a postcard," Atkinson said.
Atkinson showed the impact just one piece of art could have by donating the painting she created to an auction in order to raise money for children who had lost their families in Sierra Leone, a country in West Africa.
"It meant a lot that my [painting of my] student was helping someone else. It was a little tiny painting but I still loved it," Atkinson said.
Atkinson loves art because anyone can do it and appreciate it, no matter their skill level.
"You don't have to be good at art to enjoy making art, that's my main takeaway," Atkinson said. "Everyone needs an outlet to express themselves so sometimes you just make it for yourself, it doesn't matter who sees it."