Navigating Omicron
As the second semester launches, Omicron begins to take its course on campus
3
MIN READ
The first semester was Delta. Second semester, a different variant: Omicron. It has been the chatter of the school since the new year began, and although six months have passed, the same issues of vaccinations and rising cases remain.
Throughout the beginning of the 2021-2022 school year, Palo Alto Unified School District's (PAUSD) COVID-19 Dashboard has provided data about reported cases on campus. The dashboard indicates that Palo Alto High School had between zero to three cases per week in the first semester, averaging approximately 1.5 cases per week. The week of Jan. 2nd, 2022, the school opened up with 29 reported cases, and the week of Jan. 9th, 61 cases were recorded. It seems that the trend will continue to rise.
In an Instagram poll with 234 respondents, 32% stated that they currently have COVID-19 or have had it in the past two months. This infection rate is high, despite views generally swaying towards continuing in-person school.
In a previous interview six months ago, junior Julien Chow said he was uncomfortable going to school while the Delta variant was more prevalent. This semester, Chow said he is not worried.
"The Virus is spreading like wildfire, but it's simply not as bad as the Delta Variant," Chow said.
Currently, cases are rising faster than ever, and the CDC and case tracking software have declared Omicron to be proportionally worse than the United State's first surge in 2020. According to the CDC, during the rise of the Delta variant in California, there were approximately 9 cases of vaccinated people per 100,000 people per day. However, the current number of cases per vaccinated person is now 192 per 100,000 people.
Junior Wesley Gan also believes that the system PAUSD is using will continue to work.
"
Although it's a hassle for a few days, I felt the protection [the booster shot] gives you is worth it,
— Grant Jauregui
"Omicron doesn't affect my views on going to school in person," Gan said. "I understand that the district puts a lot of money and resources into making sure we can stay at school, which is respectable, but, more importantly, it is a better environment to learn in compared to being at home."
From a county perspective, COVID-19 is proportionally raging. November 2021 county statistics show that right before Omicron landed in Santa Clara County, an average of 152 cases were reported a day. That number is currently at 693, a high rate considering Santa Clara County's 83% vaccination rate. Comparatively, November 2021 saw a 77% full vaccination rate. COVID-19 cases have quadrupled, and vaccination rates have only increased around 6%.
The CDC and WHO recommend getting a booster shot to protect against COVID-19. A booster shot is constituted by having your two initial doses, and then a third shot that is half a dose. 60% of people eligible in the county and 74% of students in the poll said they have received their booster shot.
"Although it's a hassle for a few days, I felt the protection [the booster shot] gives you is worth it," sophomore Grant Jauregui said.
The 26% minority of eligible people who have not received their third dose is largely due to booster unavailability and skepticism. Many people are trying to get an appointment for their third shot, but there are long queues in order to obtain one.
The general consensus is that school will continue to operate as it is, in-person and wearing masks indoors at all times. Despite being highly contagious, most people are highly prepared and protected against the virus.
"I'm just hoping for the best," Gan said.
About the Contributor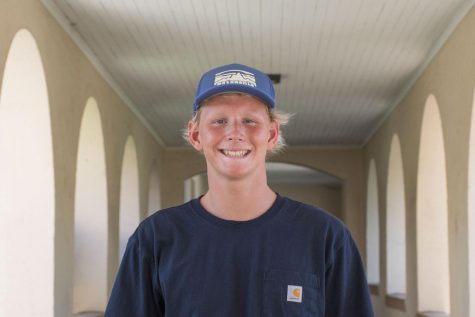 Jack Haney, Creative Advisor



2020-2021 - Staff Writer
2021-2022 - Creative Advisor
I joined Cmag to express my creativity within a magazine. I enjoy that we all come together...