Performance Protocol
To ensure a safe and enjoyable experience, concert goers and concert performers should follow proper etiquette
The crowd cheers as Pitbull steps onto the stage. Junior Katie McCluskey is among the crowd of excited audience members who are waiting for the show to start. Around her, the atmosphere becomes hectic as people begin to embrace the hype of the concert. A chair is thrown, hitting someone in the head. Someone falls and others begin lifting each other onto chairs—fortunately no one is seriously hurt.
Despite the chaotic atmosphere at the concert, McCluskey enjoys how excited the audience is and the talented performer.
"[The Pitbull concert was] really fun and everyone [was in] high energy," McClusky said.
Like the Pitbull concert where the atmosphere is usually loud and exciting as the audience pumps each other up, other concerts demonstrate the same traits. Senior Nicholas Shinghal found his time at the BTS "Permission to Dance" concert a memorable experience.
"BTS concerts are really well managed," Shinghal said. "I felt safe the entire time. People were super respectful, [and] the general crowd atmosphere was really electric. Everyone [came] from all over to see these people perform."
People often pass around a variety of wild stories after concerts. From Lorde shushing her crowd, to audience members throwing clothing at Olivia Rodrigo, every concert creates a distinct atmosphere from one another. However, as the atmosphere intensifies, and people get hyped, excitement is crucial to having a good time at the concert.
"I think [the hype] could be dangerous if there's too many people and there aren't precautions in place if people are being reckless," McCluskey said. "But I think hype is used [to create an] exciting concert."
Shinghal agrees that concerts need to have some excitement, and that the stories about the dangers of any crowded event are not unique to concerts.
"I don't feel like the hype is detrimental from my experience," Shinghal said. "I feel like there's always outlier situations where things are out of hand, but I think that happens with any event where you have lots of people coming together." However, people can get hurt and accidents do happen at concerts. Though performers may be focused on performing, people argue that they should never place their performance above the safety of the audience.
"
"I think [the hype] could be dangerous if there's too many people and there aren't precautions in place if people are being reckless. But I think hype is used [to create an] exciting concert." "
— Katie McCluskey, junior
"The show must not go on if someone is fainting [or] if there is a fire," junior Keira Plotkin, a member of the Paly choir said.
To ensure mutual respect between performers and their audience, artists tend to make sure they are providing the safest and best experience possible.
"I think as a performer, you have an obligation to make sure that your event is being run safely, because people are coming from all over to appreciate your music," Shinghal said. "Ultimately, you're trying to give them the best experience possible."
But this care should not become performative if nothing truly dangerous is happening in the crowd.
"I think the problem now is that a lot of artists are going to start [stopping the show] performatively just so [accidents] don't happen to them," McClusky said. "[They might] stop the show out of nowhere."
Although different concerts require different etiquette, general concert protocol should be encouraged and carried out.
As performers for Paly's choir, Plotkin and junior Kyle Xu understand that while they have a job to perform to the best of their abilities, the audience has responsibilities as well. "Clap for everybody, it is hard to go up there and [sing]," Xu said. "If you like something, express it, do not make [the atmosphere] awkward."
Even at commercial venues, the need for common etiquette remains.
"
"Everyone [comes] from a variety of places to experience a once in a lifetime event," Shinghal said. "So have that understanding that everyone there is trying to appreciate the same [artist] that you enjoy." "
— Katie McCluskey, junior
"The best thing that a person can do [at a concert] is be conscious of the people around them," Shinghal said. "It is really easy sometimes to be super focused on the stage and forget there are other people also trying to appreciate the artists and appreciate the music."
Common sense must also be applied to concerts in order to ensure that everyone is safe.
"I think people need to be more respectful of each other," McCluskey said. "If you see someone on the ground, don't just step over them, help them up. Some people aren't in their perfect state of mind, but you [can] still be kind to everyone and be respectful of people and their boundaries."
Though concerts can become dangerous if the audience is disrespectful and the performer is negligent, concerts are usually safe and enjoyable. With the right amount of precautions and awareness, people see concerts as exhilarating and unforgettable experiences.
"Everyone [comes] from a variety of places to experience a once in a lifetime event," Shinghal said. "So have that understanding that everyone there is trying to appreciate the same [artist] that you enjoy. At the end of the day, you have a lot in common with these people because you're all trying to appreciate the same thing."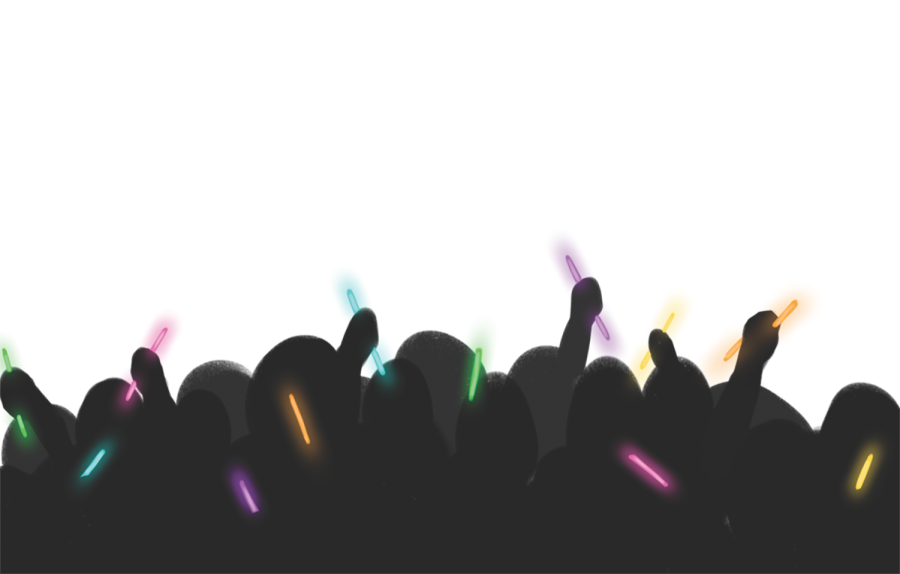 Art by Carrie Lohse
Infographic by Wendy Li
Print Issue
Please click on the three vertical dots on the top right-hand corner, then select "Two page view."