When the Clock Strikes Midnight
Taylor Swift's 10th studio album reflects on the history that brought it to life
2
MIN READ
Taylor Swift has made her mark in music and in pop-culture. On her 10th studio album, Midnights, she looks back at the trail she's left behind.
Much of Swift's career has been spent in transition. She began in country music as the girl-next-door Taylor Swift and grew into a twenty-two year old who translated heartbreak into heartfelt lyrics in Red. She's been the scrutinized pop star of 1989. She's been the thoughtful indie-darling of Folklore. Her star-factor has steadily grown to insurmountable levels, garnering endless dissection from every corner of the world. With many people looking at her, it makes sense that there are so many versions of the person known as "Taylor Swift."
Swift has long toyed with the idea that she can be viewed through multiple angles in her work.
Chart-topping 'Blank Space' was Swift's satirical take on the media's perception of her at the time, which often painted her as a petty, ill-intentioned serial-dater with not much on her mind but obsessing over feuds with other celebrities.
Swift's sixth studio album Reputation furthered this theme by contrasting a dark aesthetic and vengeful persona with the delicate feeling of falling in love, exploring the disparity between the media's portrayal of Swift and Swift's own perspective.
Swift has displayed, at many points in her career, a sobering awareness of the sometimes contradictory relationship between her identity and the personas she's assumed for her music and the media. The music video for Reputation lead single, "Look What You Made Me Do," features a scene where Taylors of prior eras are gathered together, bickering. Swift has since moved on from her Reputation era, rendering even "Look What You Made Me Do" Taylor as yet another "old Taylor" in the sea of bygone eras.
Unlike many of her previous projects, Midnights does not redefine Swift's public image. Instead, it explores the constants of her tumultuous career, which Swift herself describes as "self-loathing, fantasizing about revenge, wondering what might have been, falling in love [and] falling apart." By revisiting well-trodden ground, Swift highlights what has evolved and what remains the same throughout her long career.
Billed as an album about '13 sleepless nights' throughout Swift's life, Midnights intertwines previous eras and ties together each of their Taylor Swifts into a more complete narrative. The result is an album with a familiar, poppy sound and a highly self-aware perspective, intentionally transitory. With her latest album, Swift finds herself at a crossroads, where the past is still in sight and the future is fast approaching. In its purest form, Midnights is the musical embodiment of the theme of transition that permeates her career. Midnights is the musical equivalent of the nights that we spend in reflection, wondering how the people we have been might contribute to the person that we someday will be.
About the Contributor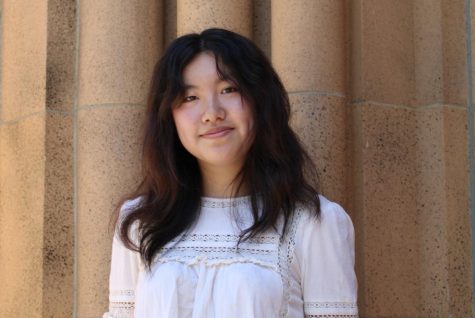 Julie Huang, Managing Editor
2021-2022 - Staff Writer

2022-2023 - Managing Editor

I joined C Mag because I love that journalism helps shine a light on issues that need addressing...