On View Downtown: Joe Ferriso, Sarah Morejohn and More
Current art exhibitions downtown are united by vibrant colors, landscapes, and serenity
Solace: Venerable Shi De / Joe Ferriso
Qualia Contemporary Art
328 University Ave, Palo Alto, CA 94301
Through February 10
Online: http://www.qualiacontemporaryart.com/exhibitions-show.php?id=17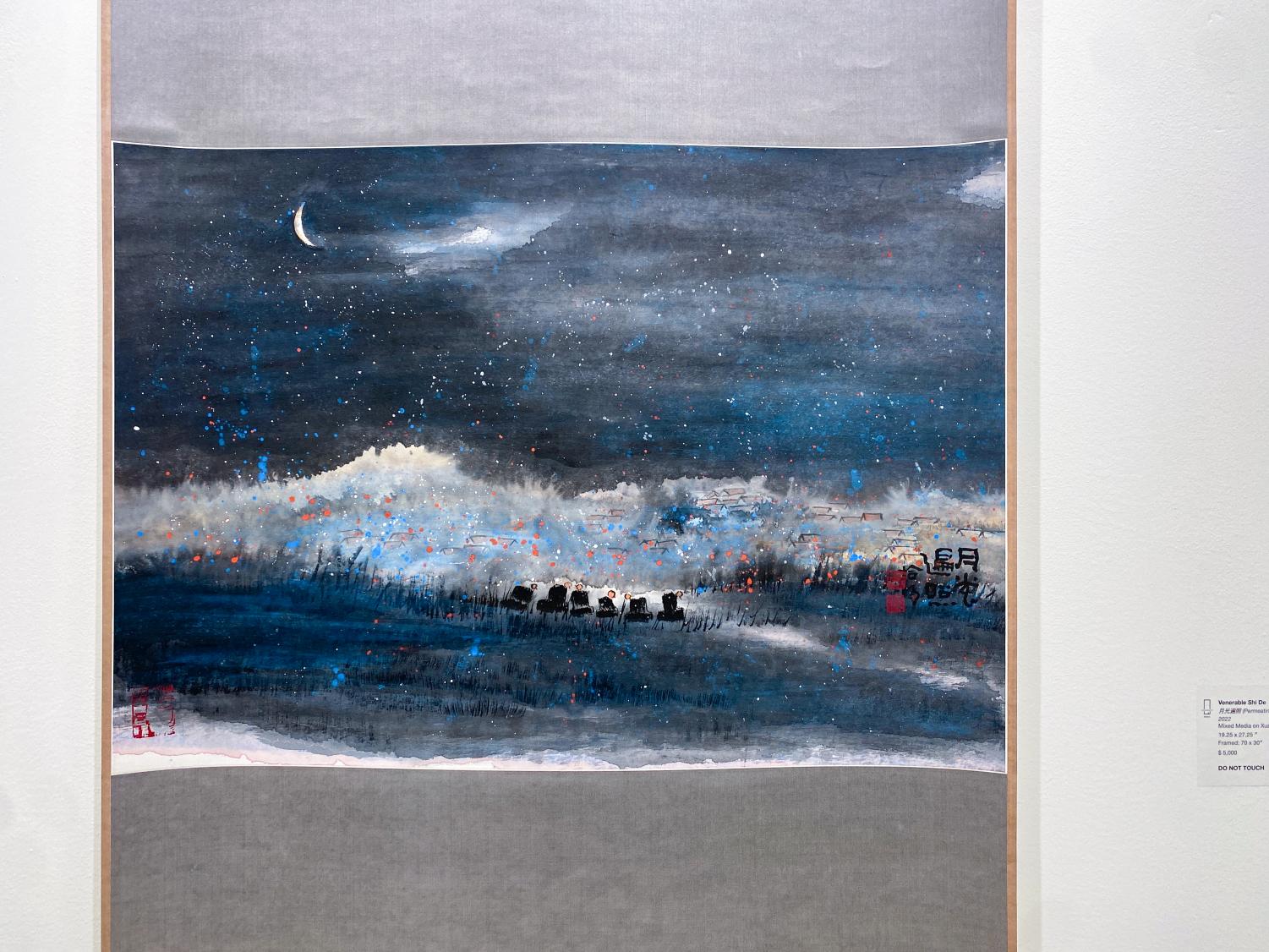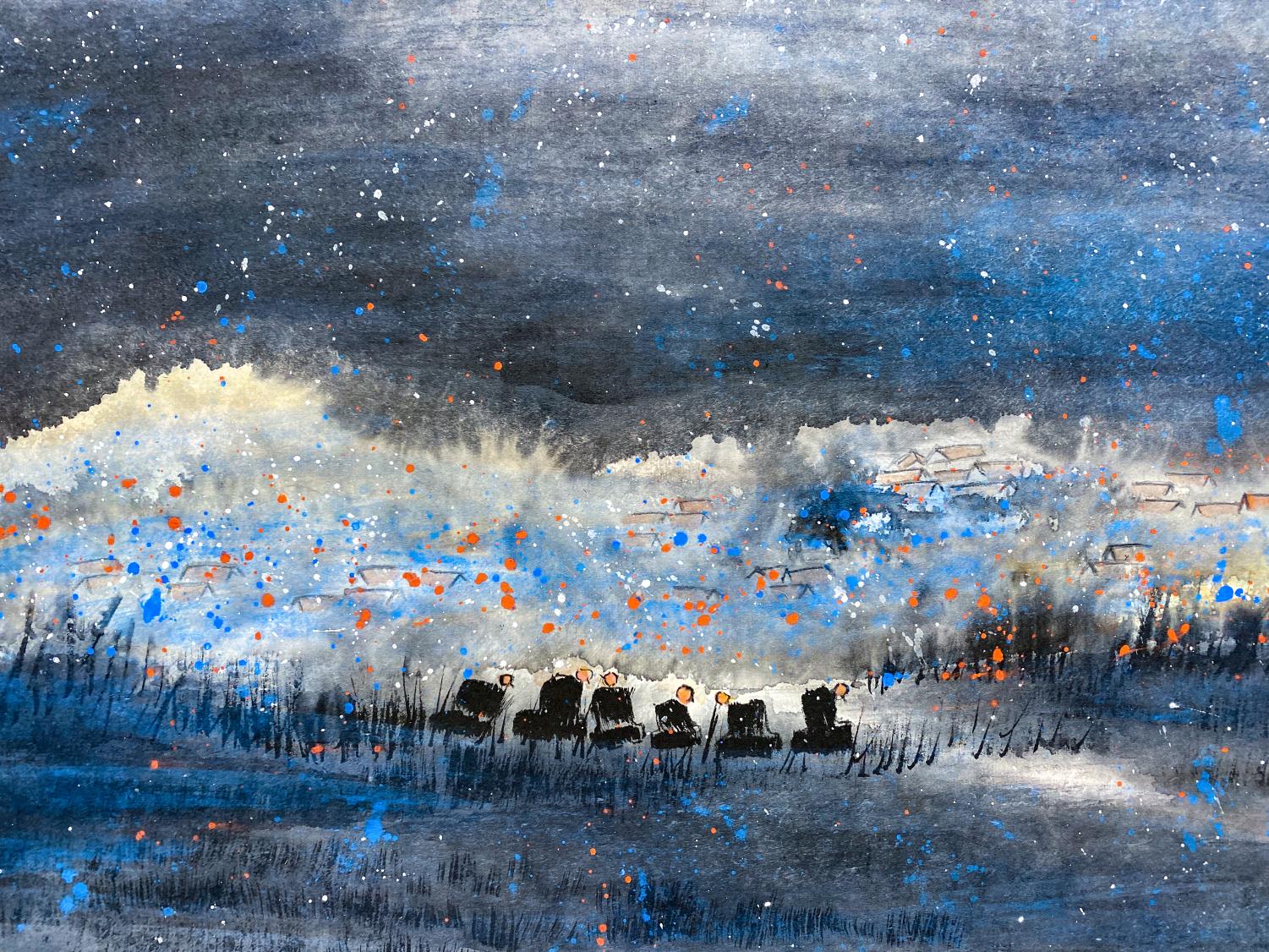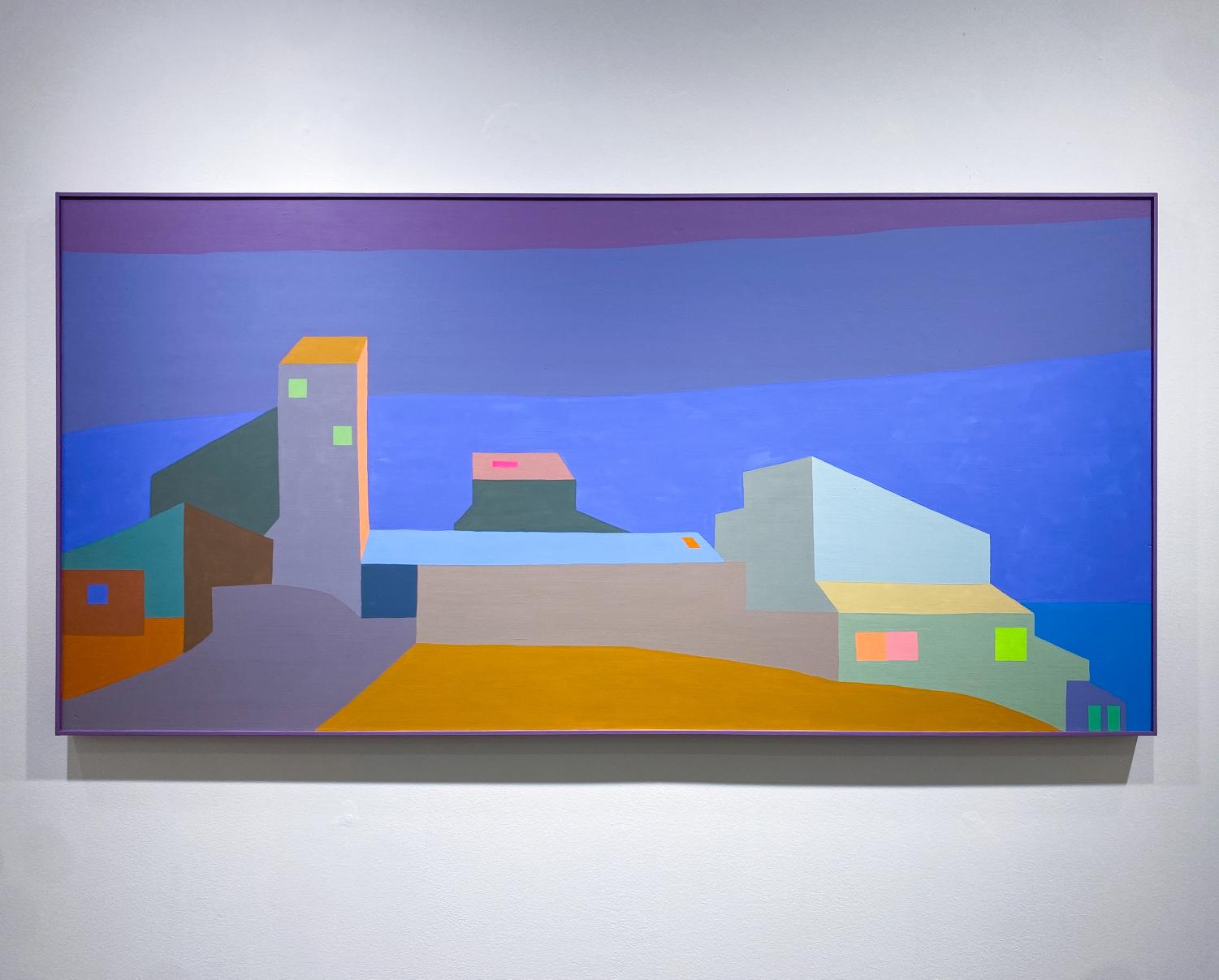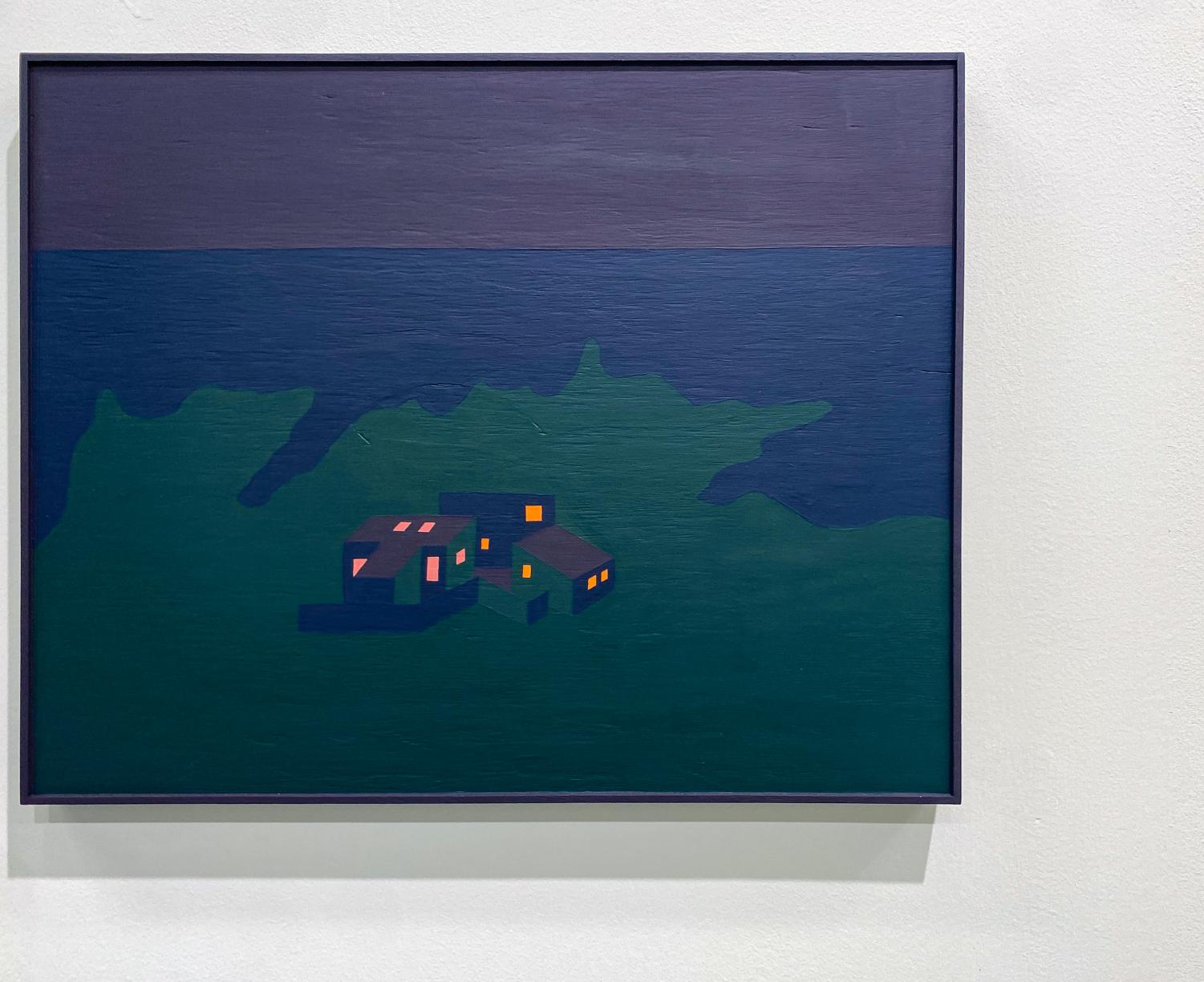 Qualia has always been intentional about how art pieces are displayed in relation to the gallery space. This time, they've selected artists that emphasize formal exploration (aesthetics, processes) over pure concept, which suits those with lesser-trained eyes wandering University Avenue.
Different as their art styles appear, "Solace" is the idea that brings Joe Ferriso and Venerable Shi De together. Ferriso is sharp, modern and minimalistic; by reducing architecture into solid planes of color, he transforms the unknown into the familiar; strangers' dwellings and workspaces into liminal spaces which function as intersections of our lived experiences. The surfaces of Venerable Shi De's works, on the other hand, ebb and flow within the tradition of Chinese ink painting. His starry skies and golden canopies tower over man, bringing attention to our insignificance in the face of nature. In both artists' paintings, the landscape is a protagonist with an imperturbable face, a blank canvas for the viewer to project their own experiences onto. Solace is an opportunity to lose yourself in the somber colors of someone else's world and make peace with your own.
---
Introductions: Sarah Morejohn / Neal Novak / Paula Valenzuela
Bryant Street Gallery
532 Bryant St, Palo Alto, CA 94301
Through February 28
Online: https://www.bryantstreet.com/artist/introductions/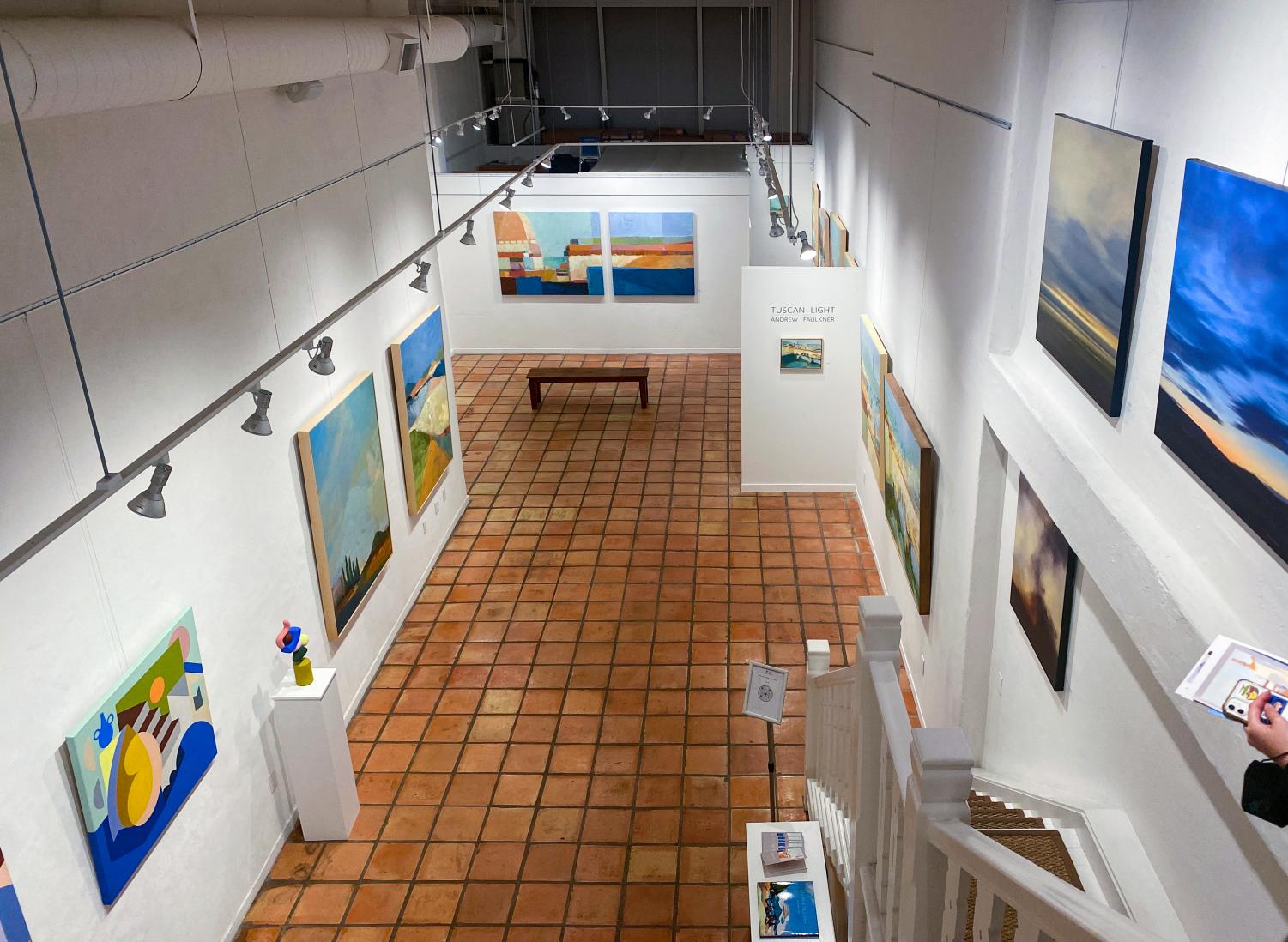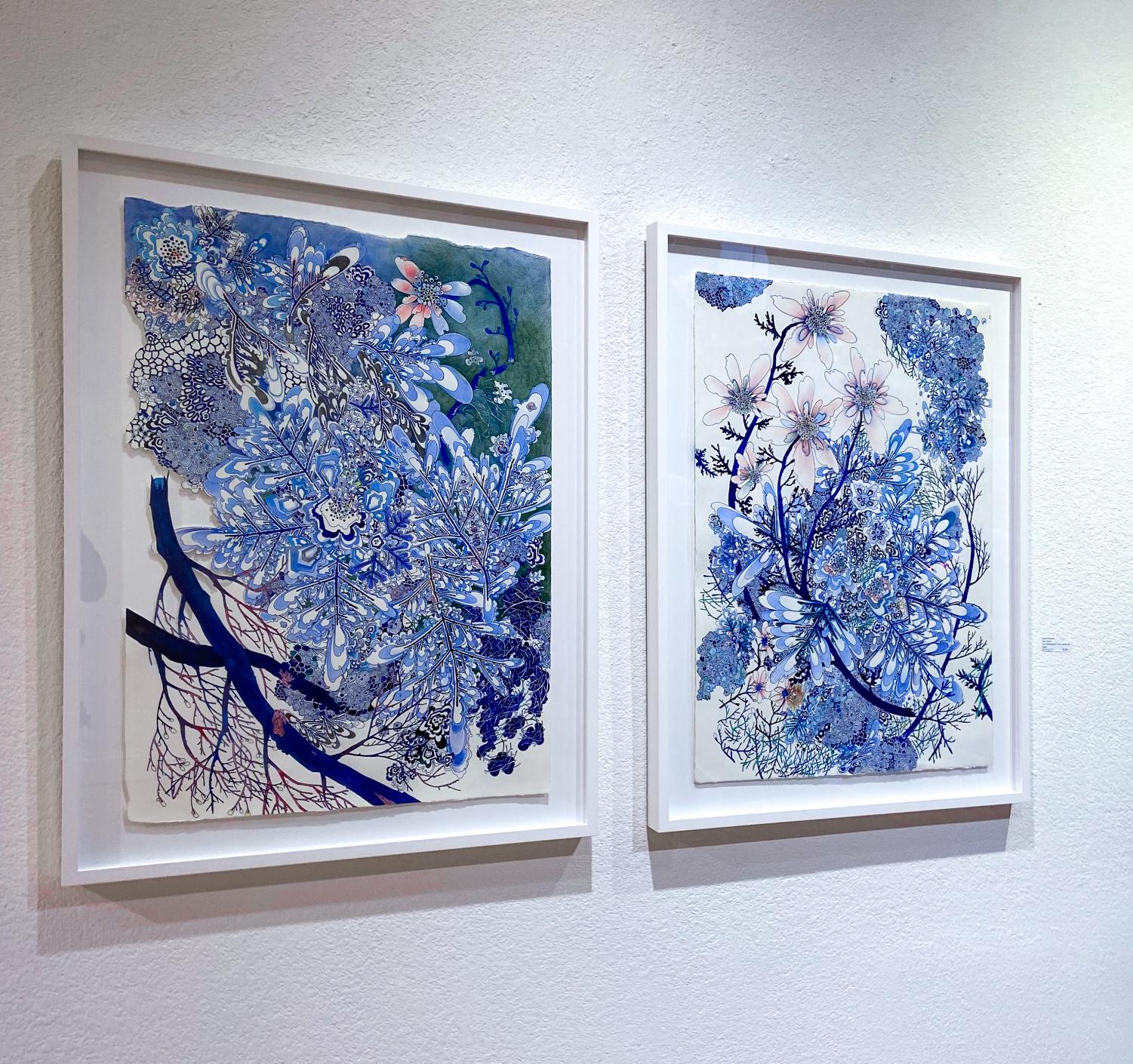 At Bryant Street Gallery, a spacious, friendly showroom shows off three contemporary artists:
Sarah Morejohn's free-flowing mandalas of crystals, blossoms and other natural forms seamlessly blend geometric and organic shapes. She draws intuitively, making inky lines to move the eye through a lush, wintry forest of the imagination.
Like Ferriso, Neal Novak's abstract paintings derive from recognizable landscapes: valleys, streams and bird's-eye-views of cities. They present the many ways forms can interact: overlapping or just barely touching, bending or curving, perpendicular or parallel. At points, layers of barely translucent paint offer a peek into Novak's iterative process of layering, layering, fixing and layering.Paula Valenzuela's work is similarly process-based as she explores the formal possibilities of mixed media. In her paintings Season #1 and 2, for instance, Valenzuela highlights the qualities of various materials—acrylics, crayons, pastels—by experimenting with various techniques—drawing, dripping, scraping. The pace of Valenzuela's motions vary from deliberate to sporadic, resulting in a cacophony of abstract forms.