5
MIN READ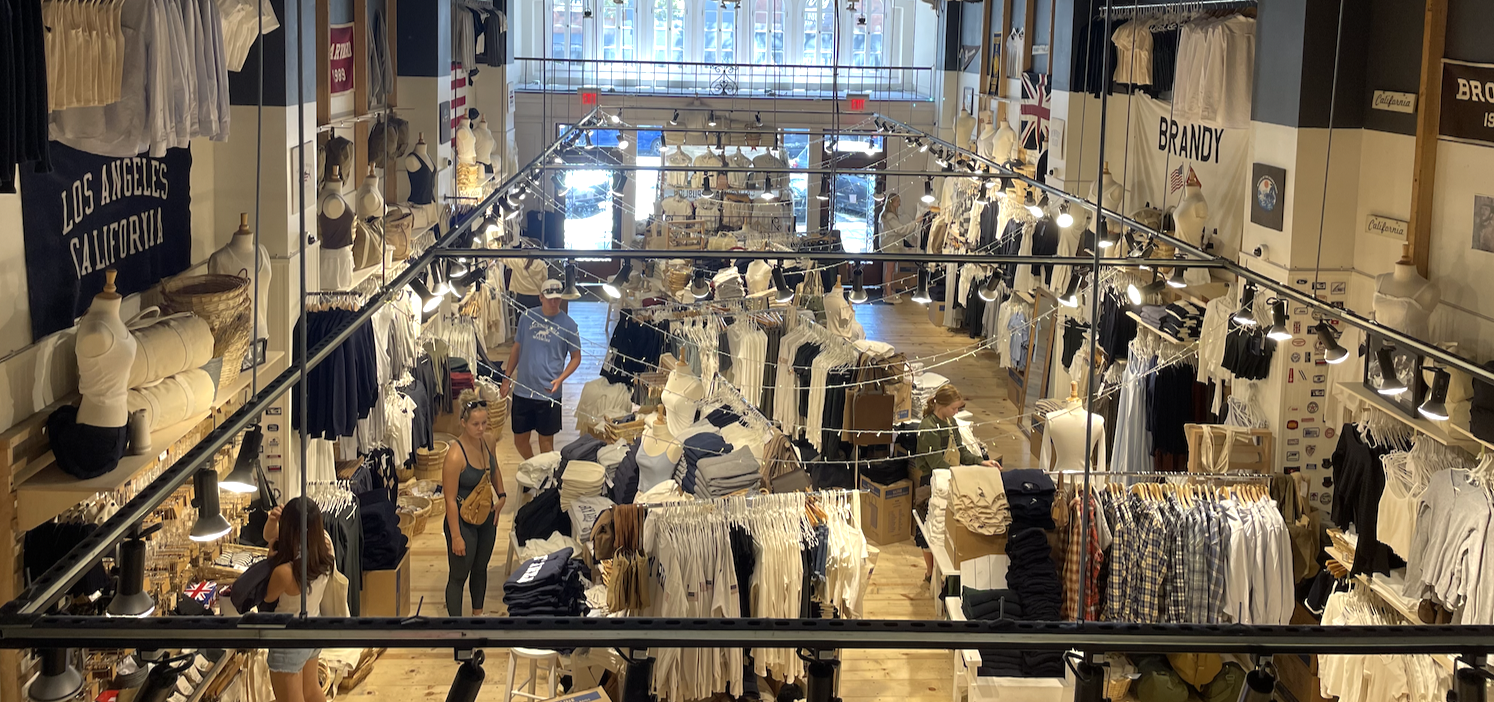 Hidden behind layers of lace trim and cherubic graphics lies many complicated feelings towards Brandy Melville. Some people love and religiously wear the carefully curated aesthetic, but others can only admire it due to the brand's rigid one-size-fits-all clothing metric.
Brandy Melville's one-size-fits-all approach has been a huge controversy since the brand was created. While some say one-size-fits-all is discriminatory and exclusive, others say it's convenient for those who fit the size. No matter what, many people still wonder if one-size-fits-all really fits all.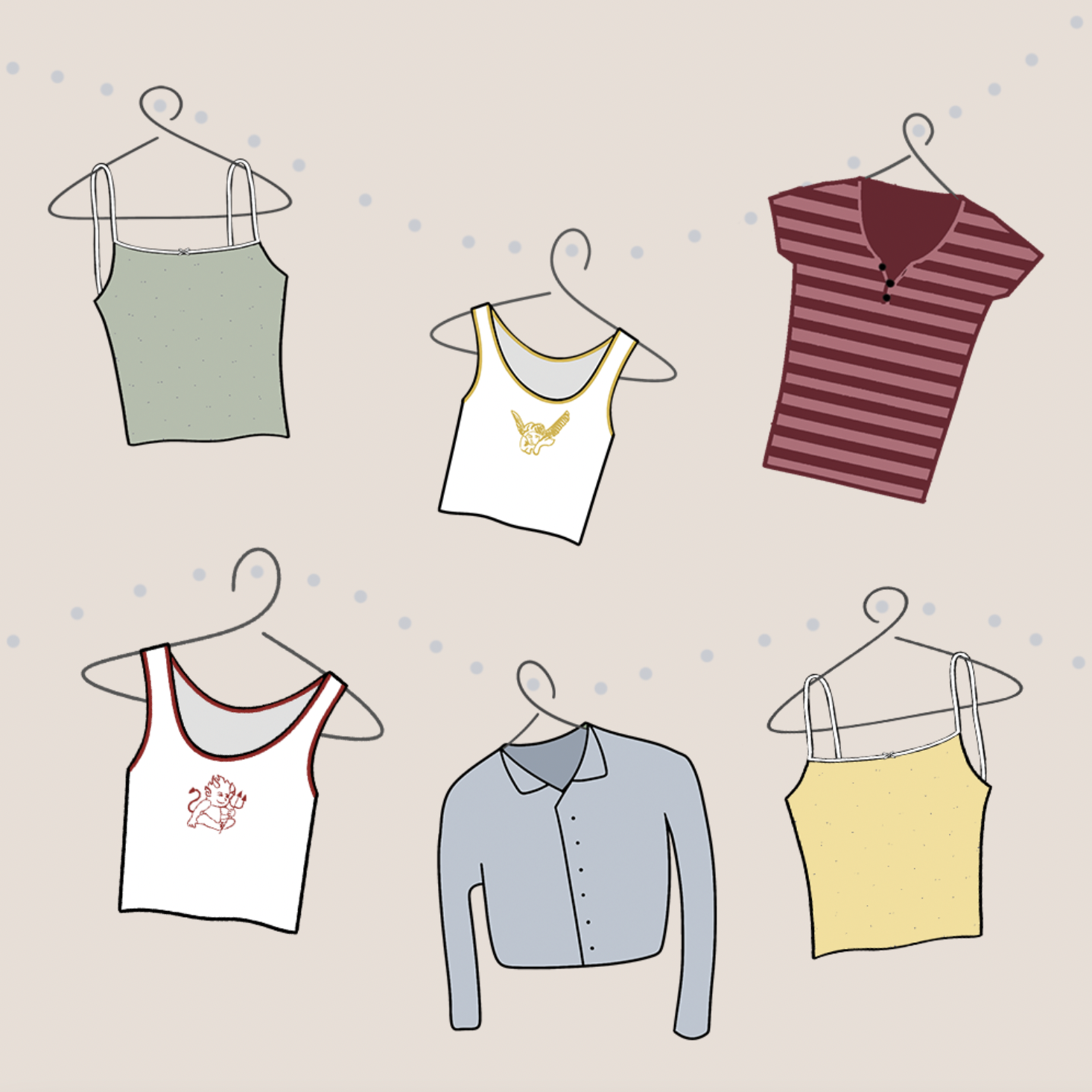 The Merriam-Webster dictionary defines one-size-fits-all as "designed to conform to all shapes and sizes."
In simpler words, every person should fit into the same clothes if they have this sizing label. One might think this would mean stretchier materials, adjustable straps, adjustable waistbands, and other accommodations. However, for many stores, this is not the case. Many one-size-fits-all labeled clothing is actually designed for a very small range of sizes, excluding those who wear larger sizes.
While the concept sounds great because of its convenience and assumed inclusivity, in reality, it is the opposite. Most of the clothes labeled one-size-fits-all, in stores such as Brandy Melville, actually fit people who wear a range of extra small to medium.
"[One-size-fits-all sizing] suggests something that could be very harmful to the people who don't fit into that one-size-fits-all idea, especially because one-size-fits-all is realistically a size small," an anonymous Paly student said.
Unsurprisingly, not 'all' people fit into these smaller sizes. This can upset those who wish they could fit into the trendy clothes their peers can wear. Despite many one-size-fits-all stores only carrying sizes 0-4 (XS-M), the average American woman wears a size 16 (XL), according to a 2016 study by Forbes. That being said, the 'one-size-fits-all' sizing metric only applies to a very small minority of American women.
"
I felt humbled, actually.
— Catarina Marchesi, 10
Additionally, the idea of one-size-fits-all is highly misleading; this sizing metric isn't actually a universal size.
Instead of carrying all, or a majority of available sizes, some companies choose to only manufacture a specific size and label it one-size-fits-all. Many companies do this because it's cheaper and less complicated than producing garments of multiple sizes. However, only people who fit into the manufacturer's chosen size can wear the clothing as intended.
People of different sizes may be able to wear one-size-fits-all clothing, but the fit will vary drastically from body to body. Some clothing items are sized differently to accommodate for this, meaning that some 'one-size-fits-all' clothes might be bigger than others. Still, the differently-sized garments do not fit many bodies.
"I really do like some of the sweatpants [Brandy Melville] has because it's a tighter look on some people and a baggier look on other people," sophomore Catarina Marchesi said.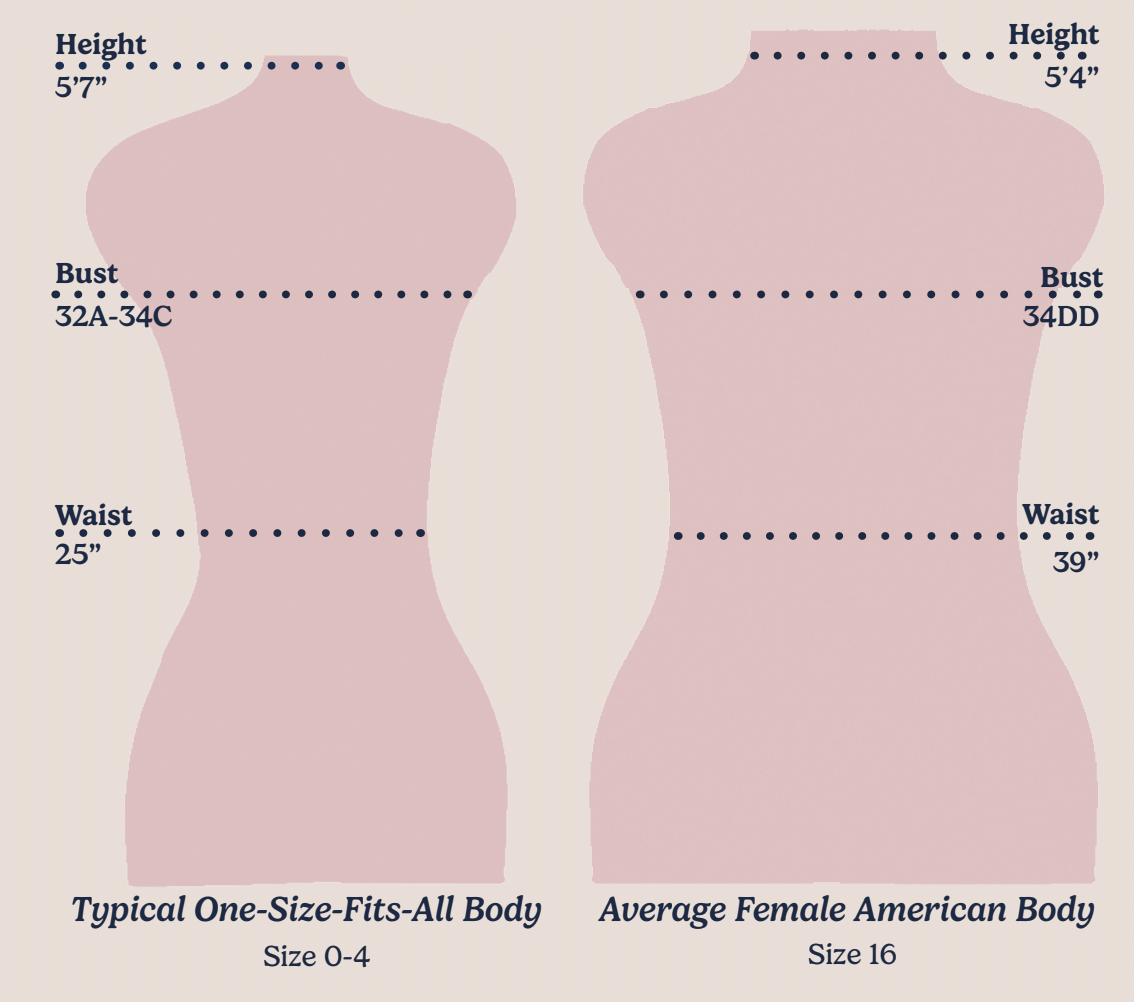 According to the Centers for Disease Control and Prevention, the average waist size for girls between the ages of 13-19 is 32.6 inches, which is, on average, a medium to large bottom. However, many one-size-fits-all stores only carry bottoms extra-small to small, sometimes fitting a medium if they are stretchy. In order to fit into these sizes, one would need a 25-inch waist.
"I think they tried to make [Brandy Melville clothes] from extra small to medium, and it just fits everyone awkwardly," junior Ella Kogelnik said.
To fit into these clothes as designed, one has to be roughly 5'7" and have a chest no larger than a C-cup. This contrasts heavily with the average American woman, who is 5'4", has a 39-inch waist, a cup size of DD, according to Healthline.
"Certain people won't be able to shop at this so-called 'one-size-fits-all' store because the sizes range from XS to M at the best," junior Emma Yang said.
Even though some enjoy how the look of one-size-fits-all clothing differs based on everyone's unique body type, others are not able to fit into them at all, causing comparison among shoppers.
"I felt kinda humbled, actually," Marchesi said about Brandy Melville. "The T-shirts would not fit my back."
Many other shoppers felt similar emotions and left these stores without having bought anything because the clothes wouldn't fit due to the lack of inclusive sizing.
"[I was] full-on crying in the dressing room because the jeans didn't fit me," an anonymous student said.
Despite the many people who continue to shop at Brandy Melville, some actively choose to shop elsewhere in order to boycott their exclusive sizing.
"I haven't been there since I learned it's one-size-fits-all, when it's actually a very small size," Sivan Sarig, a fellow Bay Area student, said.
"
They must know that it isn't for everyone.
— Sivan Sarig, 11
In many instances, shoppers at one-size-fits-all stores will leave the building feeling worse, even if they fit into the clothing.
"Even for the people who do fit into [Brandy Melville's] clothes, in the back of their mind, they must know that it isn't for everyone," Sarig said.
Many shoppers have mentioned that they feel bad about the clothes they purchased after buying from Brandy Melville.
"It was kind of weird," an anonymous student said. "I felt guilty wearing the clothes I bought."
The experience of those who cannot fit into one-size-fits-all sizing can be even more negative than those who do fit.
"For people who don't fit into the clothes, it can be really depressing," Sarig said.
Although one-size-fits-all can have adverse effects on individuals, in some cases, it is acknowledged as a good thing. Many people fit the smaller size range and thus benefit from the one-size-fits-all clothes these stores sell. For those who know they fit the size, it can make shopping quicker and simpler.
"Sometimes it's easier to shop at a one-size-fits-all store because you know you're that size, but if you're not that size, it's inconvenient," Kogelnik said.
Some people also think that stores targeting a specific body type are a good thing because the clothes will be catered to flatter that specific body shape.
"I do think it's beneficial to have a store made for smaller-sized people," Yang said.
"
One size definitely doesn't fit all.
— Emma Yang, 11
What some might view as a problem with one-size-fits-all clothing lies not with the clothes or the size itself, but with how they are marketed. It's one thing to have only one specific size, but another to mislead customers by marketing a minority body size as one-size-fits-all.
The word 'all' includes larger sizes and many believe it should not be used if only smaller sizes are sold. This statement may make people think that they are abnormal because they do not fit into the label of 'all.'
Exclusion based on body size makes people feel negatively about themselves. When such a popular and mainstream company perpetuates this type of exclusion, it can make people feel even worse.
Out of the 19 students who responded to a survey about this topic, 100% do not believe that 'one-size-fits-all' really does fit all.
"I think [one-size-fits-all is] a very misleading sentence and very misleading sizing, as one size definitely doesn't fit all," Yang said.
One-size-fits-all clothing can make individuals feel the need to change their bodies to fit the clothes, instead of simply buying different sizes.
"[One-size-fits-all clothing] makes people think that there's only one size they can be, and one size they should be," Marchesi said. "But that's not true. Everybody's their own person."
Modeled by Isabelle Carlson, Nina Faust, Kaliope Hendershot, Elsa Lagerblad, Bela Meyers, Tarika Pillay, Lily Williams, and Katherine Zaner. Photographed by Alice Sheffer.