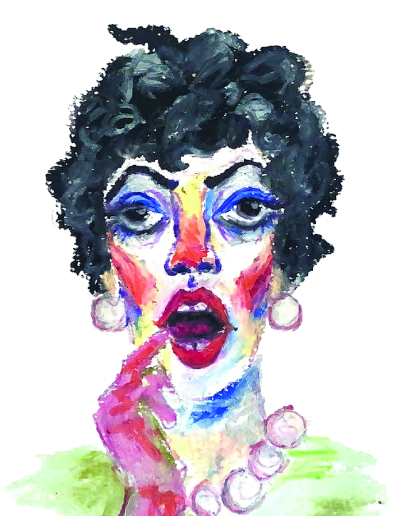 3
MIN READ
As the spotlight beams, the blue eyeshadow and red lipstick on the stark pale face of Dr. Frank N. Furter in his laced, bedazzled top comes into the audience's view. The cast of The Rocky Horror Picture Show surrounds him in fishnet tights and high heels and returning fans of the "cult classic" enjoy the show in themed outfits.
The Rocky Horror Picture Show is a 1975 independent comedy musical directed by Jim Sharman. The film has developed a loyal following and to this day, fans of all ages venture to the iconic midnight live performance that coincides with the film. The film is about sweethearts, Brad and Janet, whose car breaks down in the middle of a rainstorm forcing them to seek refuge in the mansion of Dr. Frank N. Furter, a "transvestite" mad scientist. At the estate, the couple encounters all sorts of characters including Dr. Frank N. Furter's newest creation, Rocky.
The late 1960s and early 70s was a time of progression for the queer community. Although it may seem slow to people living in the 21st century, great changes were made that laid the groundwork for future progress. Six years prior to the release of the film, the trailblazing Stonewall riots in New York City occurred, which served as a transformative step for the gay liberation movement. Later, in 1973, the American Psychiatric Association unanimously voted to remove homosexuality from its list of mental disorders.
"
"It's a confidence-boosting piece of film. After watching it, I felt like I could express myself the way I actually wanted to. I wasn't afraid anymore."
— Olive Lindstrom, 12
The film was revolutionary for its time as it depicted characters who weren't mistreated or ridiculed for their sexuality and gender expression. Its unapologetic queerness continues to inspire fans, like Paly senior Olive Lindstrom, to be their authentic selves.
"It's a confidence-boosting piece of film," Lindstrom said. "After watching it, I felt like I could express myself the way I actually wanted to. I wasn't afraid anymore."
The Rocky Horror Picture Show is a testament to how important representation can be for people in marginalized communities.
It's especially important that representation is accessible to various audiences. Whether it be in movie theaters, living rooms, or even classrooms, almost everyone watches movies. Composition and Literature of Visual Media (CLVM) teacher Alanna Williamson asserts that the message relayed in the Rocky Horror Picture Show can have an extensive impact.
"Any time that we have representation in the media, it's helpful," Williamson said. "Especially because it is such a classic film now, lots of people go watch the show and experience it in person, even if they might not align with the show's more progressive views."
"It has had such a big impact on the LGBTQ+ and alternative communities because of how out there it is," Lindstrom said. "It's funny, there's swearing, there's sex, there's controversy and there's gayness at a time when that was rare."
The following this film has garnered has not only fostered a sense of belonging for those in the LGBTQ+ community but also had an expansive impact on the fashion and design industries. The Rocky Horror Picture Show broke boundaries with its sequin corsets, shimmering eyeshadow, and extravagant hairstyles.
"It's a good callback to camp and it definitely encouraged it within fashion," Williamson said.
Camp is a style and fashion aesthetic known for being over-the-top, yet this extravagance is seen as a way of expressing your authentic self. At first glance, a "campy" outfit may seem tacky, absurd, and even ironic but it is purposefully this way to subvert conventional societal norms.
Although the Rocky Horror Picture Show did not invent camp, as it was originally a distinct aspect of the early gay liberation movement, it was one of the first mainstream films to display it positively to such a wide audience.
Camp has since gained popularity and become more well-known. The creativity expressed in camp, seen in the film or performance of the Rocky Horror Picture Show, conveys a sense of freedom and joviality that are able to generate a wider appeal to the aesthetic.
"After going to Rocky Horror I found myself wanting to dress more out there because I saw all these cool fun gay people and older people dressing in such expressive styles," Lindstrom said.
The Rocky Horror live performance has become a Halloween media staple, with shows happening almost every week during the month of October. In the Bay Area, the Guild Theatre in Menlo Park and Balboa Theatre in San Francisco are just two of many independent movie theaters that host performances. The live performance utilizes audience interaction and comedy to build a new life within the film itself which creates a unique atmosphere for performance goers while acting as a vehicle for LGBTQ+ representation.
Queer representation is especially important for youth, such as high school students, to view because it can inspire them to be more confident in their identity.
"I highly encourage people to go watch the performance," Lindstrom said. "It's such a fun event to go see with friends and it is such an iconic piece of pop culture and queer history that it's too good to miss out on."