Minnesota Street Project
A community of galleries and artists changing San Francisco's art scene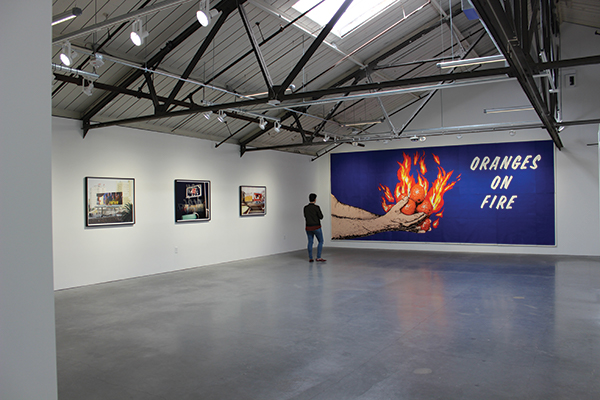 Deep in the heart of San Francisco's industrial Dogpatch district, a place of trucks, abandoned warehouses, and construction pollution, a revolution is blooming.
On the corner of Minnesota and 24th, this black-and-white building reveals nothing of its interior glories from afar. Little moved in this area on a Wednesday morning until the building doors opened at 11 am, when a couple of well-dressed millennials emerged from parked cars. Chatting jovially, they entered, among them the Rena Bransten Gallery representative China Langford.
"Minnesota Street Project was started by philanthropists Deborah and Andy Rappaport, in hopes to keep some of the galleries and the artists that they saw being forced to leave San Francisco here," Langford said. "This building that we're in houses galleries — ten permanent gallery spaces. The building across the street from here has 34 artists in residency, and then there's a third building that has art storage and art handling facilities. The three of those together are all part of Minnesota Street Project."
Inside the building is a cavernous atrium flocked by two floors of gallery spaces. Pillars lit by fluorescent neon strips run down the center of the enormous room. At the back, a simple wooden staircase leads to the second floor. A space along the side remains sealed off, but come fall it will house a new restaurant.
Although the ten galleries inhabit the same warehouse, each forms a unique world. Here's what the gallery owners, directors, and representatives had to say about their own projects.
Andrew Mcclintock, Owner of Ever Gold Projects: 
Sounds of heavy machinery permeated the air when McClintock switched on the video projector in his gallery. The exhibition features a series of movies by South African artist Cameron Platter. "I had my gallery in the Tenderloin for about seven years before I moved here," McClintock said. "I started it when I was still in my last semester at the San Francisco Art Institute, and I just started with a couple of friends. We found a vacant spot in the Tenderloin. It was an old jewelry store, and it was abandoned. So it was kind of started with the intention of having a fun space."
McClintock's story took a turn that many artists in the area could relate to. "I had been evicted from [the] Tenderloin. There are other galleries that are getting kicked out of other spaces, the scene was just so spread out, and even though the city is small, it was just very hard to get people to come to things."
For him, Minnesota Street Project marks a new start. "It's just a really good example of a good mixed-use space that brings people together, increases foot traffic, increases visibility, kind of fabricates an actual scene. It's been a huge positive impact on the city."
Jenny Baie, Director of Rena Bransten Gallery: 
As one of the first galleries to sign on to the project, the Rena Bransten Gallery holds the work of established artists as well the stories of seasoned curators. "We used to be downtown for about 27 years, for one space we were at, and we had to move out," Baie said. "They basically kicked us out for a tech company."
After setting up a temporary space on Market Street for two years, the Rappaports approached the gallery about being part of the project. "It was a fantastic idea, we loved it, we said yes, and here we are."
In terms of how the project has affected the gallery since then, Baie had positive feedback to give. "I think it's fantastic, I think it's nice for us galleries to have a community of galleries again, a place where we can all interact with each other and not be all spread out in all parts of the city."
Nina Veaco, Volunteer at Fake Newsroom: 
An art community of this scale brings some curious pieces with it. As a volunteer, Veaco's job is to print images from the Associated Press website and lay them out on the floor.
"Larry Saltin, Mike Mandel, they got access to daily images that came from the news. They were taking the images without text and just sequencing them out. This was what they did back in 1983, and so for a couple hours we just pick some pictures that we like, that speak to us. And no Trump, that is not allowed."
What do they do with Trump photos? "If you want though, you can pick out a picture, and you may shred it," Veaco said. "So that's how we deal with that issue."
Nancy Toomey, Owner of Nancy Toomey Fine Art: 
Another seasoned gallery director, Nancy Toomey, recounted her gallery's nomadic movements. "I was downtown in the 49 Geary building for about 18 years, and I got the opportunity to move to this wonderful location.The rents had gone up downtown, and it just seemed like a paradigm shift. A lot of the galleries were moving out of downtown. The Rappaports invited me — I was one of the initial members to sign up here — and it was like a breath of fresh air, a brand new location."
Toomey's outlook on the future of the area was positive. "When the restaurant opens it'll be even more lively. I think that there's going to be a lot more of a cultural shift down to the outlying areas of San Francisco because the rents can no longer sustain arts organizations. I think it's going to have a big impact on a lot of the condos being built, and I think it's just providing another cultural hub for the city, especially for the neighborhood."
What will be the catalyst? "It's not just galleries that are here, there's all sorts of things — parties, private events, book fairs, print fairs," Toomey said. "It's created a lively hub, and hopefully it will introduce younger people to art."
Clea Massiani, Co Director of Bass & Reiner Gallery: 
Although a relatively new gallery, Bass & Reiner has already made waves in San Francisco. "We've been around since September 2014, in the Mission," Massiani said. "The Rappaports owned this building and many other buildings around. They saw what was happening in the San Francisco art scene — everybody was getting displaced, artists were leaving, and so they wanted to act fast."
Bass & Reiner contacted the Rappaports and made an instant impression — they were young, they had low prices and they brought in a different perspective from minority artists.
Thanks to the project, Massiani said, the gallery has benefitted quite a bit. "We get more visibility, we get more clients, and we get a lot more attention."