To Bead or Knot to Bead
I have had store owners see me wearing my jewelry, buy it off me and offer to sell it in their stores," 16-year-old Emily Wood said. Not only has this Paly junior found passion within her hobby of jewelry-making, but has also encountered success.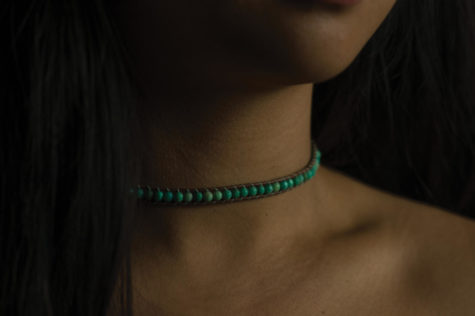 Emily Wood has been making jewelry since she was 10 years old. To initially learn how to make jewelry, Wood watched YouTube videos that taught her the basics, however she no longer needs such instruction. Now, with more experience, Wood has come to love the artistic freedom of creating unique bracelets and necklaces.
A key component of her jewelry-making process is shopping for beads and string that catch her eye. "I don't go to bead shops often, but when I do I usually stock up on beads without a certain vision for each different strand," Wood said. Her trendy and creative fashion sense is what drives her passion of making intricate beaded jewelry. This creativity shines through in her shopping stage of the jewelry-making process. By purchasing a variety of materials, Wood has more options when she begins the process of designing and creating the bracelets and necklaces.
The detailed procedure of creating intricate jewelry is not something that can be rushed. Envisioning what she wants to create takes time, but so does constructing the final product. "I usually don't sit down and finish it right there and then," Wood said. "I start it and come back to it another day or later that day." Taking a sufficient amount of time to create each necklace and bracelet is necessary to making a beautifully-crafted piece.
When Wood is ready to begin a new piece, she incorporates influence from jewelry designs she has seen elsewhere. "I usually just choose combinations that I am inspired by," Wood said. Inspiration from other designers guides her style; her jewelry looks very similar to a very high-end brand, Chan Luu. "I was truly inspired to make jewelry because I loved the wrap bracelets that are made by Chan Luu," Wood said. These bracelets cost around $300 to $400, and Wood is able to sell her bracelets for a fraction of this.
Wood's primary customers are friends and family, however her jewelry has also caught the eyes of numerous jewelers. Many of them have even offered to buy and sell some of her pieces.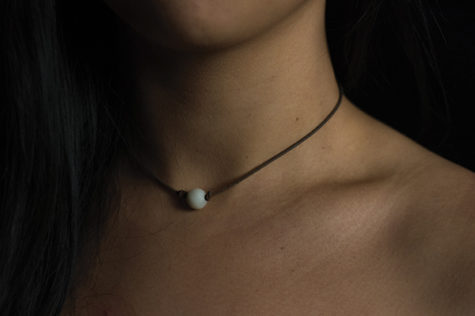 Jewelry is often expensive to buy due to the extended amount of time required to make it, as well as the cost of the various aspects that go into the final product. As a business owner, Wood takes this into account when deciding on a price for her jewelry. "The cost depends on what materials I used. If the beads are more expensive, then the bracelet or necklace will be more expensive," Wood said.
Making jewelry takes lots of time, as well as coordination. Being able to do this as an outside activity while keeping up with schoolwork is not an easy feat. "School always comes first so sometimes it's hard to get around to it," Wood said. Jewelry-making has become an escape from stress and school for Wood. "Jewelry-making is an outlet for me," Wood said. "It's something I like to do for fun when I'm stressed."
Wood is a high school student who, like many of us, utilizes the internet and social media daily.. Today, the internet is a great outlet to begin and promote new businesses. People are constantly making online purchases, and social media sites such as Instagram have become a place for consumers to browse and purchase items. "I am hoping to create an Instagram account or website eventually where people can look at my work and buy it," Wood said.
For many people, hobbies like jewelry-making tend to not last very long. But Emily Wood's passion of jewelry-making hasn't ceased since the day she started. Making jewelry was initially just a hobby for Wood, however it has since turned into much more. She has been able to profit from her hobby while still enjoying the artistic process. "I hope one day it could turn into a small business," Wood said.
Emily Wood's unique ability to juggle the busy life of a Palo Alto High School junior with her passion of making exceptional pieces of jewelry is inspiring. By taking something that she enjoys to do and turning it into a potential career for herself, Wood has learned how to work for a profit, an experience not many high schoolers can say they have had.