You Wish You Were a Senior
Decades later, the senior class continues to follow the footsteps of previous years: wearing camouflage attire on various school days in a final display of unity.

For freshmen, the first day of school is intimidating. To accompany the newfound stress of an unfamiliar campus are none other than confident seniors, dressed head-to-toe in camouflage apparel and spilling out from cars painted with green and white. For seniors, the first day of school is long-awaited and highly anticipated. After three years they are finally on top and it is time for them to become fully unified as a class and maintain Paly's most legendary traditions. As students progress through high school, they continue to discover the unique senior privileges that have become an established part of Paly culture after years of repetition.
The beginning of the camo tradition began with one innovative senior class over three decades ago. Anna Centrella Thayer, Paly class of '82, was part of the senior class that established this longtime tradition."It birthed out of what we were going to do with the color green [for spirit week]," Centrella Thayer said. With the ability to incorporate a tank from Moffett Field into their float design, the idea of making the theme related to the military came into mind and dressing up in camouflage fit the theme without any regards to future senior classes. "After it was such a big hit, we wore it a couple more times later [that] spring," Centrella Thayer said.
Although they did not initially expect it to become such a long lasting tradition, underclassmen to this day look forward to wearing camo."I think it's really important, especially in high school, because it unites people and it gives the underclassmen something to look forward to," Centrella Thayer said. "It's like you finally deserve it and earned the right."
Now, wearing camo attire on the first day has become an event of its own. Between stripping local surplus stores of their camo pants and ordering camo print accessories off of Amazon, the first day of school requires some planning in advance, but brings excitement when doing so, establishing a connection among the class.
"Since it was our last first day of high school, we needed to do something that unified our class and showed our school spirit and Paly pride," Paly senior Mikayla Rimsa said. "We all had this connection."
Along with the camouflaged clothes and accessories, the first day of school is also the time for seniors to break out their window paints and markers to illustrate their school pride. The parking lot is cluttered with cars covered with the senior's graduating year, viking drawings and the phrase "honk if you're a senior." "I thought that car painting was really fun because I got to show my pride for Paly in a way that all of Palo Alto could see," Rimsa said.
As it has become a popularized tradition for well over a decade, the custom of wearing camo not only unites the current senior class, but also alumni with current students. "From the alumni back then we can say 'we did that too,'" Centrella Thayer said. The connection between present-day seniors and Paly graduates holds a special place in the history of the senior classes, allowing for a shared experience, without any regards to age or generation.
Nowadays, in addition to decorating their cars, many seniors will meet up with their friends before school starts to take pictures in their camo outfits and drive to school together, building up to the excitement of establishing their dominance and power over the rest of the student body. A crowd of camouflaged dressed students surrounds the senior deck as they exchange greetings before the warning bell while taking more photos.
The bond between the seniors extends past the last minutes of summer before the first-period bell to the classes themselves, with conversations about the summer break integrated with the first day of school lesson plans and "get to know you" activities. Wearing camo while walking across campus between periods or heading to lunch also allows for the chance to identify students who were not previously recognized as seniors, or reconnecting with seniors who moved back to Palo Alto for their senior year.
Wearing camouflage also boasts seniority status throughout the entire campus, giving the senior class an extra boost of confidence as it separates them from the rest of the students. Miguel Fittoria, Paly class of '08, experienced the camo pants tradition for himself over a decade ago. "It was like a rite of passage," Fittoria said. "You didn't get to do it until you were a senior, and you always saw the seniors do it, so you couldn't wait to do it yourself."
The now labeled tradition has different meanings to past and present students. Whether it provides a connection among the senior class or functions as a rite of passage, it has proved to be a tradition that reoccurs every year. Although the camouflage pattern is shared by both the military and Paly, there is no clear connection between the two. "I think most of us didn't really think of it as a military thing or anything else," Fittoria said. "Nobody thought anything of it, it was just a cool, fun thing to wear."
Senior traditions may not always reflect the most sensible moments of high school, but the school spirit of the graduating class is the factor that makes this period unforgettable. After three years of waiting, the time has come to lead the rest of the student body in pride and uphold the traditions that have been passed down from class to class. While the first day might have been intimidating for underclassmen, the last day is one to remember as papers are thrown into the air by camo-clad seniors, leaving behind a final impression that exudes Viking pride.
Art by: Claire Li
About the Writers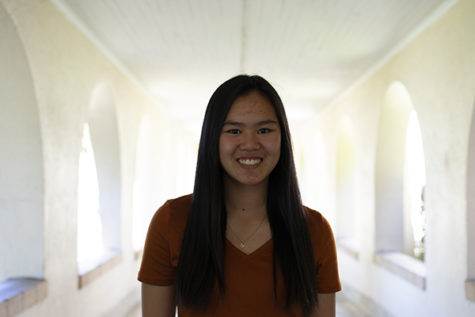 Kailee Correll, Copy Editor

When deciding which publication she wanted to join, junior Kailee Correll believes that C Mag seemed like the perfect fit because of its amazing designs,...