IDEAL DESIGN
AN INSIDE LOOK AT IDEAN, A PROMINENT PALO ALTO GRAPHIC DESIGN COMPANY, AND THE EMPLOYEES THAT SUPPORT IT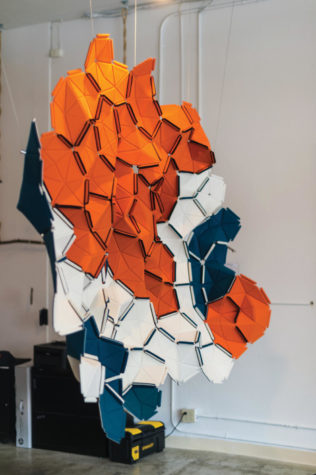 When approaching the building on 214 Homer Avenue, the words Palo Alto Bread are visible above the wide doors. While you may expect a whiff of freshly made dough as you walk through the entrance, the interior consists of loud music playing and aisles of Apple desktops. All previous assumptions made from the exterior appearance vanish when playful colors emerge behind the doors. This is the home to Idean, a design and consultant company with multiple locations, all just as cheerful, worldwide.
Idean's specializations in design and business consultations translate into working with both large companies and startups. It aids these companies in the process of advertising and producing a project in an effective, appealing way in addition to its development. Idean pursues the creation of strong relationships between their clients and the customers their clients appeal to. Idean's growth as a consulting company is represented through dominant clients that they have accommodated.
The company's location in Palo Alto relies heavily on a design-oriented environment, so employees such as Johnny Chen and Christian Van Meurs, who are both Interaction and Visual Designers, are of great significance. Chen and Van Meur's work at Idean has helped large companies worldwide. The success that the designers are experiencing is undeniable, but the significance stems from the prosperity perpetuated within the endless parameters of their creative jobs. The creativity within the company allows employees to pursue their interests and pioneer solutions to issues that challenge them. Chen and Van Meurs are not only participating in their companies' efforts to improve customer relations and design interfaces, but they do so by using their creativity.
In the four years Chen has worked with Idean, his role as an Interaction Designer has contributed greatly to his clients and their endeavors. For the protection and privacy of their clients, the names of both Chen's and Van Meurs' clientele will not be mentioned.
Chen's first project was with a Chinese multinational telecommunications equipment and systems company. In collaboration with four other designers, Chen aided this company in its efforts to make an intriguing concept design for a phone that would profit well in the American economy. Chen was involved in the process of creating basic apps that would fill your home screen, similar to those found on Apple and Samsung devices.
"We just came up with an idea, which [was] the spaces that dialed music, your favorite [apps], and an exercise [tracker] that was on top of the home screen" Chen said.   
Another big project that took Chen over a year and a half to complete was with an eminent billion dollar technology company. Chen and his partner worked solely on developing a controller for a drone. It is through this project that the creative realms of his job were highlighted; Chen got to explore his interests in a way that was benefitting an influential company.
"I was basically flying drones for my job",Chen said.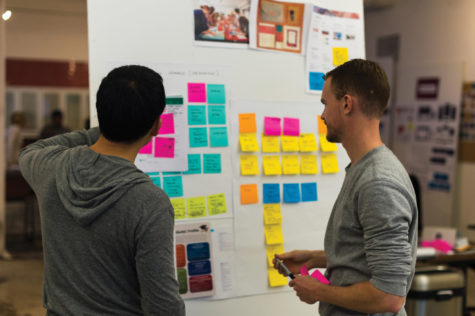 As an Interaction designer, part of Chen's job is to gain the perspective of a consumer. In this case, "you have to fly drones to understand the fears involved," Chen said.
Currently, Chen is rebranding an insurance company that has served more than ten million households. In this ongoing project, he is working on renovating a twenty-year old, non-user friendly website that customers use to buy insurance.
"This project is a good example of design life," Chen said. "It's 40 percent communication and 60 percent design. Half the time you [are trying] to communicate [your ideas] to whatever audience you are speaking to." Chen's renovations and design fixes for significant and impactful companies like these have strengthened each company's products, thus continuing to grasp the attention of old and new customers in a developing consumerist society.
The element of interaction holds importance when creating long-lasting relationships between clients and customers. This venture is represented through another Idean employee: Christian Van Meurs. Van Meurs is a Visual Designer who has been working at Idean for one and a half years. Previously, Van Meurs' primary focus was on animation and three dimensional art. In his six years of experience with digital media, he has released successful games, such as Game of War and Mobile Strike.
Before landing a job at Idean, he decided to switch from video games to virtual reality due to the platform's increasing popularity. "I was interested in [virtual reality] and just wanted to make a switch since games burnt me out pretty quickly," Van Meurs said.
During his short time at Idean, Van Meurs completed many important assignments for his clients. Recently, he has worked with a multinational telecommunications company and a multibillion dollar computer manufacturing company.
One of Van Meurs biggest assignments coming into Idean was helping a telecommunications company. He helped the company find an efficient way to monitor network traffic for delivery of a television program.
"We had this elaborate control room built in [virtual reality] where somebody could monitor what programs people are watching and how many people," Van Meurs said.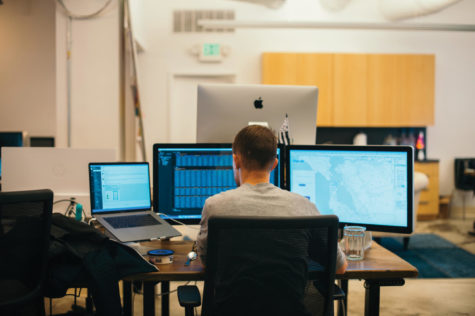 Another important task Van Meurs worked on was improving the services of a computer manufacturing company, specifically customer relations and design. He and the Palo Alto and Austin teams began assisting this company in their efforts to monitor traffic for the cloud service they offered. Van Meurs explored different ways in which he could make the cloud service more interesting to engage customers.
To complete these projects, Van Meurs continues to use his skills in animation and three dimensional art from the past. To do so, he has tested different softwares to create animations and artwork; many of his creations have been contrived from the design software Unreal Engine. Unreal Engine has proven to be the most useful to his clients and co-workers. "Most of the time, I'm just doing random models and animations for when somebody needs it for a presentation," Van Meurs said. Van Meurs and other team members use virtual reality technology to understand a consumer's perspective and design softwares to create modern animations.
Both Chen and Van Meurs carry an impressive resume at Idean and are still continuing to work collaboratively with companies to create new designs and visuals for their consumers. Creatives places within an interior such as Idean's discover solutions to problems that continue to overwhelm companies, both large and small. Additionally, the large amount of support that team members have for each other aids Idean's growth as they begin to take on grander challenges. Within this artistic and inviting interior, daring creators attempt to surmount impossible heights, while continuing to stay devoted to customer relations and creating and improving wholesome products that benefit our society.