Call Me Rohingya
Through the lens of Andrew Stanbridge's camera, striking images allow the public to comprehend the gravity of the Rohingya crisis, inspiring people across the globe to make a difference.
Migrating from misery, thousands of individuals who seek refuge from persecution are facing a global absence of hospitality. These harrowing events experienced by the Rohingya in Burma no longer attract enough sympathy to be accommodated by neighboring countries, leaving them in a condition of international statelessness.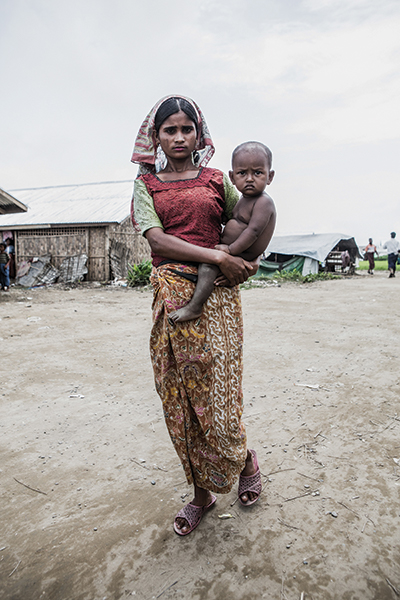 The Rohingya people are a Muslim minority from Myanmar who have been virtually exiled to nowhere due to severe ethnic cleansing in the Rakhine State. This expulsion is driven by  the religious divide between the Buddhist affiliated government and Muslim Rohingya. The Burmese military reverently denies all reports of rape and violence, and has actively blocked attempted investigations issued by the United Nations under charges of genocide. The stereotypes surrounding the minority group leads Burmese government officials, politicians, religious leaders and citizens to believe that the Rohingya are receiving unwarranted sympathy. The media attention on this situation has been critiqued by Burmese residents, as they believe countries such as the United States are unjustly sympathetic towards the Rohingya.
Photojournalists have the ability to translate raw stories across the globe through their images. While a news journalist's personal perspective may contain bias within their article, the art of photography serves as a speechless call for help. Andrew Stanbridge is one of these photojournalists who utilizes this transient form of communication to cover the crisis.
"The current crisis that I've been covering started in 2012, right after the ushering in of democracy in Rakhine state in Northwestern Burma," Stanbridge said. The Rohingya crisis began when groups of Buddhist Burmese citizens complained about their Muslim neighbors, the Rohingya, for various racist reasons. The Burmese government and Buddhist Burmese citizens would persecute the minority for issues as simple as having too many children or taking up too much land. Soon after this maltreatment began, the Buddhist Burmese citizens took extreme action and attacked Rohingya villages by burning them down and using pitchforks and axes. Most of the police stood by silently and watched while some officers chose to partake in the violence. With their homes destroyed and loved ones lost, the Rohingya began to flee from their homes towards government organized detainment camps. Aid workers have attempted to relieve strife, however, they have been purposefully banned from large portions of the country where these camps exist, preventing the Rohingya from receiving support.
These camps are filled with thousands of Rohingya as the Burmese military has annihilated their original towns and
villages, and any who are left are met with violence, execution and rape. "There's been a mass exodus of Rohingya from Burma crossing the water border to Bangladesh," Stanbridge said. "At this point there's over 600,000 [occupants]."
Stanbridge opted to cover the Rohingya crisis due to his interest in Southeast Asia. "I'd been photographing in Burma for about almost 20 years," Stanbridge said. "In 2012, I was working on photographing the process of Burma adopting democracy when violence in the Rakhine state began," Stanbridge said.
He began his documentation of the Rohingya people with little knowledge of the ethnic minority, but he was interested to learn more about their hardship. While covering  Burma's transition to democracy, the Rohingya crisis caught his attention and became his focus: "I'm trying to tell the story of the conditions that they're being held in, the greater story of racism which really mirrors what's going on in our country as well," Stanbridge said.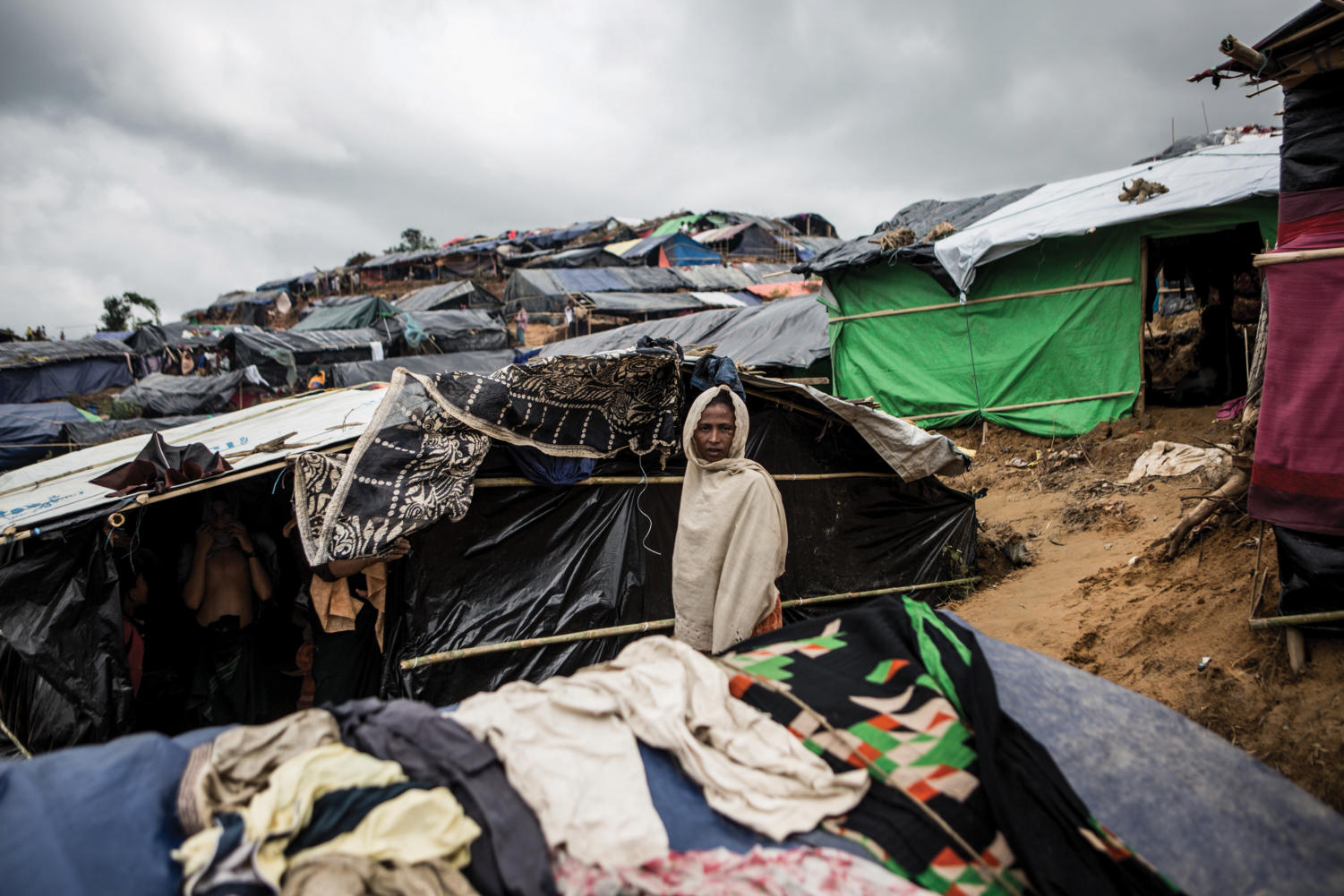 While taking photos within the camps, Stanbridge listen to experiences that will remain with him for a lifetime. "Hearing stories about peoples' childrens' heads being smashed and their brothers and sisters being shot right in front of them and being gang raped and locked in a hut and set on fire was incredibly disturbing," Stanbridge said. Watching thousands of people blindly throw their lives onto small boats for a treacherous journey across violent waters is inconceivable to most and has provided him with with a much wider perspective of bravery and risk.
One of Stanbridge's longest standing projects, "Call me Rohingya," is working  to give a voice to the issue. "I'm trying to give a face and identity to the Rohingya people that so many people don't know about," Stanbridge said. "The reason that it's called 'Call me Rohingya' is because the Burmese won't use that word. They say that they're just Bengali people when their ethnic identity actually can be traced back hundreds of years."
The Rohingya know that Stanbridge is a messenger for their fight to the greater world. He's discussing "the broad narrative of man's inhumanity to man or peoples inhumanity to people that are just different than you. They welcome me into their homes and are mostly happy to have me spend time with them and take images of them. They are completely gracious even in their times of hardship. They want to give me what they are eating on the ground."
As a photojournalist, Stanbridge gets into the thick of conflict to relay stories that emotionally impact people, but there are also many complications that come with his job. "As a journalist I really try to take in both sides and I think this has been one of the hardest stories to try to remain impartial on just because I have witnessed so much grief that these people have had to go through," Stanbridge said. Meeting and talking with the Burmese Buddhists and hearing the hatred in their voices and their rationale for wanting to exclude an entire group of people from society was baffling for Stanbridge, but also something that was vital to his work.
Being a photojournalist has allowed Stanbridge to follow the Rohingya over time which has a strong impact on the way he has told this particular story. "Being a photojournalist, you have to be there, you have to be there with your camera and so it's weighed heavy on my heart." Stanbridge said. "I get to leave and come back and what not, but knowing that I do continue to return and the conditions continue to be miserable and if not getting worse every time I return."
This is why it is crucial that Stanbridge continues his work;  the striking images he publishes are a scream for help, which have been returned with aide from many humanitarian programs. This includes Unicef, Action Against Hunger, the International Rescue Committee, Save the Children and Doctors Without Borders who are all helping the Rohingya minority in their own way. The International Rescue Committee specifically is focusing on aiding  Rohingya people still in Rakhine, however, the Myanmar government has made aid challenging to provide since external nongovernmental organizations have been banned in most areas, due to the nature of the hostility.
While there is a strong support provided from these organizations, the issue persists. Photojournalists such as Stanbridge demonstrate the importance of giving an international face to the oppressed and voiceless. Political violence and racism can not be ignored when presented with a lens — raw snapshots and stories transferred across the seas in a call for help.