Baby Faced
"Baby faced" artists are emerging into the spotlight, revealing that talent and success has no age limit.
Jorja Smith
Twenty-one-year-old Jorja Smith refers to herself as an "old soul." Her musical platform is an outlet to address themes such as police brutality, womanhood, race, identity and loss. Her first album, Project 11, was released in 2016 and introduced Smith as an R&B/Soul artist. However, with the release of Lost and Found in 2018, Smith created a unique sound of her own, mixing styles of jazz, R&B, acoustic folk and gospel. The album illustrates her process of self-reflection and her journey developing her own adult identity. Smith reveals her uncertainty and struggles through the ending lyric, "I am constantly finding myself," on her new track, "February 3rd." The track "Teenage Fantasy" is also a feature on the 2018 album, but was originally written by Smith when she was only 16. Even at such a young age, she was able to gracefully illustrate her own naive, glamorized perception of love and the persisting theme of self-growth throughout her album, using the lyrics, "I need to grow and find myself before I let someone love me." Now 21, Smith has continued to mature with grace and wisdom, receiving recognition from her five million monthly listeners on Spotify and multiple awards, including the 2018 Critics' Choice and 2018 UK Breakthrough of the year.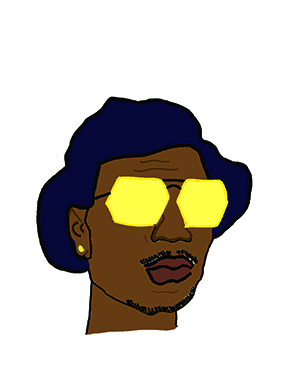 Steve Lacy:
Steve Lacy was born on May 23, 1998, in Compton, California. Lacy started making music when he was in high school, specifically dabbling in the genre of jazz and using his phone to make beats. Now, Lacy is an established guitarist, bassist, singer-songwriter, audio engineer and record producer. Originally gaining recognition from his Grammy-winning R&B band, The Internet, Lacy has now produced multiple tracks with the band, and is also the mastermind behind many appraised albums such as Swimming by Mac Miller, Damn. by Kendrick Lamar and crush by Ravyn Lenae. In 2017, Lacy released his first solo album, titled Steve Lacy's Demo, including popular songs such as "Dark Red" and "Ryd." Though Lacy has seemed to fly under the radar of many avid listeners, he is steadily gaining the recognition he deserves.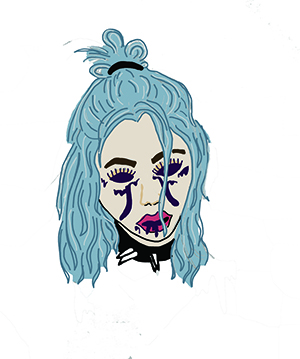 Billie Eilish
At only 17 years old, Billie Eilish has created a music empire. With a debut album, consistently-sold out tours and more than 750 million streams worldwide on Spotify, Eilish has proven herself to be one of the most talented youth artists. Eilish was 14 years old when she first began gaining popularity, grabbing the attention of Soundcloud listeners with the release of "Ocean Eyes." The track, which was casually released for Eilish's dance class, has gained over two million streams on Soundcloud and was ironically the fire that rocketed Eilish into the world of stardom. Unlike other young musical prodigies under the spotlight, Eilish doesn't have the same appeal of innocence that many young artists project. Her angelic, matured voice reveals lyrics that are surprisingly full of cynical dark humor and sentiment. As an artist of introspection and complexity, Eilish reveals messages that scream of teen angst, yet are delivered with confidence and wit.
Ski Mask The Slump God:
Ski Mask The Slump God, originally known as Stokley Clevon Goulbourne, has gained immense popularity as a rapper and songwriter of late. Although Ski Mask initially came into the spotlight with the release of his songs "Catch Me Outside" and "Babywipe" in 2017, his debut album, Stokley, released on November 30, 2018, has brought him the most success. Two songs from Stokley, "Faucet Failure" and "Nuketown," were featured on Billboard's Hot 100. Considering that Ski Mask is only 22, and is still in the early stages of his rap career, his recognition on such a well-known and competitive list is a promising glimpse of what he may accomplish in the future. Ski Mask began writing his own songs as a teenager, receiving encouragement from his father, a rapper by the name Sin City. In 2013, Ski Mask was sent to a detention center for possession of around ten dollars worth of marijuana, where he met rapper XXXTentacion. The duo became friends instantly and after being released from Juvenile Hall, they often collaborated and have since released songs together such as "Static Shock," "4Peat" and "Off the Wall." Ski Mask attributes some of his musical style to his childhood idols Busta Rhymes, Missy Elliot and Chief Keef. However, he claims his success as a rapper comes from experimenting with and listening to a wide range of music styles. In an Office Magazine interview, Ski Mask said, "I listen to every genre: rap, rock, classical, heavy metal, etc. I listen to Adele sometimes too."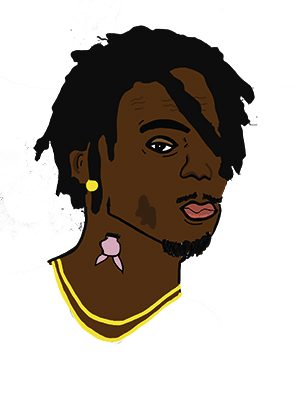 Playboi Carti:
Many artists strive to create a platform on Soundcloud, but few succeed. However, for PlayBoi Carti, 22, Soundcloud proved to be the perfect launchpad to jumpstart his rap career. Initially, Carti began rapping under the name Sir Cartier, using Soundcloud as his main platform to drop singles and mixtapes. Being from Atlanta, Carti frequently collaborated with fellow underground rap artists from the city, including ThouxanbanFauni, Lil Yachty and his cousin UnoTheActivist. Departing from his Soundcloud platform, Carti released his debut mixtape in April of 2017, which featured songs, "Magnolia" and "Wokeuplikethis." Both reached Billboard's Hot 100. On May 11, 2018, Carti released his debut album, Die Lit, in which he collaborated with the famous rapper Lil Uzi Vert. Though Carti is most well known for his music, he is also a fashion icon that claims, "style is the main feature of [his] public image." PlayBoi Carti has experienced tremendous success within both the music and fashion industries, leading him to amass a greater following as well as being named the "the leader of youth style."