80s Revival
The 1980s was an electric decade known for its bold colors, oversized blazers and permed hair. The signature hairstyles, makeup and clothing have made a comeback with a twenty-first-century twist.
A neon, multi-colored windbreaker lays on top of an AC/DC graphic tee. Paired with light blue mom jeans and bulky white sneakers, the look is complete. This outfit, while a popular look for teenagers living in the 1980s, reflects a style that has recently been revived in adoration from a newer generation of youth.
Numerous social media influencers are pioneers of this comeback, but Violet Sky, a singer-songwriter who goes by the Instagram handle of @glitterwave80s, is known for bringing back authentic '80s trends into her life. "I incorporate basically all of it, nothing is too outdated or too outrageous," Sky said. Ever since 2016, Sky has presented her take on the '80s decade through thrifted finds, covers of popular 1980s songs and bold outfits which she posts to Instagram.
Because second-hand clothing gives a more authentic feel when representing '80s fashion, thrifting culture has risen in popularity. Sky has partaken in this fad and prides herself on thrifting '80s clothing pieces. "I've thrifted a lot in the past years and revamped my wardrobe so most of the things I have are vintage," Sky said.
This cultural movement of cyclical fashion allows entire generations to adopt old fashion trends. "In the late 20th-century, fashion revivals as second-hand goods tend to appear in the markets and are then reclaimed as fashionable thrifted styles by younger generations who did not wear the clothing in the first cycle," fashion historian and lecturer at the Fashion Institute of Technology and New York University, Sarah Byrd, said.
Sky has noticed that while her style is an extreme homage to '80s fashion, many of the trends that were introduced in the decade have come back more subtly and to a large part of the public. "I definitely think that some '80s style is coming back, like fanny packs and high waisted jeans," Sky said. "A lot of people watch the show Stranger Things, and have been inspired by it to try and incorporate a vintage look into their wardrobe."
"
In the 1980s, people weren't afraid to stand out or be themselves."
— Violet Sky
Even though '80s fashion is coming back into style, Sky has received the occasional judgmental looks and negative comments in reaction to her flamboyant style. Still, she mainly experiences positive feedback on her outfits. "I get a lot of support and nice comments from people, especially adults who lived through the '80s and tell me, 'Hey, I had the same jacket!'" Sky said.
People are drawn to things that make them feel sentimental, a large factor in the revival of vintage clothing. "Nostalgia is a big influence in recycling fashions," Byrd said. "The 1980s were full of past fashion revivals too, so it's really a process of revisiting the past and tweaking the components to appear fashionable in the present moment."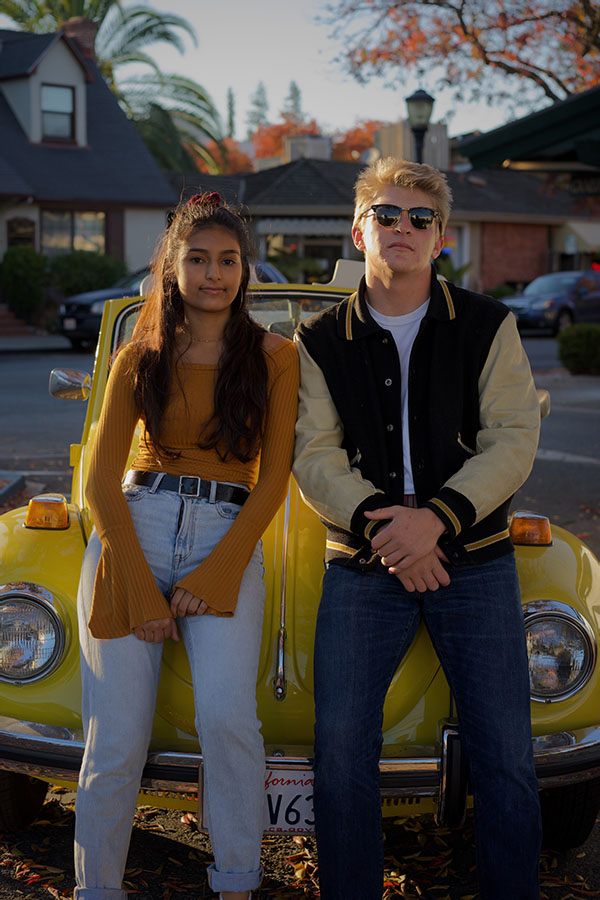 Many feel that the rise in technology in recent decades has created a dramatic change in social dynamics. This has led to the 1980s now being commonly regarded as a simpler time with a greater sense of societal togetherness than today. "We live in a world of technology and social isolation to a degree so I think people romanticize the '80s because it was one of the last generations that didn't have the communication gap we have today," Sky said.
Besides the aesthetic, the confident connotation of the decade's fashion inspires enthusiasts to exemplify confidence. "In the 1980s, people weren't afraid to stand out or be themselves," Sky said. "People could wear loud makeup, have really big hair and wear bright colors, having their own style but also still fit into the trends because anything went."
The decade's style has also become popular on Paly's campus, serving as an inspiration for students' fashion choices. "I mix a lot of different eras together because most of my clothing is thrifted, but the majority of my clothing is late '80s and '90s inspired," junior Marina Buendia said. "I buy whatever catches my eye but I wear a lot of high waisted jeans, headbands, hair accessories, chunky earrings and big sneakers."
Buendia's interest in '80s fashion started when she went through her mom's photo albums and old magazines. "A lot of the clothing really stood out to me," Buendia said. "I just think it's so colorful and unique, especially now that it's a bit harder to find. It just became something I thought was really cool."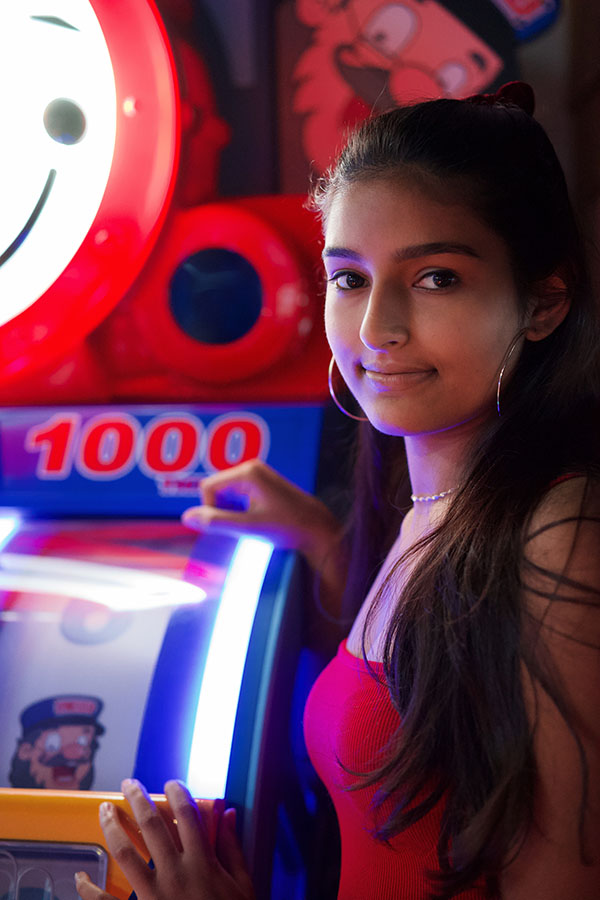 Apart from second-hand shopping, new brands that put a modern twist on '80s trends are starting to emerge. In 2011, Chubbies, a clothing brand known for its men's shorts and flamboyant clothing, was established and has since become popular for many college and high school students. On top of their shorts, Chubbies also sells bathing suits, loungewear and many other flashy clothes.
"
80s fashion allows every person to add their own touch to what they wear."
— Tommy Hall
For Tommy Hall, a junior at Paly, Chubbies is a brand that provides options that match his '80s style consisting of high socks, color windbreakers and high shorts. "I thought their clothing items fit really well with my personality," Hall said. "The brighter colors appeal to me because that's the kind of person I am, bright with a lot of energy and my clothes help reflect that well." In addition to the patterns and design, the success of Chubbies is primarily credited to their short shorts. Many other brands such as Lululemon and Bird Dog have implemented the shorter style for workout shorts and swimsuits.
With the rise of second-hand shopping and nostalgic media, the modern era of fashion has been heavily influenced by the revival of iconic fashion styles originating from the 1980s. "I don't think '80s fashion is coming back, I believe it is already back with a 21-century twist," Hall said. "[80s fashion] allows every person to add their own touch to what they wear."
Photos by: Natalie Schilling