Pins and Needles
The rise in popularity of tattoos and piercings has spurred a new age of social acceptance which changes the way people express themselves.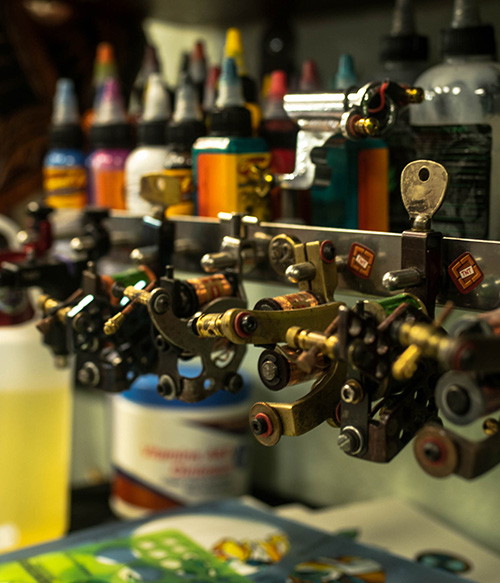 Tattoos and piercings were once seen as inappropriate and a sign of violence. People would have to conceal their tattoos and piercings in the workplace in fear of getting fired or ridiculed. For years, society has shunned individuals with tattoos and unique piercings, leaving a negative connotation surrounding body art. Despite this rocky history, body adornments have recently become more socially acceptable with the uprise of this trend.

BRANDON GOMES
Brandon Gomes, a tattoo artist at Redwood Tattoo Company in Redwood City, has been tattooing for 13 years. After becoming an assistant at a friend's tattoo and piercing shop, he was offered a tattoo apprenticeship.
His favorite types of tattoos to ink are either black and gray American traditional tattoos, or one involving a multitude of colors. As an artist, he has had to refuse service when a client has asked for a controversial or hate-group-related tattoo.
Many people in Gomes' life have not been supportive of his career choice, and they have attempted to persuade him to pursue a new line of work. "My old man used to get so frustrated with me because I could be doing plumbing, HVAC, etc.," Gomes said. "Those are all things people need. Nobody needs tattoos." Gomes, however, has not let people's opinions persuade him to leave the tattoo business as he thinks there is great value in his job. "Symbols are powerful," Gomes said. "So putting one on your body lets people know 'I've earned this. I deserve to wear this.'"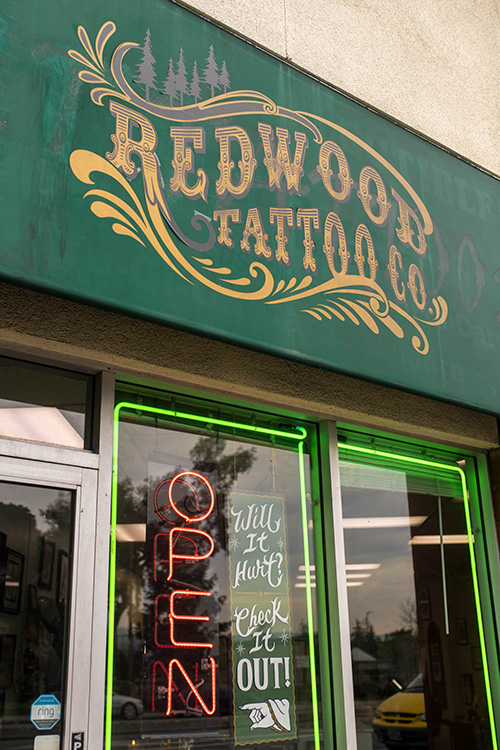 In recent years, tattoos have become more socially accepted, resulting in an influx of consumers in the tattoo industry. Now, Gomes has noticed a new level of intrigue from people towards his profession. "When people find out you're the local tattooer, everyone wants to be your friend," Gomes said.
While the new reputation of this industry is good for business, Gomes believes that the significance behind tattoos is lost. "Tattooing is over-saturated," Gomes said. "It doesn't mean anything anymore. There was a romance to being the type of person who would cover themselves in tattoos… It's lost its mystery and appeal."
Tattooing not only helps individuals express themselves, but it also builds connections between people of diverse backgrounds and cultures. "[A tattoo shop is] the one place a cop, a drug dealer, a Christian and a Muslim can all sit in the same room, get tattooed, share a laugh and some stories in a neutral environment," Gomes said.

HEAVEN LEE VERGARA
Most employees have to hide their tattoos at work. While this can seem limiting, it does not necessarily discourage individuals from expressing themselves through this art. Heaven-Lee Vergara, an aspiring nursing student, currently has five tattoos. Vergara always wanted a tattoo, but prior to getting her first one, she had trouble committing to a design permanently.
After accompanying her cousin to a tattoo parlor, she suddenly had the urge to finally commit, getting her first tattoo: a smiley face on her wrist.
"It was a super impulsive decision," she said. "I made it during a time when I was going through some really hard mental stuff and I felt like I just needed a change. [The tattoo] is a symbol that's just a reminder of the hard times I went through."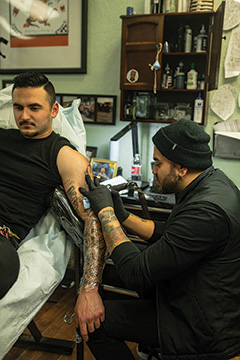 Since then, Vergara continues to express herself through her tattoos. On her more visible tattoos, she has received mostly positive comments, her friends being supportive of her decision. Her family, however, was not as initially as accepting. "I have more Filipino parents, and the majority of my family is Catholic," she said. "They have that idea in their head that getting a tattoo is ruining your body and so they look down on people that have them."
Similarly, she has received some criticism at her job regarding her tattoos. Vergara currently works as a nursing assistant at a residential home, caring for elderly residents. Because she was hired prior to getting her tattoos, Vergara did not experience any negative consequences professionally. "I didn't get treated differently at work because I hid my tattoos," Vergara said. "My coworkers have seen them and don't care that much. They're just like 'Oh, that's cute.'" Some of the residents she cares for have made comments judging her choices.
"The old residents who have seen or know about my tattoos ask me stuff like, 'Why did you do that to your body?,'" Vergara said.
Despite the mixed responses she has received from those around her, Vergara does not regret her tattoos and is happy with her decision."[Getting a tattoo] was something I've always wanted."

MADDIE ROSE
After seeing an actress on television adorn a double-helix piercing, senior Maddie Rose became fascinated with the concept. Rose currently has eight piercings, but has plans to get three more.
Prior to getting her ear piercings, Rose spends time planning them out and making sure the configuration looks good on her ears. "I'm really worried that without a lot of consideration the piercing combinations will look really clunky," Rose said. "I look up a lot of piercing combinations that are similar to mine to make sure I'm getting the right piercing."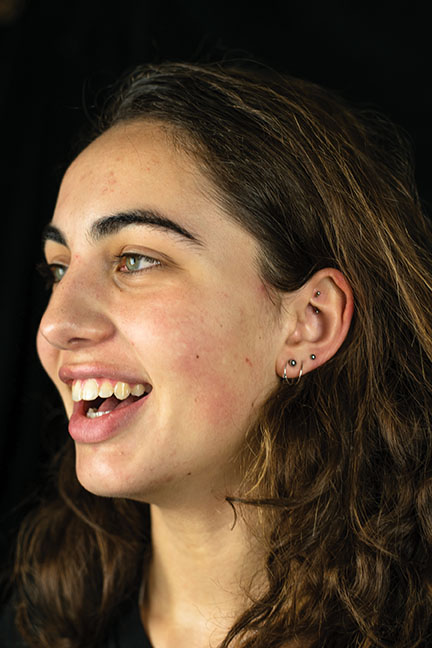 Rose's parents have been very supportive of her piercing desires. Her mother in particular, who also has many piercings, has helped Rose greatly in deciding which piercings to get. "It's really funny because she's usually encouraging me to get more and helps me plan out which piercings I should get for which ear," she said. While piercings started as an aesthetic means of expressing herself, the significance of her piercings has changed. "I usually get pierced after doing something worth celebrating, like taking my first SAT, submitting my college apps or telling my crush that I like her," Rose said.
"It's really funny when you think about it because I'm celebrating by painfully putting holes into my skin and then having to wake up early to clean them every morning and night for up to nine months," Rose said. Rose's piercings are not only visually impressive to look at, but they also serve as a physical road map of significant milestones and accomplishments in her life.

AKIRA HILL PARKER
Senior Akira Hill-Parker's love for jewelry is what inspired her to get her first piercing. Hill-Parker currently has five piercings: her lower lobes, cartilages and nose.
Her piercings are a big conversation starter, as people are fascinated by their intricacy and unique look. "People comment on my piercings all the time asking if they hurt and where I got the jewelry piece that I have in," Hill-Parker said.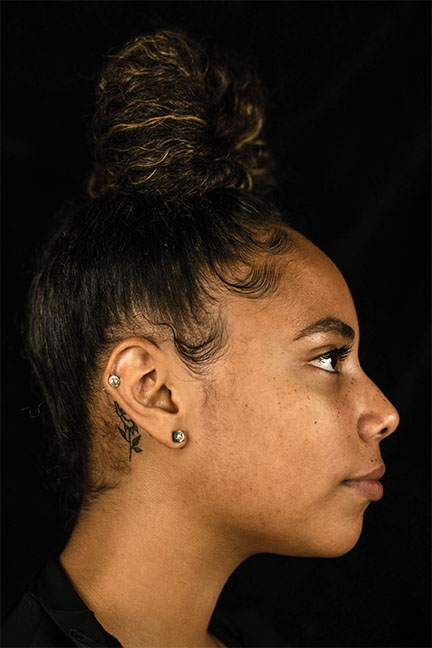 When she decided to finally get her piercings, her mother was not very supportive of her decision, but she eventually became more open to the idea. "My mom was against it for a while, but then out of nowhere she asked me if I wanted to get another piercing," Hill-Parker said.
Her piercings were done at both Claires and a piercing shop in Redwood City. She is happy with her decision, and the results have turned out exactly the way she wanted.
In the future, Hill-Parker hopes and plans to have both her ears filled with a variety of different piercings and jewelry. "I've always wanted to have both of my ears filled with different types of piercings since I was in middle school," she said. "I want to [get more piercings] when I graduate high school."
SARAH O'RIORDAN
Sarah O'Riordan was intrigued by the opportunity to express her personality through different kinds of jewelry and decided to get multiple ear piercings. She currently has nine piercings on her ears. "I put a lot of thought into the first piercing I got," O'Riordan said. "After that it was just kind of like 'I want more holes.'"
O'Riordan has had many different reactions to her piercings, mostly being positive. "An occasional person will be like 'Oh, I like your piercings' or 'That one's really cool' or 'Didn't it hurt?'" O'Riordan said. "It's fun to answer those questions because it's like 'oh someone noticed!"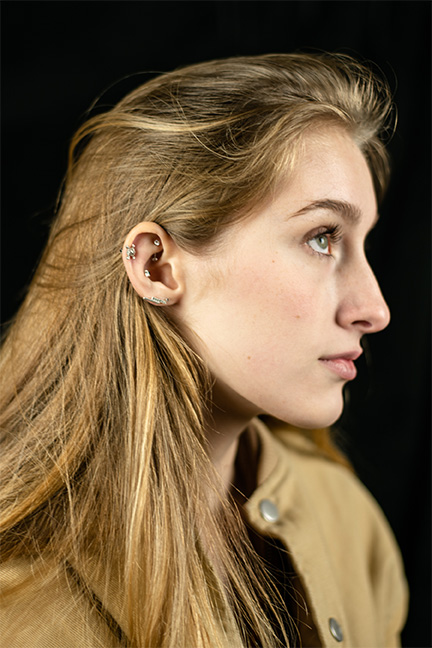 While many may struggle with their parents' acceptance of unique and atypical piercings, O'Riordan had a different experience. As O'Riordan is underage, she needs her parents to sign for every one of her piercings. "As long as I pay for them myself, they are very supportive," O'Riordan said.
Many who pierce on their own or receive unprofessional piercings may be in jeopardy of infection, tearing and scarring. This comes from the struggle with the high price of professional and good quality piercing shops. As a minor, O'Riordan has considered giving herself her own piercings to save money, but she realized the risks can cause her more harm than good. "[Piercing yourself] is very dangerous, and I was worried that I would bail halfway through and be stuck with a needle in my ear," O'Riordan said.
With our increasingly modern society, the perception of tattoos and piercings is reflecting a new sense of acceptance. Instead of scrutinizing one's choices, it is clear that people are taking the time to hear about the choices made behind various piercings or tattoos, leading to an increased appreciation for the craft.

Photos by Claire Li
About the Writers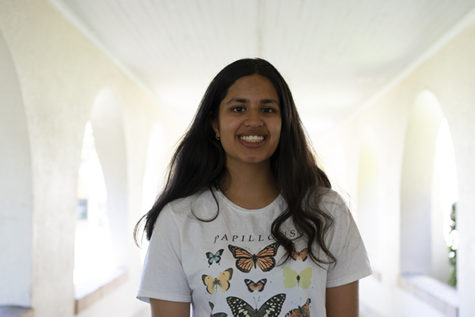 Mahati Subramaniam, Copy Editor

Mahati Subramaniam joined C Magazine because of the variety of content that was present, and the interesting designs. Her favorite part of C mag is production...