Live to Eat
To some, food is simply sustenance, but to others, it's a way to connect with people.
What makes a dish special? Is it the ingredients? The aesthetic? With more time on their hands, people are beginning to find joy in home cooking. But many have been showing off their dishes and cooking skills since before the COVID-19 shelter-in-place regulations. Whether they cook to eat, to perfect an art or to simply enjoy a fun hobby, Paly students and talented chefs show that cooking is for everyone.
To senior Jackson Druker, cooking was a way for him to learn a new skill while he was recovering from an injury. In 2015, Druker broke the growth plate in his femur; unable to do any athletic activities, he turned to cooking in order to stay healthy. Through learning and improving his cooking, Druker not only has produced delicious food, but he also learned some valuable new skills.
"Cooking has helped me learn a lot about how to be patient and be careful not to overwhelm any one flavor because it can ruin a dish," Druker said. He also finds that he saves on a lot of costs by making his own meals. "Considering my intake, it's usually less expensive to cook for myself than to eat out."
Rather than being carefully planned or calculated, cooking is a very spontaneous activity for Druker. While others get lost in the measurements or obscure ingredients, Druker shows how true cooking is about working with what you have. "I usually don't have a plan; with the years of experience, I think of a specific meat or vegetable and build a meal around it," Druker said. "If we have a lot of something at home, it's usually going to end up being the central part of the meal."

To Druker, cooking does not have to be a solo activity. Druker loves cooking with friends and family. After all, the more the merrier. "I like to cook and integrate my friends into the process to show them how fun cooking can be," Druker said. "My favorite things to cook with friends are cookies and burgers, and they always come out great!"
With his passion for food and years of experience under his belt, Druker has established himself as a prominent chef in the family. He is usually expected to bring food to family gatherings and events, sometimes even granting requests to bring specific dishes. While Druker seemed to have picked up cooking all on his own, it is evident that a love for food and cooking runs in his family.
"On my dad's side of the family, they have a tradition of making a family cookbook every ten years," Druker said. "My grandma has seven siblings and grew up on a farm, so she and her family are all good cooks. Since there are so many of them, every decade one of them is in charge of the cookbook."
This year, Druker joined that tradition. "My grandma was in charge of our family's one-per-decade cookbook this year, and she immediately came to me and asked for me to cook for her and give her the recipe for what I cooked."
Druker is a prime example of how anyone can get into cooking and refine their skills with practice. Whether he is working the grill or baking cookies with friends, Druker is sure to imbue those around him with his love and spirit for cooking.
Unlike Druker's free-form style of cooking, others enjoy the complicated and detail-oriented craft of baking.
It was a package of brownie box mix that introduced incoming freshman David Tomz to the world of baking. Over the past few years, he has expanded his culinary skills past cakes and box mix desserts, perfecting recipes that require more than just adding an egg and some oil to a premade mixture.
Instead of focusing on whole dishes that could be served for dinner, Tomz enjoys concentrating his attention toward specific foods that are notorious for being complicated. One of his proudest accomplishments is mastering croissants, famous for a two-day process of repeatedly chilling, rolling and folding the dough. "I think making complicated foods like croissants are the most fun because usually the end result is really tasty and like nothing you could really make in a few hours," Tomz said. Despite the extensive amount of time put into the croissants, the reward of a flakey, layered pastry is worth the effort, patience and time.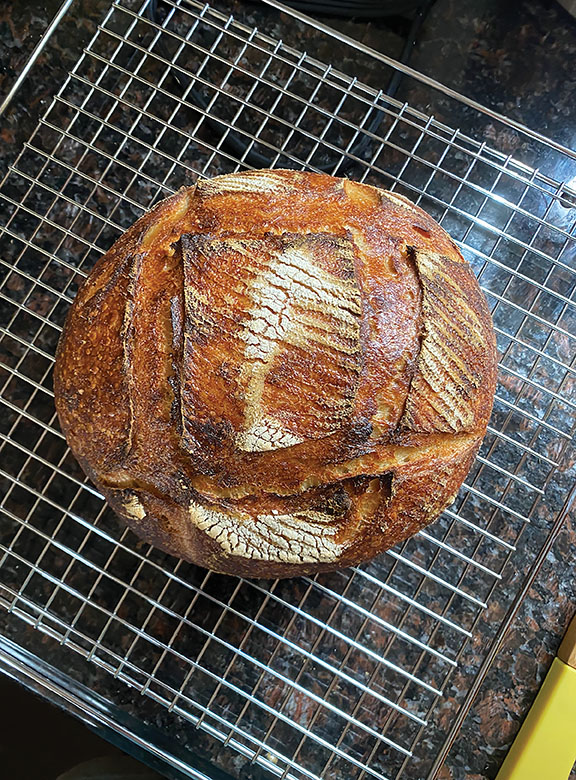 Tomz's baking skills usually reside within the realm of cakes and pastries. For the past few months, however, he has turned his focus to baking sourdough bread. Similar to croissants, sourdough requires a long proofing process, beginning with making a starter that helps the bread rise and develop its flavor. "[The starter] is just a combination of flour and water that is fermented to grow a culture of yeast," Tomz said. After the starter is made, it needs to be maintained for several days and fed with specific amounts of flour and water which will determine the rise and taste.
"The first sourdough loaf I made was pretty awful," Tomz said. "It was dense, and tasted bad." However, this first attempt didn't stop Tomz from trying again. "Now, a few loaves later, I feel pretty good about my sourdough making skills."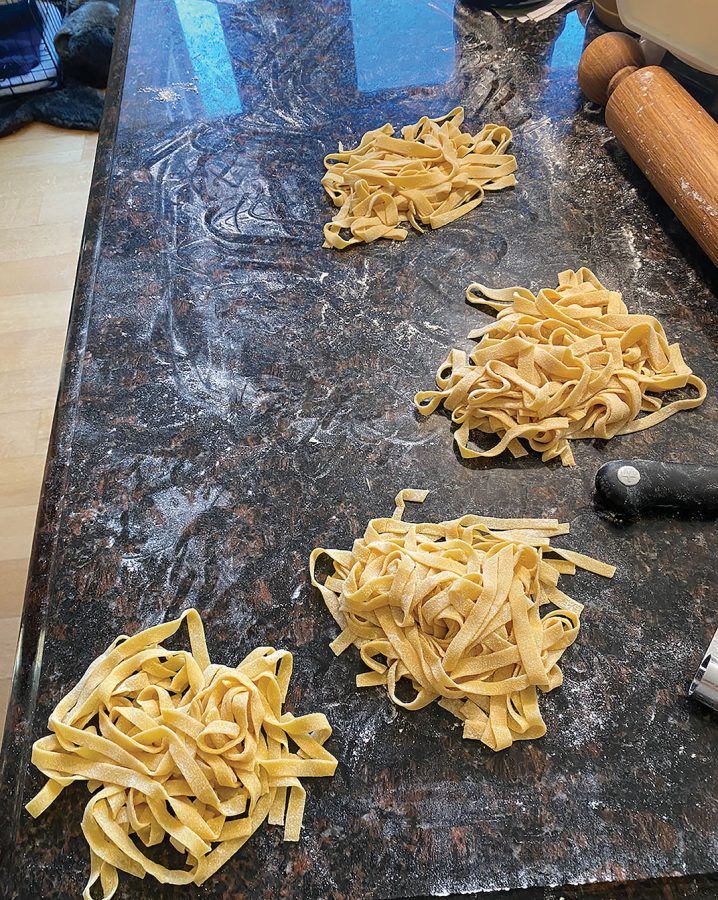 Cooking and baking has given Tomz the freedom in the kitchen to try out a new recipe, or remake an old one. "Usually when I cook or bake, it's not really on a regular basis, it's whenever I feel like it and we have the ingredients at home." While he doesn't have a regimented routine, Tomz will occasionally contribute to making his family's dinner. Homemade pasta is one of his favorites to prepare. "It's super easy to make and tastes really good," Tomz said. "We got this pasta roller that makes making pasta much easier than having to roll out sheets with a rolling pin."
Now with the shelter in place, Tomz has found himself cooking more often to pass the time, with an added bonus of a tasty treat he can share with others. Like other cooks, he has spent countless hours practicing and developing his culinary skills to achieve a delicious end result. "I like cooking because to me it is fun and methodical, but mostly because of the end product," Tomz said. "Especially when you can share something tasty that you made with other people."
As social media skyrockets into popularity, chefs can share their food with an even wider audience, creating communities of chefs and food connoisseurs on social media. A step up from basic influencers' morning coffee posts, food accounts feature marvelous dishes that showcase the visual artistry and complexity of cooking.
On the Instagram account @lehrer.eats, senior Noa Lehrer posts pictures of her family's meals. The star chef of @lehrer.eats is her dad, Josh Lehrer, who cooks dinner for the family almost every night. However, it does feature various guest appearances from other family members and friends.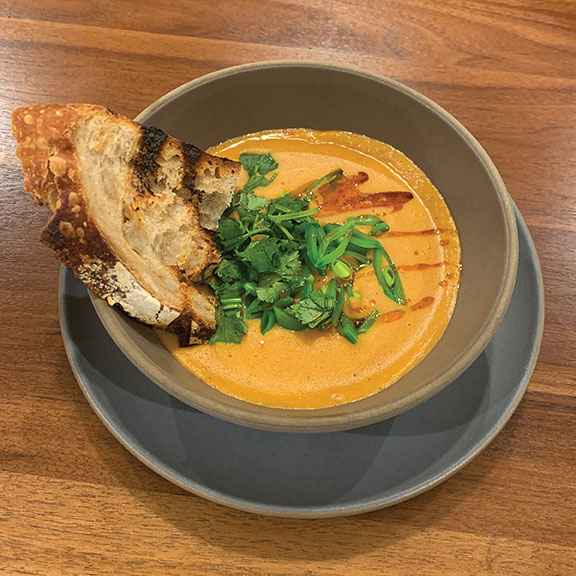 In December of 2017, Lehrer created the account to feature her dad's cooking and keep an archive of the meals the family has shared together. "My dad cooks beautiful dinners that are yummy, and I wanted to share that with friends and family," Lehrer said.
To Lehrer, her dad's food is not only high quality, but made with an abundance of love and joy. Through Instagram, she can share his beautiful creations to give his cooking the recognition it deserves. "I love the food that my dad makes," Lehrer said. "We like to joke around sometimes and say that what we are having for dinner is better than any restaurant in Palo Alto, and cheaper too."
In the Lehrer household, food evidently allows the family to bond and is a fun activity for everyone to enjoy. This spirit illustrates how food is not just a means to live, but it is also an essential part of community. "Other than home-cooked meals tasting good, I like that it brings people together," Lehrer said. "Sometimes we all pitch in as sous-chefs for my dad or do dishes."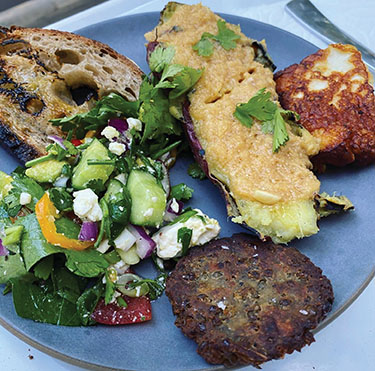 Additionally, Lehrer loves the good vibes that come with dinnertime. "The atmosphere of cooking dinner is usually a lot of fun—we play music and dance around while we're cooking." Home-cooking not only brings joy to the chefs themselves, but it also more importantly brings people together.
It is clear that cooking is not just about the end-product nor is food just about consumption. It is the little victories in conquering a complicated recipe. It is the fun shared with friends and family while cooking and enjoying a meal together. And most of all, food is a delicious amalgamation of artistry and culture for everyone to enjoy.
About the Writers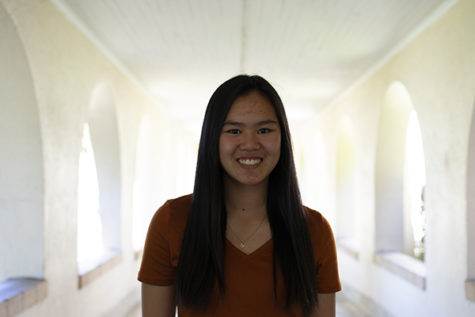 Kailee Correll, Copy Editor

When deciding which publication she wanted to join, junior Kailee Correll believes that C Mag seemed like the perfect fit because of its amazing designs,...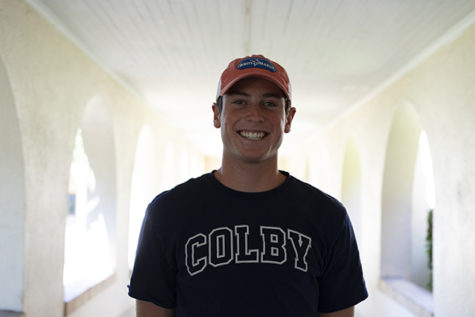 Zander Darby, Staff Writer