Better Than Revenge
The impact of Taylor Swift's fearless decision to re-record her music
With top hits like "You Belong With Me" and "Shake it Off" as well as hidden gems like "Starlight," singer-songwriter Taylor Swift has won the hearts of a variety of music listeners through her passionate lyrics, dazzling vocals and powerful personality.
Currently, Swift is re-recording her first six studio albums: "Taylor Swift," "Fearless," "Speak Now," "Red," "1989" and "Reputation" because she lacks the rights to her original lyrics and music.
"It's really a form of empowerment, especially since her music is something that is cherished by so many people," sophomore and Swift fan Johanna Seah said. "And obviously to any artist, your own music and your own work is very personal to you."
At the young age of 14, Swift signed to a notorious record company, Big Machine Record Label. As an inexperienced and young member of the music industry, she was not aware of how the contract she signed would affect her career in the future. Over the next 14 years, Swift released six albums to immense success under the label and grew to be one of the top artists in the world.
In 2018, after Swift's contract ended, she made the decision to leave Big Machine for a different record company, Republic Records; she wanted to own her masters — the original recordings and lyrics of her songs — which she did not possess under her contract at Big Machine Record Label. In 2019, Big Machine was purchased by manager, music producer and record executive Scooter Braun, giving him ownership and control over Swift's first six studio album masters.
After Swift was denied her masters when she left Big Machine, she attempted to negotiate with Braun to obtain them. This led to a public feud between Braun and Swift, resulting in the selling of the masters to an investment fund for $300 million, a sale that Swift was blocked from participating in.
"I learned that under [the investment fund's] terms Scooter Braun will continue to profit off my old musical catalog for many years," Swift said on Twitter. "I was hopeful and open to the possibility of a partnership with [the investment fund], but Scooter's participation is a non-starter for me."
"
She changes the power dynamic to where she's not the one who's helpless; she actually has the power to make something her own."
— Johanna Seah
In August of 2019, Swift announced her intentions to re-record her albums, which she was permitted to start in November of 2020 through her old contract with Big Machine. On April 9, 2021, Swift released her first re-recorded album, "Fearless (Taylor's Version)."
The process of re-recording music is difficult and time consuming, which highlights the importance that owning her music has to Swift.
"It definitely took a lot of time and effort to re-record all of [the songs] and to, after so many years, train her voice to sing all of those how she wanted to," junior and established singer-songwriter Neela Rao said. "There's been some controversy, and some people are like, 'she didn't have to do that; she should have just come out with something new' but it's not that easy."
It's clear to fans of Swift that her decision to re-record centered around her desire to possess her own creative work, rather than the money that would come from the albums' success.
"I totally understand that choice from the artist's perspective, for her to want that ownership of [her music]," Rao said. "Especially now that she's such a huge international star, to have [ownership], not just for the money but also because she did write it and it is hers."
The album absolutely dominated charts, reaching Billboard's coveted position of number one on their 'Top 200 Albums' chart in the U.S.. There is no doubt that Swift has made a name for herself in the music industry, so her immense success with "Fearless (Taylor's Version)" is no surprise.
"Anything she puts out breaks records immediately; it even breaks her own previous records," junior Merwa Marof said. "She's someone who, even if you're not a fan or you don't like her, you still know who she is and you listen to her music because she's that big."
Despite the flurry of media attention that "Fearless (Taylor's Version)" has brought Swift, the original intent of the album was also to shed light on a common issue in the music industry that is not always recognized.
"[That's the] kind of thing that happens in the entertainment industry, that a lot of people end up profiting off of other people's work," sophomore Evie Coulson said. "It's a really good thing that [Taylor Swift's issue with owning her songs] became a public situation because people were actually aware of what was happening."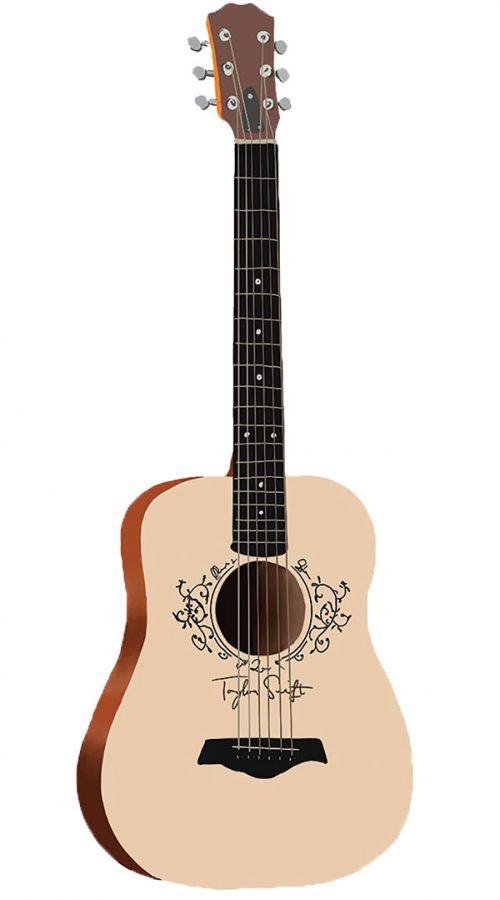 As one of this generation's most well known artists, Swift is admired by many, including other musicians. Her actions set the precedent for other artists that it is possible and acceptable to take ownership of their music.
"It's showing other artists who may have had their music stolen from them or their music sold by their producers that they can also have that chance to re-record [and claim their music back]," Seah said.
Supporters of Swift admire her passion for sending messages through her music, especially as a female artist working in a male-dominated industry. Because of this, it is important to note that the effort she made by re-recording her albums sets an example for young women everywhere.
"One of her biggest messages that she shares is that oftentimes women in the [music] industry aren't really heard," senior Grace Lindstrom said. "For her to retaliate and re-record her own music, that's super powerful and enforces all of the messages she's trying to tell girls."
Over her 17 years in the music industry, Swift has been a trailblazer when it comes to crossing genres, but she is often a victim of backlash because of this. She has been in the public spotlight her entire career, facing criticism from her romantic relationships to her genre choices.
"She has gone through a lot of retaliation from the media, and from those… who are beating her down, and through that struggle she really has to come to see [that she] can have power over [her] own music and life," Seah said. "She changes the power dynamic [to where] she's not the one who's helpless; she actually has the power to make something her own."
"Fearless (Taylor's Version)" is not just a symbol of self empowerment and retaliation, but also brings fans nostalgia through modern versions of their favorite 2008 songs.
"[All my friends] listened to Fearless when it first came out," senior and long-time Swift fan Charlize Nguyen said. "Now we're listening to it again, our senior year, and it's crazy; it feels like the conclusion of our adolescence in a way."
"
It's super powerful and enforces all of the messages she's trying to tell girls."
— Grace Lindstrom
As fans reminisce by listening to the re-recorded version of their favorite childhood album, they have noticed that Swift's passion in her vocals has enhanced. When comparing the original "Fearless" album to the re-recorded version, the most significant difference noticed is the level of maturity in both Swift's voice and her life experiences.
"She has learned so much and lived so much longer, that she has these more complex emotions and she can sing them into existence," Seah said. "When you're 18 years old, you don't feel as much as when you're 30 years old because you still have so much to learn."
Another example of Swift's growth, which may go undetected by new listeners, is small, yet meaningful lyric changes in the re-recorded songs.
"In 'White Horse', she actually has this part where she says 'I'm not a princess, and this ain't our fairy tale instead of a fairy tale,'" Seah said. "It's a very small change, but I found it satisfying to see that she can have a new perspective on it to the point where she can change small words and make it more nuanced in that way."
"Fearless (Taylor's Version)" has thrived as a symbol of self empowerment for Swift and nostalgia for fans. Swift's future re-recorded albums will likely have the same effect, topping charts and sending shockwaves through the music industry as with most of her releases.
"It's a common saying that Taylor Swift is the music industry," Nguyen said. "I am a personal supporter of that philosophy. It is so rare to get an artist who is not only a good vocalist, but also has a deep connection to [their] music."
While some may argue that Swift's decision to re-record her music was based on vengeance and motivated by financial gain, Swift expresses that just owning her music is better than any revenge.
Art by Eva Mankos