Fine Arts Foug
Artist Julia Foug's journey through the creative world.
Julia Foug is an inspiring local artist that is currently exhibiting her art at "The Main Gallery" in Menlo Park.
Foug started her creative journey in the world of graphic design when she was 24. She started off at UC Santa Barbara, then transferred to the Academy of Art college and majored in graphic design. "I realized that this [art] is what I want to do," Foug said.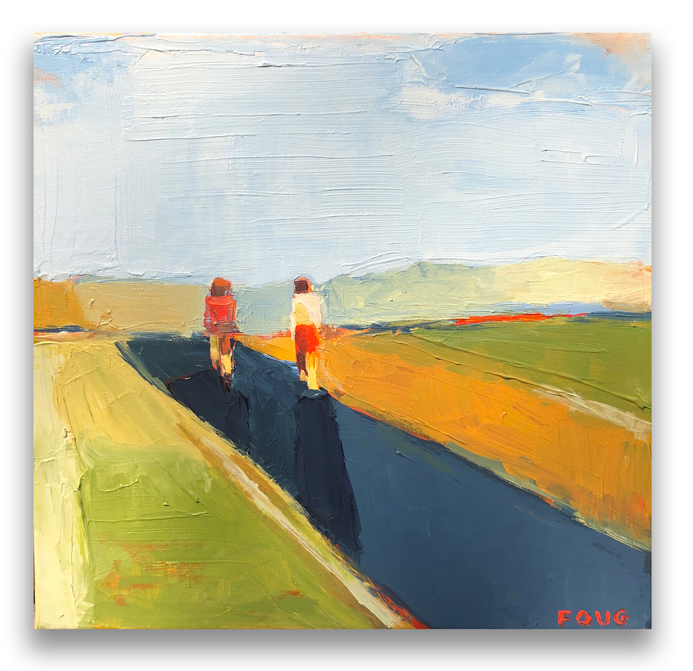 Foug first started showing her art in galleries in October of last fall. Before this, she worked as a graphic designer at 1185 design and then started her own firm, Foug design.
"Covid really helped, I had all of this time on my hands," Foug said. "I was so tired of that design stuff."
Foug's favorite piece of hers is "Dish Walk Series #2". She says that the inspiration for this piece came from the Stanford Dish Walk. "It's just very simple," Foug said. "Maybe that's why I liked it."
Foug prefers making her pieces in a few sittings. "You have to leave, and come back and let it tell you what it needs," Foug said.
Foug often takes classes with artists nearby to push her creative self to create more inspiring art. "I love taking constant workshops," Foug said.
Foug's favorite medium is oil or acrylic, but she often works with paper and collage as well. "The biggest challenge is loving the work, and knowing when it's done," Foug said.
Foug struggles with the balance of making art that she loves, but will also sell in a gallery. "Stop trying to make what people want, just do what you love and what makes you happy," Foug said.