Asian Immersion
sensational far-east eateries around town
Hang on for a minute...we're trying to find some more stories you might like.
What does one do on a cold day with an empty stomach? Eat good food, of course! Treat your tastebuds to the tastes of far-off countries while exploring different parts of the south bay. 
Pho Avenue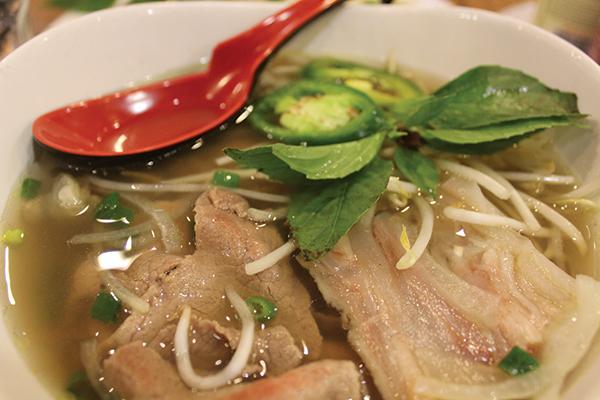 At first sight, this little nook at the corner of El Camino and Showers looks like a gathering place for millennial men popping in from work. A sensible choice, because the service is extremely fast and the sprouts are crisp and fresh. Just a small size combination bowl with a full-bodied broth and firm rice noodles filled me up.
The well-spiced meat broth warmed my rain-drenched soul and was a perfect Wednesday-night respite from an already busy week. With firm beef balls and delectable tripe, the combo was well balanced even though the beef slices were a little dry. Whether you're with a friend or dining alone, the casual, no-frills eatery is non-judgemental and inviting. A meal for two consisting of the combination and a chicken noodle came out at $23.
I enjoyed every aspect of my experience, from the simple and clean decor to the fulfilling meal, and will definitely return for more.
2500 West El Camino Real, Mountain View
Parking usually available

Madras Cafe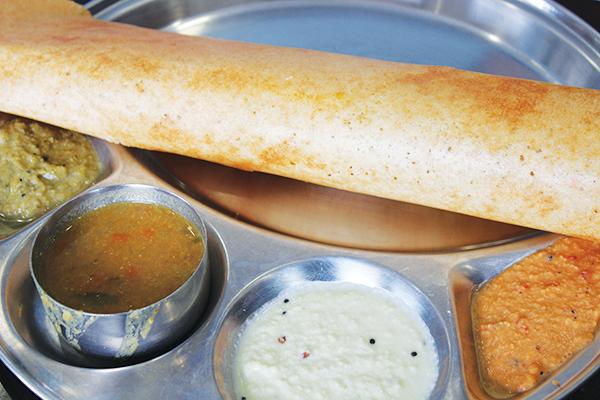 Bustling and lively, Madras Cafe in Sunnyvale is a haven for families on a Saturday morning. Though it usually requires a bit of a wait to be seated, the bright and open space is friendly and welcoming. The food came remarkably fast once we settled in, starting with fluffy idli and well-spiced masala vada. The main event was the masala dosa, which was notably amazing. Potatoes and onions together never disappoint.
If you're there, it's worth trying the badam milk and the kesari bath dessert. Our filling meal for three astounded at just $25.
1177 West El Camino Real, Sunnyvale
Parking in the square readily available

Tofu House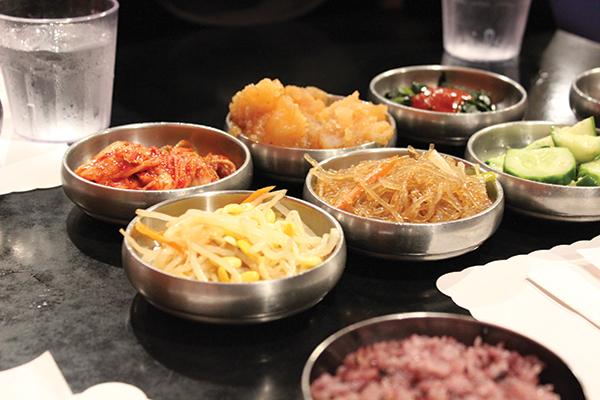 What a culinary gem. Eating at Tofu House is like eating a home-cooked meal, only better. The cozy but roomy establishment is incredibly efficient — we ordered while waiting to be seated, and once seated, the food came out fast. Small groups and large groups filled the rustic tables with people of all ages and backgrounds creating a bubbly, party-like atmosphere. Sitting in the toasty and light-filled restaurant, we paid no mind to the rain outside.
Tofu House's expansive menu had us ordering a lot — ramen tofu soup, seafood tofu soup, chicken bibimbap, barbecue beef and a spicy squid dish that remained untouched throughout the meal (be careful with the spice levels here). As varied as the main dishes are, the side dishes are an equally fulfilling gift — kimchi, potatoes, bean sprouts, seaweed, cucumber, glass noodles and wild rice kept us busy. The portions are very generous, and they come out hot and stay hot.
We were treated to a heavenly mixture of soft tofu, fresh veggies and sauce-bathed meat. Our large dinner, including a tip, summed to $92.
4127 El Camino Real, Palo Alto
Plenty of parking in the house-owned lot.