Bay Area Bread Tour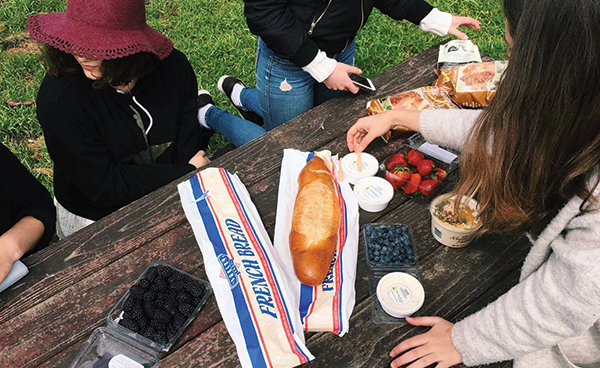 Hang on for a minute...we're trying to find some more stories you might like.
Are you a frustrated local bread connoisseur, unfulfilled by the quality of the carbs in your vicinity? Look no further! Yashvi, Atusa and Fe present the best bread in the Bay Area. Pop in your rickety car with $10 of gas in the tank, and hit up these cult favorite (albeit a small cult of our families and friends) bakeries and farms, to get the best dough for your dough!
Tartine Bakery ($5-12)
600 Guerrero St, San Francisco, CA 94110
Step out of the Mission's renowned landmark, Dolores Park, and walk to the end of the Guerrero block. You will be struck by a colossal line wrapping around the corner. If the line isn't enough to draw you inside, maybe this will: Tartine's bread is so delicious, that it has its very own cookbook (seriously, find it at your local bookstore). Tartine caters to everyone including the most devout line-haters — you can skip the line and get your loaves delivered. However, we recommend you get the full in-bakery experience, complete with a lively bustling ambience, friendly service and divine coffee. We promise it's worth it! Good things truly come to those who wait. If you want to get your hands on their iconic bread, be sure to get there early —  it typically sells out by 3 p.m. Tartine's proximity to Dolores Park makes it even more appealing, as you never have to worry about the bakery being full, just walk over to the park and enjoy your loaves there.
Cal Ave Farmer's Market ($3)
490 California Ave, Palo Alto, CA 94306
Located on California Avenue, Palo Alto's good ole reliable Sunday farmer's market is a hot spot for bougie locals in search of delicious, authentic and cage-free experiences. With everything from the classic array of gorgeous fruit and vegetables to bouquets of fresh flowers that make the perfect surprise gift for mom, to live music, food trucks, kitty adoption stations, and more, a morning spent at the cal ave farmer's market is a morning spent well! The majority of the local farmers dress in vibrantly colored clothing and make everyone feel at home by smiling and handing out bite-sized samples of their heavenly produce. While we enjoy the farmer's market experience as a whole, farmer's market goers and bread seekers in particular will want to be sure to stop at this spot for their memorable bread. At the start of the farmer's market, beside Joanie's cafe, there are two booths set up where one can enjoy freshly baked baguettes, sourdough boules, and pastries as early as 9 o'clock. It's the most authentic french baguette we've tried this side of the Atlantic.
Harley Farms ($5)
205 North St, Pescadero, CA 94060
Looking to make friends with some cute and spunky kids? Obviously we mean baby goats! Head over to Pescadero on a sunny day and treat yourself to a delightful country farm experience. Fair warning though, if you want to go hang out with the goats and go trekking through the mud in search of the perfect Insta pic, we recommend you leave your favorite heels behind. Ditch those for your converse or rain boots so you can initiate your baby goat friendships with no fear of the mud! The bread at Harley farms is honestly best enjoyed at the rickety old fashioned wooden picnic tables, with cheese purchased in the adorable farm store and a feast of your choosing! We recommend the garlic herb goat cheese, and the chocolate pot to finish off your picnic. For the truly devoted bread fanatic out there, we advise a quick stop at another one of Pescadero's local treasures, Arcangeli Grocery Co. to pick up some of their memorable artichoke sourdough bread.