Fondue (and Fon-don'ts)
Hang on for a minute...we're trying to find some more stories you might like.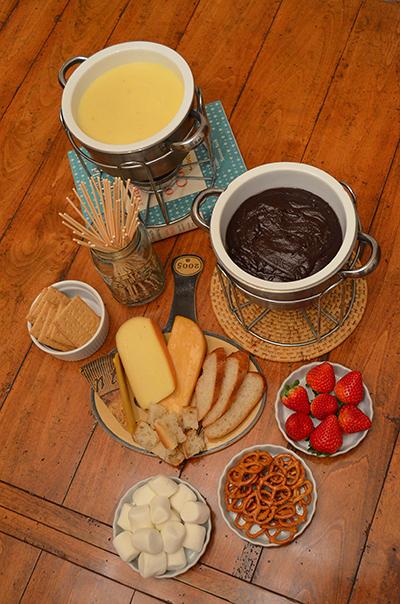 As temperatures remain low this winter, what better way to stay warm than cozying up to a pot of delicious fondue?
Cheese Fondue
Ingredients:
½ pound shredded Swiss cheese
½ pound shredded Gruyere cheese
2 tablespoons cornstarch
1 garlic clove (peeled)
1 cup dry white wine
1 tablespoon lemon juice
1 tablespoon brandy
½ teaspoon dry mustard
Pinch of nutmeg
Bread for dipping
Recipe:
In a small bowl, coat the shredded cheese with cornstarch and set aside.
Rub the inside of your fondue pot or heat-safe bowl with the peeled garlic clove.
Over medium heat, mix the wine and lemon juice and bring to a light simmer.
Slowly add the cheese to the liquid while stirring gently to avoid forming clumps.

 

Continue stirring until all the cheese is melted and the fondue is smooth.
Add the nutmeg, mustard and brandy to the cheese mixture and stir until combined.
Transfer the fondue to your serving dish and serve warm with assorted bread for dipping.
Chocolate Fondue
Ingredients:
7 ounces semisweet chocolate
⅓ cup heavy cream
½ teaspoon instant coffee powder
2 tablespoon flavored liquor for flavoring (your choice, we chose raspberry)
Pretzels, marshmallows, graham crackers and strawberries for dipping
Recipe:
Chop the chocolate into fine pieces and place in a double boiler on a stove set on medium heat.
Add the cream, instant coffee powder and flavored liquor to the double boiler while stirring constantly until the chocolate is melted and smooth.
Transfer the mixture to a fondue pot or other heat-safe bowl and serve warm with your favorite dippers. We chose pretzels, marshmallows, graham crackers and strawberries.
Fon-don'ts:
Don't forget to start the heat source — no one wants cold fondue!
Don't forget to soak the fondue pot to make for easy clean-up afterwards.
Don't forget to have an Uber ready after consuming all that wine and cherry liquor!