Spring Recipes
Make the most of what spring has to offer using seasonal produce from the stands at Palo Alto Farmers Market
Apricot Jam
Ingredients: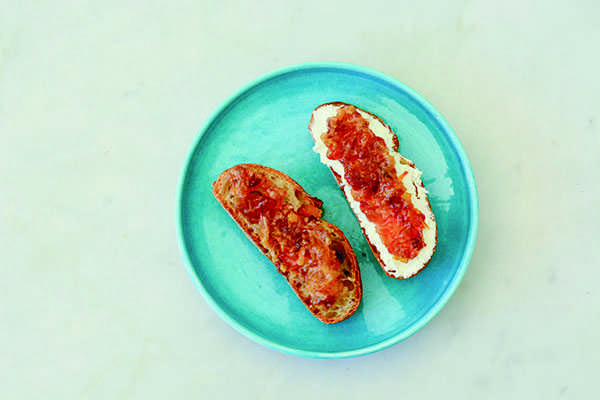 2 ½ pounds of apricots
3 cups of granulated sugar
¼ cup of water
Juice of one lemon
Directions:
Remove the pits from the apricots and cut into small cubes. Depending on how smooth you want the jam, you can also put the apricots in a food processor. Add   the cubes to a large pot.
Add sugar to the pot and stir to combine. Pour in water and bring to a boil.
Once the jam is boiling, lower the heat to a simmer and let it thicken for about 15 minutes.
When the jam has finished cooking, add lemon juice and ladle into jars. The jam is best in the first two weeks, so eat up!
Pea Salad
Ingredients:
1 pound unshelled peas
6 cups washed and trimmed arugula
¼ cup chopped mint
1 ½ tablespoon lemon juice
1 tablespoon olive oil
½ teaspoon salt
½ cup goat cheese
Directions:
Bring about 2 cups of water to boil in a saucepan. Shell peas and add to saucepan to cook for 1 minute. Drain, then place cooked peas in an ice bath for less than a minute. Drain once more.
Combine the peas, arugula and mint in a large bowl. Mix in lemon juice, olive oil and salt. Top with goat cheese — or substitute with feta or pecorino.
Strawberry and Blueberry Crumble
Ingredients:
1 small box blueberries
4 cups of strawberries, hulled and halved
1 ¼ cups granulated sugar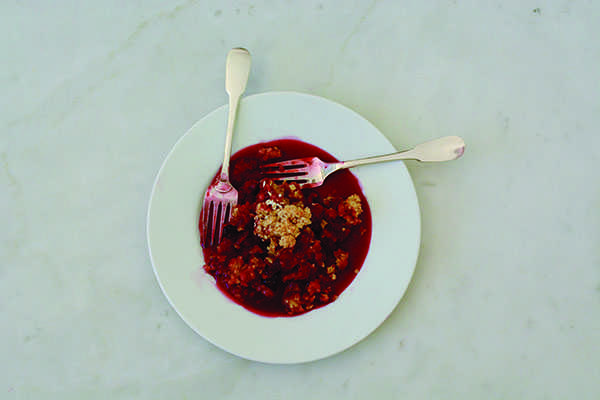 1 ½ teaspoons orange zest
1 tablespoon cornstarch
½ cup freshly squeezed orange juice
1 cup all-purpose flour
½ brown sugar
½ teaspoon salt
1 cup quick cooking oatmeal
12 tablespoons butter
Directions:
Preheat the oven to 350°
Combine and toss the blueberries, strawberries, ¾ cup granulated sugar and orange zest in a bowl.
Dissolve the cornstarch in the orange juice and add to the fruit mixture.
For the topping, use an electric mixer to combine the flour, ½ cup granulated sugar, brown sugar, salt and oatmeal. Add the butter and mix on low speed until the mixture creates a crumble.
In a large baking dish, pour the fruit mixture on the bottom and then cover with the crumble.
Bake for one hour. Serve warm with vanilla ice cream for an added touch of sweetness!