Artistic Arithmetic
Kinetic sculpture artist Reuben Margolin uses math to create elaborate, moving sculptures that imitate the natural world
3
MIN READ
Margolin's work lives at the intersection of engineering and art, requiring high-level mathematical skills to create. Margolin recalls his relationship with math while he was still in school.
"I took one of those tests [you take] when you're in high school that tell you what you're supposed to be when you get older," Margolin said. "I came out as an applied mathematician, and I was really offended."
Margolin explained that he would have rather been a theoretical mathematician because he felt that abstract mathematical concepts were more interesting than the practicality of applied math.
"[I wanted to] study the universe, and not do anything, you know, useful," Margolin said.
Upon beginning his education at Harvard University, Margolin switched his major from math to Geology to Anthropology to English. He eventually chose to pursue painting.
"It wasn't until later that all of these divergent interests came together, and I am really lucky that they did come together," Margolin said.
Margolin looks to one of the first kinetic sculptures for inspiration.

"I recently found this Yo-Yo that I made when I was 12 years old. It was a piece of wood and a string, and it went up and down," Margolin said. "I thought, 'Ah, that's my first kinetic sculpture.'"
From a single-stringed Yo-Yo to sculptures containing thousands of strings, Margolin has been crafting kinetic sculptures for as long as he can remember, and speaks about his kinetic creations with a sense of passion and familiarity that comes with a life-long artistic craft.
Along with challenging mathematics, the natural world also serves as inspiration for Margolin's work. Once an idea comes to him that incorporates these two elements, he knows what his next project will be.
"I'm [usually] waiting for there to be a sculpture that seems like my hands want to make, [and that] has an interesting bit of math in it," Margolin said. "I'm waiting for there to hopefully be something beautiful that reminds people of the natural world."
Margolin's wave sculptures have been some of his most revered work. One of his sculptures, "Nebula," can be found on the ceiling in the Hilton Anatole in Dallas, Texas. Another one of Margolin's nebulas, named "Neko's Nebula" after his daughter, lives in his Berkeley studio.
Margolin's mechanical imitation of the natural world is a phenomenon also achieved through his caterpillar sculptures.
"I started with [caterpillars] in 1999, and at that time, I thought that a caterpillar was a wave that was cut in half by the ground, but turns out to be wrong," Margolin said. "A caterpillar is a wave that rides on top of the ground, so they are very related."
Now that mathematics is a central part of his art and career, Margolin looks back on his education as being more useful than he originally thought it would. Margolin advises young artists to see the value in learning various skills, even if they may not seem essential at the moment.
"All the math that I was doing for years and years and years, I had no idea would ever be actually practical," Margolin said. "Then years later, I'm like, 'Oh, algebra, I can use you.'"
Margolin also believes that young artists often have the tendency to save their best ideas for later, when they may have more experience, more money, or a bigger studio. He encourages these artists not to wait for later.
"Whatever idea is most important for you is what you should be working on," Margolin said. "Whatever your craziest, most beautiful, phenomenal vision that is completely out of your reach is, that's what you need to be going for."
About the Contributor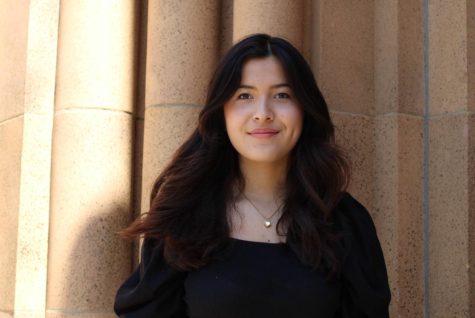 Ella Rosenblum, Multimedia Director
2020-2021 - Staff Writer

2021-2022 - Social Media Manager

2022-2023 - Multimedia Director

I joined C Mag because I wanted to explore how art can...