State of the Art
The process behind creating AP Art portfolios and the meaning behind them
How does one assign a grade to a work of art? AP exams always have "right" and "wrong" answers, however, the idea of scoring a work of art contradicts what makes art unique. So how should art be evaluated?
Each year, AP Art students have the chance to submit a portfolio to the College Board, comprised of 13 pieces, which the students select and develop throughout the year. These works depict a variety of themes as diverse as the artists themselves.
Jake Waldo
Paly senior Jake Waldo chose to focus his AP art portfolio on the expectations that students face in Palo Alto.
"We're in Palo Alto, and my experience [here] is a lot of over-expectations," Waldo said. "So, I decided to do the effects of it, the positives and negatives."
While Waldo's interest in art was sparked by the downtime he had when he was younger, he did not start to explore art in an academic setting until high school.
"It was just something that I did as my pastime, especially when I was in competitions for gymnastics: I just had a sketchbook, so I just drew, [and] then it just became something else that I did," Waldo said. "Just recently, I took my first art class [during my] sophomore year at Paly."
Within his portfolio, Waldo has a few pieces that he considers his favorites, one of them being "Unraveling Future," a piece that touches on the expectations that others have placed on him.
"This [piece] shows holding over-expectations for someone," Waldo said. "So, what's essentially happening is, these flowers represent a better future in many cultures, and they're basically pulling this hand in hopes of getting a better future but they're not realizing that it's actually doing more harm than good."
Another one of Waldo's works titled "Blissful Bouquet" also touches on the theme of being clouded by the positive aspects of a situation and failing to acknowledge the negative aspects.
"For this one I made the flowers the focal point because of how everyone focuses on the positive [aspects] of other people's lives, and [how] they expect the best out of other people, but don't focus on everything else, which is represented through the redness on the arms," Waldo said.
The goal of Waldo's pieces is to urge people to take a second look and reflect on how our society is structures
"I also want [people] to understand the deeper meaning behind how students in Palo Alto, like myself, experience a lot of stress and negative effects because of all the high expectations that are placed on us," Waldo said.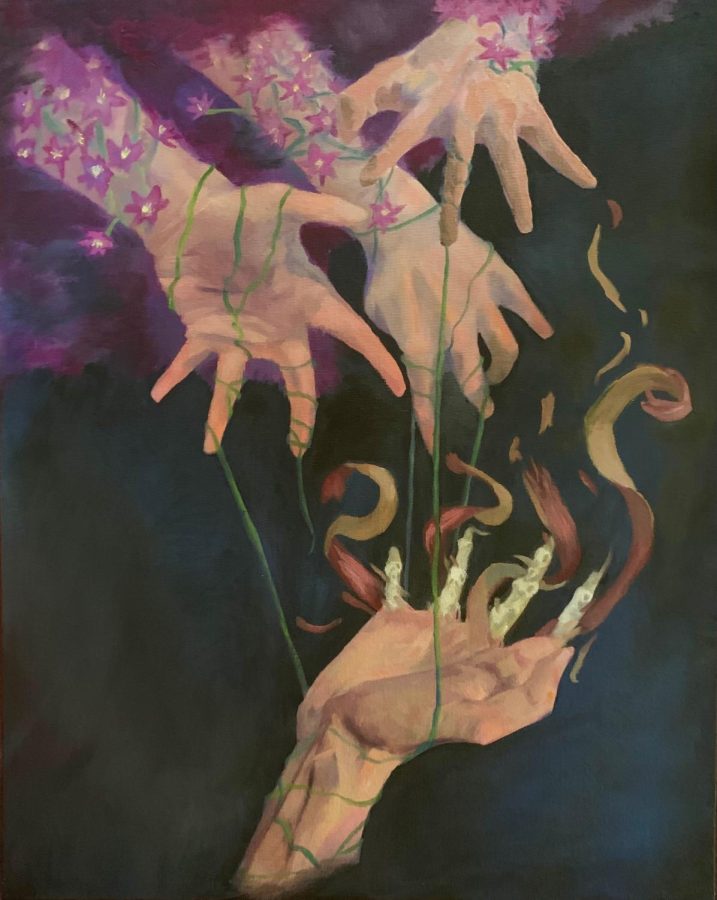 Reese Ford
Paly senior Reese Ford is taking her second year of AP Art and has been working on creating her portfolio all year.
"I like that, unlike other classes you take in the [art] lane, you really get to choose your own adventure," Ford said. "You get to pick a theme and then you develop 13 art pieces for the whole year, so you can really have a lot of freedom with what you do."
Ford's chosen theme of religion spreads a message that is personal and important to her.
"[My theme] is providing a view on what progressive Christianity can look like since I've been born and raised [as] a Christian and Presbyterian, but I'm also a part of the LGBTQ community," Ford said. "I wanted to show my experience with the religion that is so often seen as bigoted [because] there's also this side that I discovered of other queer Christians coming together and embracing a progressive theology. So, my art is about that community."
Ford is aware of the many stereotypes surrounding religion so she set herself the goal of portraying Christinanity in a way that is not often seen.
"I feel like whenever we talk about Christianity there's always that risk of sounding preachy, and I don't want to do [that]," Ford said. "My goal is to show this contrast and to show this alternate thing that exists that a lot of people don't know about."
Aside from the meaning behind Ford's theme, another way she incorporated religion into her portfolio was by naming the pieces. Ford wanted to make sure that the titles of the art pieces were a part of her theme.
"For this series, all the pieces are named after books in the Bible," Ford said. "I picked [each] title and looked within the book to see what [I could find] that can be applied to the modern world and how we can be more inclusive now."
The process of choosing a theme can be difficult, as artists may struggle to decide what kind of angle they want. Ford wanted an angle portraying a topic close to her heart.
"I wanted to do something a little more serious because I feel like by making art about something really impactful to me, it [will] be more authentic and better show my voice," Ford said.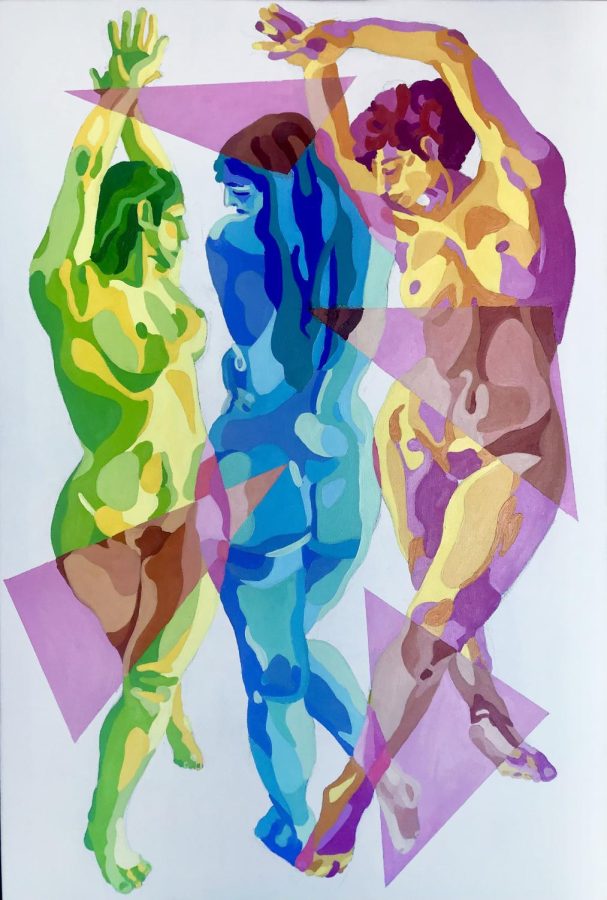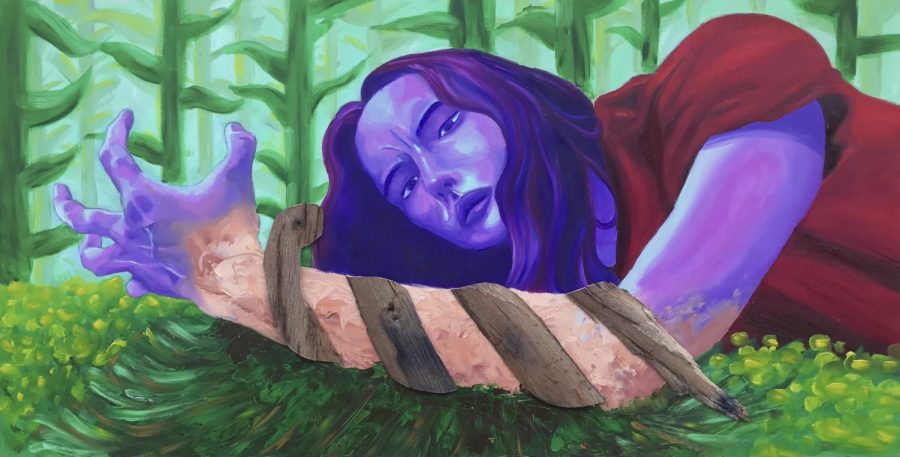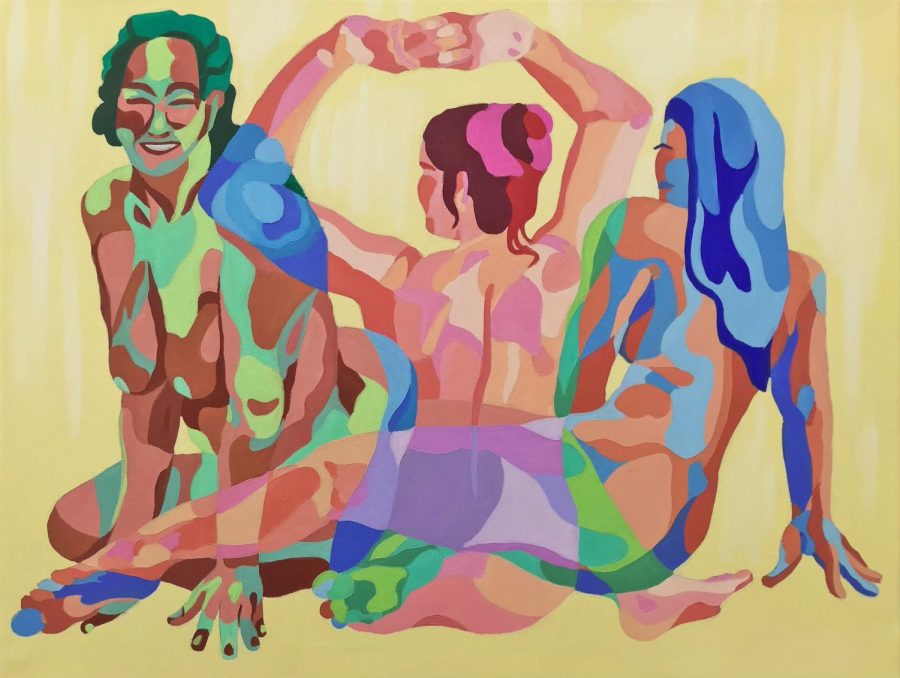 Renee Vetter
Paly senior Renee Vetter has a unique style that draws on cartoons as inspiration, builds on illustration programs and expresses their penchant for playing Dungeons and Dragons.
Despite warnings from Vetter's teacher that the College Board might not reward their style with a high score, they chose to stick with it.
"My style is very different," Vetter said. "I'm going for a more cartoony pop art feel, and my teacher did sit down with me and say 'The College Board might not really like your style, and even though you are good at art, it might not give you a good score.' [to which I said,] That's okay, I still want to do it.'"
Vetter aims for their portfolio to demonstrate what it can be like to exist outside of mainstream society and how to embrace being different.
"Throughout the whole portfolio, I use the analogy of fantastical creatures like orcs and elves to represent marginalization. […] I want people to enjoy it, take it in, and be like 'wow, that's pretty cool,'" Vetter said.
Vetter's signature piece features three characters waiting in line at the cash register of IN-N-OUT.
"I don't know where the idea came from," Vetter said. "I think the colors and the way the facial expressions appear make me happy."
The demands on AP Art Studio students are high, with 15 projects required over the course of the class and deadlines roughly every two weeks.
"I'll be just finished with a piece and have to make a new one," Vetter said. "I will quickly scribble some ideas in my sketchbook."
Vetter turns to friends and everyday experiences for inspiration.
"There is one [piece] that I did about a group of characters getting ice cream," Vetter said. "I like getting ice cream with my friends."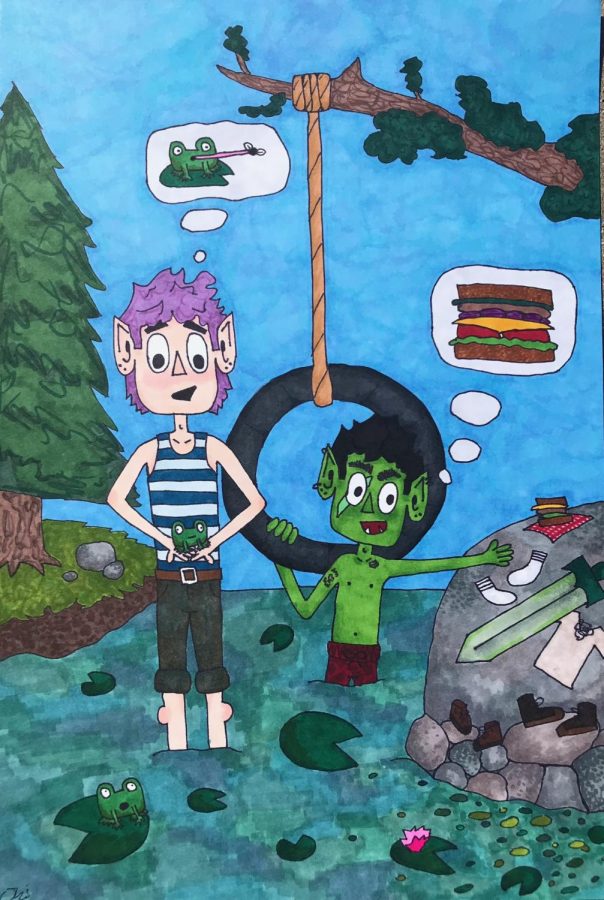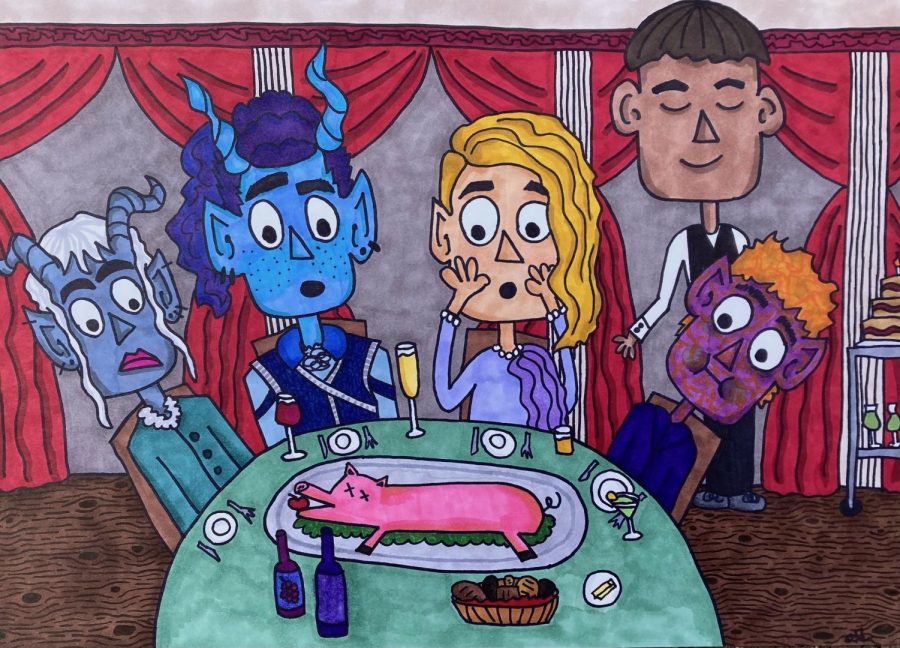 Featured Art by Jake Waldo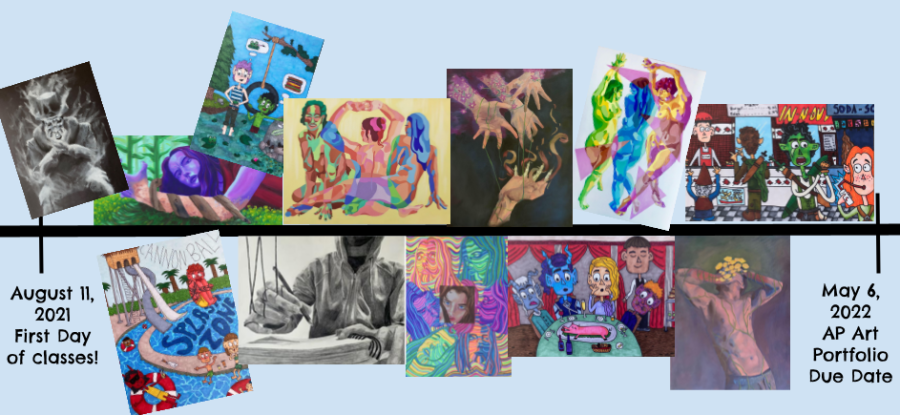 Print Issue
Please click on the three vertical dots on the top right-hand corner, then select "Two page view."