on the EDGE
How rock and roll was brought to the streets of Palo Alto and where it went.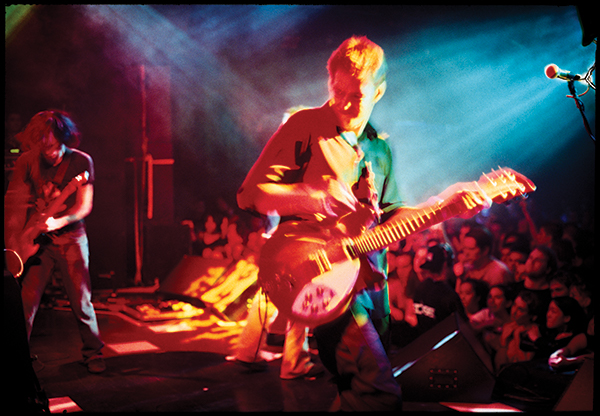 Palo Alto is center stage when it comes to the remarkable world of technology, but 40 years ago this town had a different empire in its spotlight. At the peak of the age of rock and roll, the heart of Silicon Valley was a major hot-spot for aspiring bands trying to put their name on the map.
The tech start-ups that now crowd every corner of University and California Avenue used to be the home of several nightclubs with live rock music playing almost every night.
Palo Alto's thriving music scene dates back to the early 1960's, when musicians such as Jerry Garcia and Bob Weir of The Grateful Dead were teaching at a music shop on Bryant Street in downtown Palo Alto.
In the late 1970's, The Grateful Dead performed at a venue called The Keystone, a nightclub on California Avenue, which played live rock music for Bay Area locals. Despite being a smaller club in a relatively unknown city, The Keystone hosted rock legends like Metallica, Ramones and Talking Heads.
Fast forward to 1989, when The Keystone turned into The Edge nightclub, welcoming the beginning of a new rock and roll grunge: alternative rock. Through the 90's, bands like Radiohead, The Smashing Pumpkins, Nine Inch Nails, No Doubt and Palo Alto's own The Donnas, all performed on the same stage at The Edge.
Jacek Rosicki was the owner of The Edge from 1989 to 2000, and brought some of the most well-known bands to the streets of Palo Alto. Rosicki said that he was able to achieve this by offering them a unique and comforting experience unlike that of large venues in big cities.
He recalls that the now famous band No Doubt, with the lead singer Gwen Stefani, was a small band when they booked their first performance at The Edge. They returned to perform at The Edge repeatedly throughout their fame.
"The first time we booked No Doubt, it was a favor for their agent because they were a small band at the time," Rosicki said. "[The Edge] was seen as a great opportunity to gain popularity."
Rosicki claims his favorite part of owning the club was having regular "Teen Nights," which hosted local 14 to 18 year-olds for a night of original live music. These dedicated nights were a hit for teens in the Bay Area, particularly Palo Alto High School students.
"That was the coolest thing that we created. It was a safe environment for the kids to go hang out, unleash and be themselves" Rosicki said. "Since I have teenagers, I know even more how necessary a place like this was because [they] don't have a ton of places to always go."
Rosicki credits Palo Alto's lack of a central music scene today to the hardship of small venues competing with larger music corporations.
"Small venues cannot survive these days," Rosicki said. "They cannot develop loyal relationships with the bands because performers all go to big promoters and big festivals which weren't available 20-30 years ago. There was no Shoreline, Live Nation or Outside Lands in those days."
Many of the bands that used to play on California Avenue later solidified their reputations and metamorphosed into worldwide rock phenomenon. They left their Palo Alto roots to pursue stardom, and when The Edge closed in 2000, rock and roll faded into the background of Palo Alto's history.
Around this time period, startup companies like Google were slowly developing their technological empires. As more and more high technology companies placed their headquarters in Palo Alto, the city became a hot spot for innovation.
This initiative for modernization progressively drove out live music and replaced it with more residential areas and business districts. What used to be the identity of the town is now a fond memory for those who spent their teenage years going to the five dollar concerts for some of the hottest bands in rock history.
The absence of safe but exhilarating environments like The Edge leaves a major hole in the lives of Bay Area youth.
This tends to be filled with atmospheres with a similar thrill, but without the stable sense of security. The Edge was a creative outlet where young people could indulge in the invigorating raw music which arguably defined their generation.
Maybe this is something that the fast-paced, technological masterminds of Palo Alto could benefit from, even today.
Hopefully, one of these days a little rock 'n' roll soul will return to the heart of Silicon Valley.