Woodstock Makes a Comeback
Summer 2019 brings the 50th anniversary celebration of the original 1969 Woodstock Music Festival. Will it be success?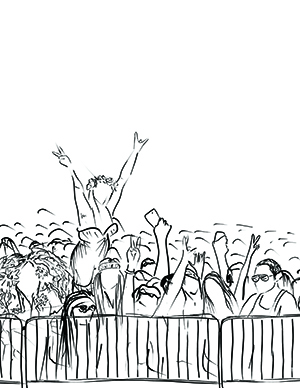 3 Days of Peace and Music" was a promise plastered on thousands of posters in 1969, encouraging people from all corners of the country to attend the now historical music festival known as Woodstock. The event was a cultural phenomenon which embodied the world's demand for social activism along with the movement advocating for love and harmony in a world at war. In the following decades, there have been many adaptations of the festival, attracting crowds just as large as that of the original. The last Woodstock to date occurred in the summer of 1999, commemorating the festival's 30th anniversary. Chaos quickly erupted, with people wreaking havoc in the sweltering heat. Sexual assaults occurred; fires and riots broke out, most of which were documented on the live-coverage TV event. Lawsuits followed. Woodstock festival came to an abrupt end and has not happened since.
Now, 50 years since the original festival, Woodstock's co-creator Michael Lang has vowed to bring back its initial beauty and social significance, and introduce it to the current generations of 2019. In an interview with Rolling Stone Magazine released in January, he is quoted saying, "Woodstock, in its original incarnation, was really about social change and activism." Lang goes on to add that, "that's a model that we're bringing back to this festival. It's a gathering for fun and for excitement and for experiences and to create community, but it's also about instilling a kind of an energy back into young people to make their voices heard."
But what made the original Woodstock so important? Most significantly, it marked a historic period of social change. The year before, 1968, was a year of violence. The protests over America's involvement in Vietnam had turned confrontational and tragic; most notable was the 1968 Democratic National Convention, which caused mass controversy when large crowds of protesters swarmed the event. Even worse, the assassinations of both Robert F. Kennedy and Martin Luther King Jr. left the country reeling, looking for a leader who would bring about change. In 1969, the tides began to turn towards peace. The first Woodstock festival took place, doubling as a music festival and protest of America's involvement in the Vietnam War. Additionally, it was the first gathering of its kind on such a large scale. 400,000 people descended on a dairy farm in the Catskill mountains in a watershed moment for peace and music.
Although the original 1969 festival strived to bring the country closer together in a time of disconnect between the people of the U.S., Woodstock had its own pandemonium. The roads leading up to the site of the festival were jam-packed with thousands of cars causing concert-goers to continue on foot, weaving dangerously through the traffic along small roads. When the festival grounds were finally reached, fans were met with mudslides. They also had little access to food or water, which had not been provided by the festival itself. In addition, underneath the festival's seemingly wholesome facade were extreme alcohol and drug usage among concertgoers, leading some to overdose. Despite these numerous complications, the legacy of the original Woodstock is still viewed by many as a model of peaceful protest and a celebration of music.
As for Woodstock 2019, Lang is promising an unforgettable event. The three-day spectacle in Watkins Glen, New York on August 16 through 18 is set to honor the 50th anniversary of the original event. With 40 performers already booked, the yet to be released lineup has been said to incorporate new contemporary artists with legacy rock bands. The hope is that this combination will draw a multigenerational audience. "Having contemporary artists interpret [rock] music would be a really interesting and exciting idea," Lang said. "We're also looking for unique collaborations, maybe some reunions and a lot of new and up-and-coming talent." Beyond music, Lang has also been planning for many other new sources of entertainment, such as movies playing on enormous screens, jugglers and other acts roaming the grounds. He also plans to have the entire event live-streamed so that thousands of people can watch the performances from their screens at home. However, Lang's biggest ambition for Woodstock 50 will be to incorporate social activism into the event. There will be several non-governmental organizations informing attendees about ways to get involved in various political causes, with a strong focus on the environment. "Things on the planet are critical at this point, especially when it comes to global warming," said Lang. "Everyone has a stake and ignoring it is ridiculous. I really want people to explore how they can get involved. That's one of my main motivations for doing this."
Fast forward to August 19, 2019. Has Lang pulled it off? Has he successfully recreated the "happy-hippie-vibe" of the original festival (minus the mudslides and the LSD)? Have grandparents and grandchildren alike sat front row together and sung along to legendary musical collaborations? Have hundreds of thousands been left inspired to do their part to save our world? The inevitable will soon occur and we can only hope for the best.