Featured Artist: Lai-Ling Bisset
Ever since Lai-Ling Bisset was able to walk, the rhythm and beat of music have inspired her to dance and explore ways to creatively express herself. Constantly spinning and twirling throughout the house, she created holes in the soles of all her socks from the nonstop pirouettes. Soon, this casual dancing around her living room turned into statewide competitions and dreams of someday turning this passion into a career.
Since the age of three, Bisset has taken a variety of dance classes in styles ranging from classical ballet to the progressive styles of hip hop. Her dance journey started with the development of foundational skills through traditional styles including ballet, jazz and tap. After investing six years to these styles, Bisset had justified reservations about trying new genres, such as hip hop. "I didn't want to do [hip hop] because at that point I was in love with lyrical [dance] and ballet and that was my thing," Bisset said.
At the age of nine, Bisset branched out from her usual genres and took her first hip hop class at Dance Connection, a local studio in Palo Alto. "It took about a year or two years, and then I started really liking [hip hop]," Bisset said.
Bisset eventually joined the Hip Hop crew at Dance Connection and danced with that team for three years. After a few years with the crew at Dance Connection, she wanted to dance at a higher level with more rigorous and advanced training that would further push her dance style and techniques.
"
I get an adrenaline rush from dancing. It energizes me, which might seem backwards because it's tiring and physically exhausting, but at the same time it gives me energy and motivation."
— Lai-Ling Bisset
Then, after hearing about a more competitive dance studio, Studio V, Bisset and her family began to consider moving studios. The audition for Studio V, however, happened to be the next day and Bisset wanted more time to think about her decision to audition and leave her old studio behind. "I'd done a lot of research and was intimidated by how good they were, which is why I was nervous about auditioning," Bisset said. Bisset's parents encouraged her to pursue this possibility, so she decided to give it a shot. She attended the audition, which consisted of three hours of conditioning and learning new routines to perform. Despite the intensity of the audition, Bisset was accepted into Studio V's Young Skull Club group.
Located in San Jose, Studio V is home to two distinct dance academies: Young Skull Club and Academy of Villains. Both academies have rigorous training for the dancers, pushing them to new limits every day to make them ultimately more competitive in the dance industry. Young Skull Club, the team for youth dancers that Bisset still currently performs with, works hard to develop the skills and talents of its members and has been recognized in numerous competitions around the bay area. The studio demands a great amount of time and energy from its dancers but simultaneously fosters a close community. "Studio V is unique because it's a high-pressure environment," Bisset said. "It's rigorous, but we work hard when we're training and it brings you closer together." The tight-knit community is reflected in the passionate and dynamic ambiance of the studio and brings its members in an intimate group. "We talk, we laugh, we make jokes," Bisset said. "We're close with our directors, our teachers, and they push us hard. I feel like we have this focused community, but we can have those moments where we can joke around."
To many, the audition process and studio atmosphere may seem like a long and intimidating process, but it doesn't compare to the magnitude of Bisset's current schedule. "When we're not preparing for anything, my team generally practices together nine hours a week," Bisset said. Her team practices for four hours on Friday and five hours on Sunday, limiting time for her schoolwork on the weekends. "Sometimes I don't end up getting my weekend homework done and it spills over [to the next week]," Bisset said. "Sometimes I'll be sitting outside of dance class and doing it." Not only are her practices lengthy, but they also usually start at 8 p.m., causing her to get home even later. However, her passion for dance motivates her to complete assignments and she rewards herself with extra dance classes if she finishes her work with time to spare.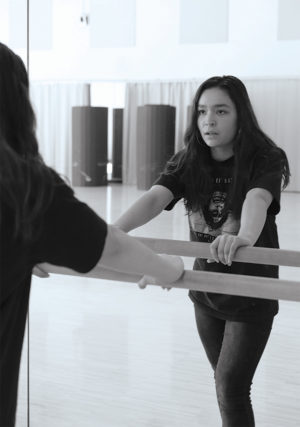 Despite the heavy involvement and time commitment that dance requires, it plays a vital role in her life, and Bisset is focused on continuing dance in the future. "I get an adrenaline rush from dancing," Bisset said. "It energizes me, which might seem backwards because it's tiring and physically exhausting, but at the same time it gives me energy and motivation."
Noting that it will be easier for her to continue while her body is accustomed to long rehearsals and daily classes, one of Bisset's main goals for dance in the future is to continue without a substantial break. "Dance is one of the things I want to pursue right after [graduation], especially when I'm young and it's fresh in my body," Bisset said.
"
Dance is one of the things I want to pursue right after [graduation], especially when I'm young and it's fresh in my body."
— Lai-Ling Bisset
Whether pursuing dance as a college major, participating in a school-sponsored activity or competing at the professional level, Bisset has certain hopes of dancing in the future. "I find that when I'm not dancing every day I don't have as much motivation to do other things," Bisset said. Finding a niche in the dance community is an important part of Bisset's life, and having other dancers to collaborate with helps fuels her overarching passion for it. "It's tough for sure, but you end up getting really close to everyone."
Bisset expressed that one of the most rewarding parts of dance is not the awards, but the feeling after performing and the following celebration backstage. One of her most memorable moments with Young Skull Club was right after their first time competing together. "We had just put our hearts out on stage and were completely out of breath," Bisset said."We were all hugging each other and some kids were near tears, but happy tears." Practice is one thing, but for dancers, nothing compares to the experience of performing together. "It was just this moment where we were all in it [together], and we had all experienced the thrill of dancing on stage," Bisset said.
Winning that competition, or even placing did not matter to Bisset; she was most proud of the sense of unity that her team displayed onstage."We knew how hard we worked to get to that point, and we knew what we had been through together," Bisset said. "That was what was important to us at that moment."
"
We have this focused community, but we can have those moments where we can joke around."
— Lai-Ling Bisset