Hacks to Hack Your Day
From food to beauty, TikTok has creative tips and tricks to brighten your life.
For many of us, quarantining has given us the opportunity to try new things and think outside the box by channeling our creativity into spicing things up in our daily routines. In between classes and Zoom meetings, TikTok has naturally permeated into my schedule. During this time, I have learned and tried a few TikTok hacks that I've implemented into my daily routine. Although times have been difficult, discovering small ways to make your life easier or brighten your day can uplift your spirit! Here goes…
Oreo Mug Cake:
For those with a sweet tooth, this is a must-try! All you need are some Oreos from your neighborhood grocery store and the rest of the ingredients can be found in your pantry. If you're lethargic like me and are craving something sweet, this is fast and delicious!
Step 1: Put four oreos into a mug
Step 2: Add ¼ cup milk of choice
You could just stop here after microwaving for 2 minutes. However, for a better consistency, continue with the following:
Step 3: Crush mixture together until fine
Step 4: Stir in 1Tbsp sugar, 1 Tbsp flour, ½ Tsp baking powder, 1 Tsp cocoa powder (optional)
Step 5: Add an uncrushed oreo to the bottom of the mug (optional)
Step 6: Put in the microwave for 1 minute and enjoy!
Tortilla Wrap:
The other day when I was eating a burrito, I realized how much of the filling fell out of the burrito. It was just too messy (or maybe I'm just a messy eater)! Then, I ran across a TikTok clip that I've since used every time I make an at-home burrito.
Step 1: Cut a line across the middle of the tortilla to its center
Step 2: Add any four fillings of your liking into each quadrant. Make sure it's a thin layer!
Step 3: Start from one of the quadrants with the cut edge and fold each quadrant on top of one another. Enjoy!
For something savory, I chose to do a breakfast burrito so I added cheese, salsa, eggs, and avocado with some seasoning. If you're craving something sweet, feel free to add nutella, strawberries, banana, and crushed almonds, for example. It's super versatile, easy to make, and mess-free!
Sock Curls
As someone with straight hair, every once in a while, I curl my hair for some variety. However, excessive use of heating tools can cause long lasting damage to your hair.. In the long run, I knew this wasn't the healthiest solution to getting curly hair. So this TikTok hack saved my hair's life!
Step 1: Start by grabbing a long pair of socks
Step 2: Split your hair into two sections as if doing pigtails
Step 3: Take one sock and use a hair clip to secure the sock to the top of your hair
Step 4: Wrap your hair around the sock and when you run out of hair, use the remainder of the sock and flip it inside out to wrap over your hair. Use a hair tie or scrunchie to secure the ends of the sock so that it doesn't unravel during the night.
Step 5: Sleep! The next morning, take them out and ta-da! Heat-free curls that will last the whole day!
Although some may find it uncomfortable to sleep in, the results are amazing! For someone with stubborn straight hair, it's very difficult for my curls to last. However, my sock curls have lasted longer than when I curled my hair with a curling wand. 
Eyelash Curler
Recently, I've seen people buying heated eyelash curlers. Instead of a curling wand for hair, it's for your eyelashes. I found the concept intriguing, but the prices not so intriguing! My eyelashes are short and always go down, even when I curl them they do not stay up for long. I came across a video that has since changed the way I've curled my eyelashes — your own DIY heated eyelash curler! I've used this hack for a long time now without fail. Trust me when I say this works!
Step 1: Use a hair dryer and blow dry your eyelash curler
Step 2: Wait 5 seconds before touching your eyelash curler to make sure it's not too hot since our eyes are sensitive.
Step 3: Curl the roots of your eyelashes and then the tips. You will start to see how fast your eyelashes curl and how nicely they hold.
Step 4: Apply mascara like you normally would and there you go! Lashes that stay up all day long.
About the Writer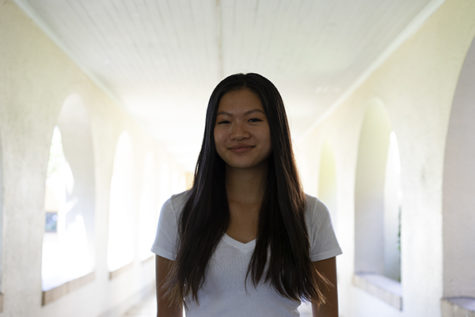 Faith Chow, Managing Editor
2019-2020 - Staff Writer

2020-2021 - Managing Editor

Hear more about me!