Auditory Accompaniments to the New Year
Will this year take us to new auditory heights, or enlighten us to the bangers of the past?
Although we are already careening into March, it feels as if the new year has barely just begun. Will this year take us to new auditory heights, or enlighten us to the bangers of the past? Stick with me to hear what I, Atticus Scherer, think this next year of sound will blossom into.
---
Albums:
Rumors by Fleetwood Mac (1977)
Anyone who knows me knows how much I adore Stevie Nicks, and with her success in the past year thanks to the social media app Tik Tok I can only imagine what's in store for Fleetwood Mac this year.
Rumors is one of the best selling albums of all time, and skyrocketed Fleetwood Mac to the top of the charts when it was released in 1977. Though Nicks' song 'Dreams' has been the highlight of any cottage core/indie person's quarantine, Christine McVie's 'You Make Loving Fun' is another banger on the album that I highly recommend.
This album is quintessential for anyone who claims to be into classic rock. This album has songs that defined Rock n' Roll in the 70s, songs that still hold so much power and influence today. One Tik Tok video put Stevie Nicks back onto the top 20 songwriters chart in 2020, and she better stay there!
Fetch the Bolt Cutters by Fiona Apple (2020)
In her first album since 2012, Fiona Apple has not lost any of that je ne sais quoi that imbued her early alternative albums like Tidal and Extraordinary Machine. My first exposure to Apple was her absolute banger 'Criminal' off of her first studio album Tidal and it has made its way onto many of my playlists since then.
This new album has a homemade feel, probably because it was recorded over eight years ago at her home in Venice Beach. There are little studio clattering sounds and dogs barking in the background that give it a very natural feel, one that is both comforting and vulnerable. Off of the album my personal favorite is 'Under the Table,' a song I can dance in my room to, and one that I have to resist the urge to stomp and bang out the rhythm on my floor and desk.
Apple's vocal stylings and artistry on this album are outside my usual music taste, which is primarily classic rock, but I feel my taste broadening and I can't wait to see what's next – even if I have to wait eight years.
---
Podcasts:
Therapy Gecko
Though he is not a real therapist or gecko, Lyle Drescher has a highly entertaining twitch stream where he answers calls and talks through people's everyday problems. Highlights from these calls are compiled together and released as podcasts.
Each new episode dips into the lives of people from all across the 50 states, and even some international stories. The topics for these thoroughly entertaining conversations range from dreams to closeted anime fans.
There is a sprinkling of humor and personal growth in every episode and there's a light hearted air to it that is ever so appreciated in such a monotonous time. It is a very judgement free environment that can get you through the day and maybe even make you smile.
If you are ever looking for a podcast with people you know you can relate to, this is the perfect podcast for you; it is not too folksy and is, at times, a little vulgar. So release your inner gecko, or even call into the live twitch stream if you are feeling bold for the full experience.
S-Town (2017)
From NPR's This American Life and Serial comes a true crime esque podcast with murder mystery clocks and crazy people. Brian Reed follows the story of a small town in Alabama and a man named John who claims to know something about a murder that transpired in the town and the person who got away with it.
This is a wild ride of a story, if you have ever read a book with an unreliable narrator and thought 'STUNNING' then this is the perfect podcast for you. There are characters of all sorts, money and gossip and treachery. I had to listen to it twice to grab all the nuances, and if I listened to it again then I would probably find even more.
I found myself picking sides and formulating hypotheses of where I thought the story was going, and it is not as predictable as some true crime podcasts are. It is not always the butler in the library with the candelabra. Riveting stories with complex characters – 10 out of 10 would recommend this.
StarTalk
Do you like listening to really smart people talk? Does passively learning sound enticing? Well, I do and Neil deGrasse Tyson's podcast StarTalk is great fun. With a satisfying voice and a breadth of knowledge and a smattering of humor, deGrasse Tyson brings you on an adventure through the cosmos and back every episode.
There are special guests from NASA scientists and theoretical physicists to comedians and actors. deGrasse Tyson talks about science I will most likely never understand in an accessible and thought provoking way, and now when my Father tries to talk to me about evolution and dark matter I can nod along and add in a thought every now and then.
I still don't know the names of constellations, but I have an idea of how the universe will end and I thought about entropy the other day, so that's learning at work, right?
Let us hope that this year won't be an auditory atrocity. There will be a new Lana Del Rey album coming out March 19 called Chemtrails Over the Country Club which might have some select bops, and who knows we may be graced with a Rihanna album, but we can't ask the universe for that much.
About the Writer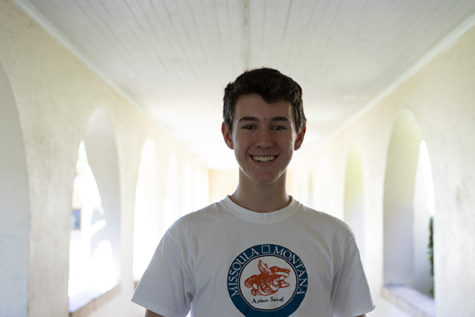 Atticus Scherer, Editor-In-Chief
2019-2020 - Staff Writer

2020-2021 - Editor-in-Chief

Hear more about me!