Passion to Product
Young entrepreneurs turn their passions into charitable and profitable businesses.
5
MIN READ
Baking for Justice
"I have this brilliant idea," said Winter Pickett, a Paly senior with a love for baking. "I am going to make a cupcake business and donate everything to charity." After indulging in Pickett's delicious cupcakes earlier in the day, her mom and brother were excited for Pickett but worried about the workload ahead of her. "They told me I was out of my mind. I was so ready to prove them wrong."
Growing up in a time of social change and uncertainty, teens like Pickett often feel a sense of responsibility to change and contribute to their community. So, when Pickett and her business partner, Sabrina Chan, were unable to attend the Black Lives Matter protests in June, they looked for new ways to support the movement. "We can't just sit here," Pickett said. "We have to do something."
Pickett and Chan named their business Baking for Justice because of their business model of cupcakes for social change. The community seemed difficult to interact with during a pandemic, so the pair turned to online resources. After designing a website and promoting their business on social media, their expectations for orders were low. But, to their surprise, business took off immediately. "The fact that we got $800 in the first week shocked us," Pickett said. "I was freaking out [and now] have a newfound appreciation for local business owners."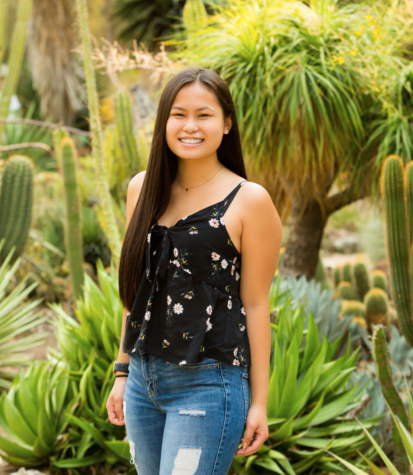 "
The community was responding so well and helping us so much. We felt we had to do this for them and the movement."
— Winter Pickett
Pickett and Chan endured numerous late and stressful nights to keep up with the orders, once even making 500 cupcakes in a single day. But, unlike other businesses that are incentivised by profits, Pickett and Chan were motivated to make social change. "The community was responding so well and helping us so much. We felt we had to do this for them and the movement," Pickett said.
Baking for Justice donated to various nonprofit organizations including The Bail Fund, DREAM, and Act Blue, nonprofit organizations dedicated to social justice. Each of their customers looked forward to their delicious purchases and were glad their money was being donated to a worthy cause.
Although their community of customers was large, Pickett and Chan made strong individual connections. Pickett recounts a weekly customer who purchased the same four chocolate cupcakes each week. His order was the same down to the white envelope of cash with blue tape on the door. When he heard that their business would be closing at the end of summer, his 'fingers [were] crossed for Christmas.' "It's those little moments that are so rewarding," Pickett said.
Pickett and Chan agree that Baking for Justice, though challenging at times, was the most rewarding thing they have done. "The problem amongst teens with social change is that you feel your impact is not making a [difference]," Chan said. Their cupcake business was able to donate $4,500. "After seeing how much we donated to each charity it was such a realization moment," Chan said. "It was a sizable amount that they could actually do something with right now."
Eclectic Outlet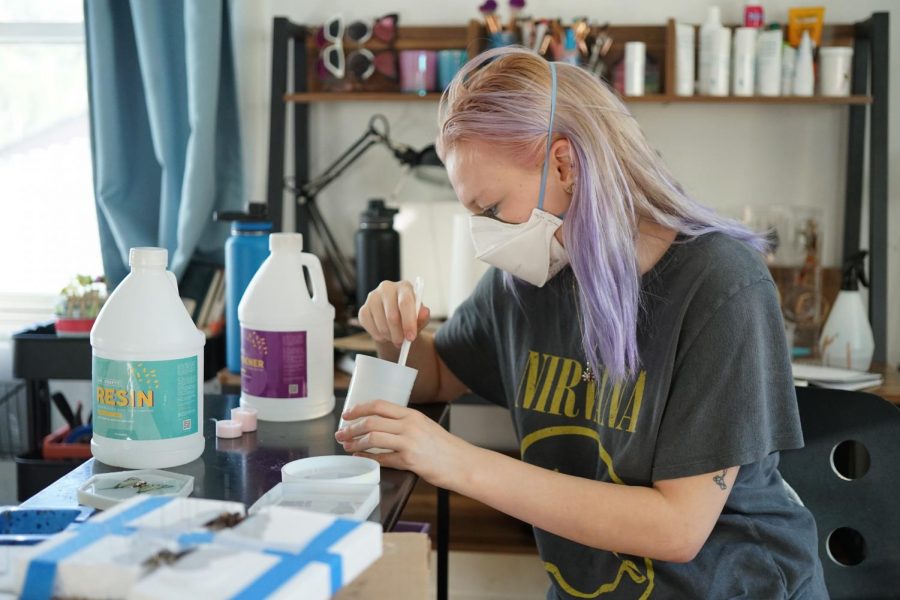 "
I started this business before I lost my memory. In a way, I inspired myself."
— Willow Schmidt
Willow Schmidt, a junior at Paly, recently faced a unique challenge while running her handmade jewelry and art business, Eclectic Outlet. Schmidt had a dissociative amnesia episode, which caused the loss of all her memories, including those of her small business.
"When I was reintroduced to my business, I saw videos that my boyfriend, Joseph, made, and then I saw my products," Schmidt said. She was amazed by the work she had done. "I always want to continue that level of quality."
After being reintroduced to her business, Schmidt's creativity was reignited. "It's kinda funny," Schmidt said. "I started this business before I lost my memory. In a way, I inspired myself."
For Schmidt, her art is her business. She does a lot of custom work and enjoys making new pieces. "I love getting to be creative and seeing other people appreciate what I make," Schmidt said. "I like making custom work because it pushes me to try new things, even if I'm not 100% comfortable with them."
Without many in-person promotion opportunities, Schmidt has used social media to her full advantage. "Social media is really great because I like to engage with my customers," Schmidt said. "A lot of them I know personally, but I have gotten a lot of requests from the other side of the country and I'm shipping to Canada now."
Plants and Paint
"
I have learned that if you enjoy what you are doing, it doesn't feel like work."
— Owen Rice
Although Schmidt's business is now international, other businesses thrive locally. Plants and Paint is an example of a community business. Owen Rice, a Paly junior and plant lover, is the founder.
Rice began painting plant pots during the COVID-19 pandemic. "I wanted my room to be a chill place to hang out, so I started filling it with plants," Rice said. "It just made sense to do my art on the pots as well and when friends saw them, they expressed interest in buying them and it kind of grew from there."
Rice's friends post pictures of his products and encourage their followers to buy from Plants and Paint, creating a web of local customers. His customers serve as personal advertisements, building a Palo Alto customer base online. Because he can't ship the plants, each product is hand delivered to these local customers. "I deliver to your door, I can't mail them," Rice said. "It's tricky because every piece is unique and one of a kind."
Small businesses, like Rice's, face a unique challenge when producing items to purchase. "If more than one customer wants the same piece, they may have to be flexible or patient while I wait for new pots or plants to grow."
Rice enjoys his business and the network he has created with his art. "Most of the plants are propagated from my plants, so it's cool to think all our plants are connected," Rice said. "I also love knowing that people have my art in their room."
Whether you create a business for donations, turn a hobby into a business or have a passion you want to share, a small business is worthwhile. As Rice says, "I have learned that if you enjoy what you are doing, it doesn't feel like work."