Lighting Up the Holidays
The residents of Palo Alto show their holiday spirit by decorating their houses and continuing traditions.
4
MIN READ
Lights twinkle and flash in the eyes of eager children who parade down the street with their families. This magical street, known as Christmas Tree Lane, is fully decked out for the holidays with Santas climbing on the roof, Christmas trees on every lawn, and the smell of hot chocolate drifting through the air.
Many families show their holiday spirit by decorating their houses, including Lisa Bertelsen-Kivett, a parent of two Addison students. Kivett has decorated her house for as long as she can remember and it has become a familial tradition.
"[Holiday decorations] are just something I grew up with and it's something very familiar, so I wanted to continue the tradition with my kids," Kivett said.
Kivett also makes an effort to recognize most holidays, even those that are less common. "I'll just put stuff on the coffee table, and that's mainly for the kids, because it is part of our traditions," she said. By decorating for every holiday, Kivett is able to really celebrate and appreciate them, while upholding her family tradition.
"
[Decorating] brought the Christmas spirit to the season every year. It just felt so warm and Christmas-y when you went to Christmas Tree Lane."
— Drew Zenger

Decorating is also a way for people to express their faith. Paly junior Lily Lochhead explains that decorating is a great way to feel festive and it is also a reminder of why they really celebrate.
"We decorate like most people do with Christmas trees and Santa Claus and stockings, but we also decorate with many crèche pieces with scenes of Christ's birth," Lochhead said.
Not only do individuals decorate their houses, but these displays of festivity have also become long-standing traditions for organized groups of people. Streets such as Christmas Tree Lane in Palo Alto are known for their extravagant and beautiful holiday decorations that light up the whole street.
The Christmas Tree Lane tradition began in 1940 and is celebrating its 80th lighting this year. Displayed on Fulton Street, the street lights reflect houses that are brightly decorated and incandescent.
Drew Zenger, a Paly parent and former resident of Christmas Tree Lane, recognizes the importance of house decorations in order to fully embody the Christmas spirit.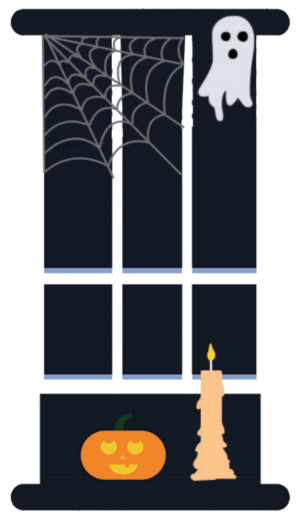 Living on Christmas Tree Lane, however, did not mean that Zenger's family was required to decorate their house. While not every resident is required to elaborately decorate their house, there is a clause in their contracts when they purchase a house that consents to street congestion during the last two weeks of the year. This helps guarantee that homeowners on the street are invested in the tradition. Nonetheless, in order to uphold the Christmas spirit, Zenger's family did participate.
Encouraging every single resident on the street to decorate is not an easy task. In order to do so, the decorating committee of Christmas Tree Lane, a volunteer-based group, has continued running to this day.
Leslie Berlin, a resident of Christmas Tree Lane, has been the chair of the Christmas Tree Lane decorating committee for the past couple years. She says that the decorating process is a collaborative one, with different families volunteering for different aspects of the street. This allows for each resident to focus on their own house, and then everybody comes together to put the finishing touches on the street.

"When the Christmas trees were delivered, the neighbors would come out and have a party on the day we set up, and we'd set them out in front and string it with lights," Zenger said. These traditions have been upheld, and have allowed for the decorating process to go smoothly.
Zenger also greatly enjoyed living on Christmas Tree Lane. "It was fun and festive getting to see people. Picture being able to do that every night without having to take a special trip," he said. "We loved it." Although there is the pressure of making sure the house looks presentable and the trouble that comes with the heavy congestion that occurs during the holidays, it is an amazing tradition to be a part of.
Despite moving away from Christmas Tree Lane, Zenger still visits the street annually. "Going back to Christmas Tree Lane brings back those memories of being much younger and gives me that Christmas feeling," he said.
Jonathan Ward, a Paly parent who currently lives on Christmas Tree Lane, also greatly enjoys the reward decorating for the holidays entails. Ward makes his own themed decorations with his family and constantly rotates the decorations to keep them new and exciting.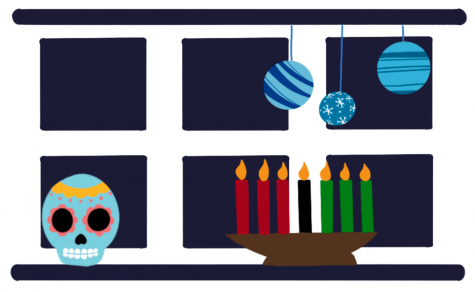 "[Christmas Tree Lane] is a gift to the community and we enjoy seeing so many people enjoy the cheer," Ward said.
During this pandemic, many people have altered how they celebrate in order to stay healthy and keep their loved ones safe.
While Kivett continued with her festive Halloween decorations this year, the way in which she celebrated on Halloween and how she plans to celebrate future holidays has shifted. Kivett chose not to trick-or-treat with her children on Halloween, in order to stay safe and distanced.
"
Decorating is special and I look forward to it each year as it means the neighborhood will be full of people soon."
— Jonathan Ward
However, she knows not all people will make this same decision.
Kivett recognized that many children had been looking forward to this holiday, so she came up with a solution. "We bought a long PVC tube and, from the second floor porch of our house, we shot candy through the tube," Kivett said.
Gestures such as these are important during a time in which so much has been taken away and canceled. While this holiday season is likely to be challenging with plans changing and the inability to see our loved ones, it will bring new traditions and an appreciation for what we have.
Berlin recognizes that this year will be celebrated differently. "This will be an unusual Christmas Tree Lane, but I think it will be especially meaningful for people this year," Berlin said.
Holiday house decorations hold special meaning to both the decorators and viewers. These decorations can cross religious boundaries, as well as age and culture gaps. It is a way to express excitement and celebrate these different holidays, and it is oftentimes deeply rooted in traditions with family and friends. These traditions are just one of many different ways to recognize the holidays, and will continue as time goes on.