Featured Artist: Flynn Kelley
Flynn Kelley's experiments in the kitchen transform dough into pastries and baking into art
3
MIN READ
Evidence lines the kitchen counter in the form of salt, sugar and baking soda. In senior Flynn Kelley's kitchen oven, a cake is coming into existence. Kelley's recipes are not perfected overnight and his masterpieces, like this cake, arise from careful observation, experimentation and determination. Experimenting with his creations has allowed him to transform baking from an ordinary activity into an art form of his own while honing his culinary skills through repeated experience.
While many students watch shows like "The Great British Baking Show" for pure entertainment, Kelley watches the show to learn from other bakers. "It's very dramatized, but there are some neat tricks [that I've learned]," Kelley said. "I think one of the contestants listens to his cakes to hear if they're popping, and I don't do that. I prefer to take a toothpick, but it is still cool to learn."
Kelley has also developed his baking skills through his job at the Peninsula Creamery in Palo Alto. On his first day at his job, he experienced information overload as he watched one of his co-workers to learn the responsibilities of his role. The new information was difficult to absorb at first as the baking processes were different than what he was used to. This left him confused but also gave him a chance to gain new experiences.
"As you watch, you learn technique, and I think that helped me improve a lot," Kelley said. "I learned how to make cream for cookie batter, or cookie dough. You cream the butter, which I [already] knew about, but I wasn't doing it correctly; there's a bunch of [those techniques] that I knew about but wasn't doing correctly. Then you adjust your technique as you watch other people bake."
Kelley prefers home baking to baking in a restaurant because he feels that he is able to express more creativity on his own without any time constraints. "As a home baker, normally what you're doing is spending all your time making one thing, and that takes up your free time for that day," Kelley said. "You're focused on making this [dish] as pretty as possible and just perfect."
Freedom to create as you please is lost when working at a restaurant like the Peninsula Creamery. "When you get into the restaurant industry, you're no longer focusing on one thing; you now have six things running at the same time," Kelley said. "You use the same technique and the same ingredients and it's a mad rush just to finish the day. You're tired and exhausted and you're probably running around all day."
Despite his gripes with the restaurant industry, it's clear that baking still brings positivity to Kelley's life. "I think eating [my baked goods] was the primary motivator early on, like 'I just want to make something tasty,'" Kelley said. "But then when family or friends are invited over to try things that you make, that's the best feeling ever. It's just gratifying." The people around him provide the motivation that all artists need to work harder and perfect their craft.
"
When family or friends are invited over to try things that you make, that's the best feeling ever. It's just gratifying.
— Flynn Kelley
"A lot of [baking] is common sense, but a lot of it is just making it your own," Kelley said. "For some recipes, your family will probably hate you for a little bit while you learn, but there's that learning phase with any hobby."
One recipe that Kelley has perfected is his lemon blueberry scones. He really enjoys baking scones because of the freedom that comes with developing the recipe and with each creation. "You can make [the scones] whatever you want them to be for the most part, as long as they're close to a biscuit texture," he said.
Kelley developed his recipe from multiple different ones that he had baked with previously but had not completely loved. "There was one really weird one that had vinegar in it," Kelley said. "I didn't like that, so I took the recipe and just looked at how much lemon to put in." Small changes and pieces of information from various recipes such as these have come together to form the perfect scones.
Kelley has also explored his experimentational side through baking cakes. One cake in particular, a lemon cake, allowed him to try various methods of cooking eggs. "I tried a new technique for the cake that I really enjoy," he said. "I heated it up over a double boiler so that it's partially submerged in the water and steam heats it up." The chemistry of baking has intrigued Kelley as he has developed his skills, and he works to learn more and continue his experimentation.
Baking is an ordinary activity that anyone can learn, but Kelley has turned the commonplace pastime into a passion that is uniquely his own by sticking to his creativity and gathering experience wherever he can. "[Baking's] just like a toy," Kelley said. "You play with it, and you customize how it looks, and it can end up being pretty fun."
Photo by Flynn Kelley
Print Issue
Please click on the three vertical dots on the top right-hand side corner, then select "Two page view."
About the Contributors
Eunice Cho, Managing Editor
2019-2020 - Staff Writer

2020-2021 - Social Media Manager

2021-2022 - Managing Editor

Hi! I am Eunice Cho, and I am a senior at Palo Alto High...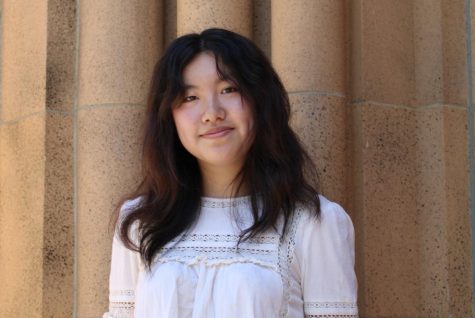 Julie Huang, Managing Editor
2021-2022 - Staff Writer

2022-2023 - Managing Editor

I joined C Mag because I love that journalism helps shine a light on issues that need addressing...