Beating Boredom
With a surplus of time on their hands, Paly students have the opportunity to rekindle old passions and discover new ones.
Gearing up for a victory ride, sophomore Riley Herron mounts her black BMC road bike. She readies her foot on the pedal and turns to her best friends before starting. They take off on their biking journey towards Alpine—, the wind blasting their faces and rushing through their hair. Herron and her friend bike all the way to Arastradero and Los Altos Hills where they conclude their celebratory bike ride after racking up 100 miles in one week.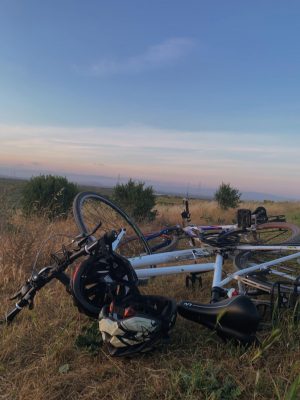 Sheltering-in-place has made Herron, and many others, find ways to spend their days at home. Although Herron has never been a serious biker, the lockdown has given her an opportunity to pursue a new hobby. "My friend Brooke and I started doing this as a way to get outside and exercise during quarantine and we grew to really enjoy it," Herron said. "Now it's something we look forward to everyday." Having this fun activity to look forward to helps Herron cope with the craziness of the pandemic.
Finding a new hobby does not have to be a serious commitment and can start out small, or even unexpectedly. "My friends, brother and dad are really into biking and we went for a small ride to Atherton and realized we liked it more than driving," Herron said.
Herron now enjoys her daily bike rides because they give her a chance to take her mind off everything except biking. "After riding uphill for almost an hour, the first time you get to go downhill and release all the effort you had just used is so satisfying," Herron said.
Hobbies are a great way to change up daily routines, especially when our prior commitments have been canceled. It is important to have a fun outlet to look forward to. "It is really healthy to save time for hobbies that bring you joy and bring passion into your life," Herron said. "It is a great way to break away from stressful mandatory tasks."
Like Herron, many students are looking for ways to stay active. Paly senior Grace Thayer has taken up running with the intention of staying in shape for next year's college volleyball season. Since she is unable to perform her preseason volleyball lift workouts for the University of Miami, Thayer has been forced to find a new way to work out. "I have started running a lot to stay in shape so when gyms open I at least still have my endurance," Thayer said.
"
It is really healthy to save time for hobbies that bring you joy and bring passion into your life."
— Riley Herron
While running has never been a part of her typical lifting workout routine, the shelter-in-place mandate has definitely pushed her to see the benefits of this type of exercise. "I found a different appreciation for running," she said. "It gives me peace of mind and allows me to take a break from worrying about the corona[virus] and just to focus on myself."
Some hobbies will even be incorporated in routines after the shelter-in-place order is lifted. "I will definitely continue [running] in the preseason with my new teammates at the U, and hopefully on my own during the offseason or our occasional breaks when I get the chance."
There are also many ways to stay entertained from the comfort of home. With just a needle and a thread, Maddie Yen—a 2019 Paly alum and current freshman at Tulane University—has found a unique new hobby: embroidery. "I have been having fun stitching different things onto denim, old t-shirts, and a lot of other things," Yen said.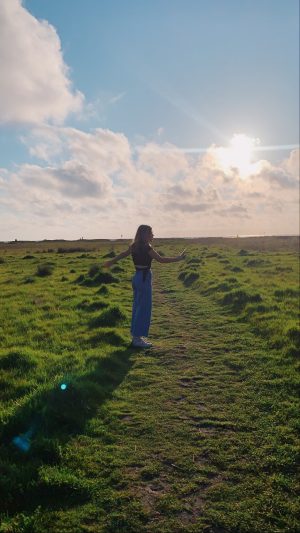 Along with being a great creative outlet, Yen's new hobby has taught her a lot about the beauty of patience and slowing down. "It has really just taught me to just sit down and slow my day a bit," she said. "I'm so used to being so fast-paced and doing something like this really makes me put the brakes on and take some time to just chill out."
Some have used the lockdown and their hobby as an opportunity to form deeper connections with their families, such as sophomore Ella Jauregui who has started knitting. "I like knitting because you improve super fast and it's satisfying to see the final product made completely by yourself," Jauregui said. Jauregui typically makes quilts and sweaters although sometimes experiments with unique pieces, such as a cape for a cat.
Jauregui was inspired by her mom to pick up knitting. "The reason my mom started knitting in college was that there was a trend of having these really expensive knit sweaters, so instead of buying them, she knit them for her and her friends," Jauregui said. Now, her mom supports her from the sidelines. "She helps me and gives advice on new stitches I should learn," Jauregui said.
"
I'm so used to being so fast-paced and doing something like this really makes me put the brakes on and take some time to just chill out."
— Maddie Yen
While Jauregui mostly knits alone, the activity connects Jauregui to her mother. "Traditions make you feel more connected to people or the activity than you would otherwise," Jauregui said.
It's easy to focus on the many things that the coronavirus has taken away from us, but it is clear that there are many ways to make light of this unfortunate situation. Whether it's running, baking, or simply starting a new show, people all around our communities are using this extra time to indulge themselves into new passions. While there's no clear timeline of how long this will go on for, don't be afraid to start something new—you never know what it'll bring.