No Longer the Sport of Kings
While barriers to entry still exist, the elitist nature of surfing has become more accessible and diverse through influential leaders and organizations
Bobbing amongst the other neoprene-covered figures in the lineup, 16-year-old Nick Reed sits atop a foam board, immersed in the still unfamiliar, freezing cold sweep of the North Pacific Ocean. A rolling wave builds up, and Reed starts to paddle, fiercely stroking the water. After finding his balance, one leg pops out into a kneel, arms stretched out like Kate Winslet on the bow of the Titanic. In one fell swoop, Reed is on two feet, and for a moment, he is flying. After resurfacing, 10 sets of arms are thrown up in celebration. You can hear the faint hollars past the crashing of the waves. With his heart pounding, Reed paddles back out and can't help but crack a big smile. "I like learning a new talent, and the thrill I get out of it," Reed said. "I made a few new friends too; in this surf class there's a lot of nice kids, and I always look forward to coming again."
City Surf Project (CSP) is a nonprofit organization that brings surfing to underprivileged communities in San Francisco. Founded in 2015 by Johnny Irwin and Hunter Chiles, CSP has exposed thousands of youth to the ocean and to surfing, including teens Angely Lopez and Carolina Irizarry.
"For me, City Surf is like a way out of my world," Lopez said. "I found that surfing helped me to get away from the stress in my life."
"
City Surf is like a way out of my world"
— Angely Lopez
Something commonly talked about among surfers is its ability to heal, and while kids at CSP may join because it sounds like a fun afternoon activity, they soon discover that surfing goes far beyond just something you pick up and do with friends. "I've learned how to meditate because of surfing," Irizarry said. "I feel like that's coming up a lot in society; learning how to control your emotions. A lot of surfers are super big on talking about that."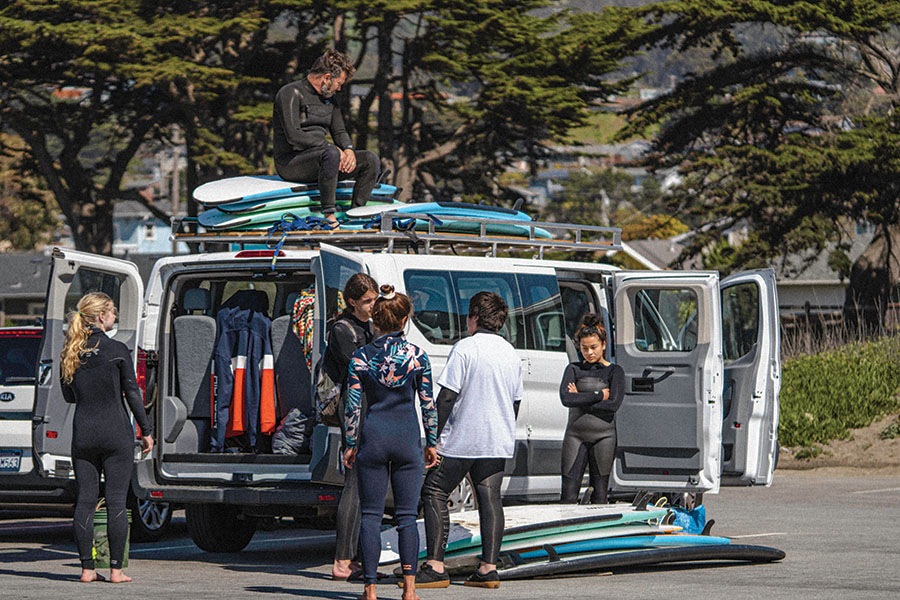 Both Lopez and Irizarry found their experience so influential that they continued with CSP through its Summer Instructor Leadership Training program (SILT). Lopez has increased her social emotional learning through her interactions with the younger surfers at CSP and has become a model for representation out in the ocean. "It's rare to see Hispanics or other ethnicities out in the ocean," Lopez said. "When I do see them, it's when we do the SILT program, because it varies from ages and ethnicities."
Tre'von Boykin was one of CSP's first members back in 2015. Boykin returned after college as a surf instructor to help kids find joy in the ocean just like he did. "It's always fun to tell people that I surf," Boykin said. "Because nobody expects a person of color to be a surfer anyways."
"
It's always fun to tell people that I surf, because nobody expects a person of color to be a surfer"
— Tre'von Boykin
While CSP is a small bright corner of the planet that has been exposing youth of all backgrounds to surfing, the rest of the world is only slowly catching on.
After surfing went mainstream in the 1950s and '60s, a huge influx of surfers—predominately straight, white and male—caught the "new and trending" train to the coast. Suddenly, like many other things in history, surfing lost the connection to its roots.
Paly alumnus and current member of the surf team at the University of Southern California, Andrew Huang has been surfing for eight years. For Huang, being an Asian surfer lends itself to a different experience in the water. "It's kind of weird when I'm the only Asian guy in the water," Huang said. "You almost get imposter syndrome, even though the race or ratio of white people [to people of color] doesn't have any effect on how well you surf."
As surfing stereotypes started popping up, those who didn't fit the mold squeezed into it anyway. This is true for Julie Cox, a former pro longboarder for the women's World Surfing League. "When I was in my 20s and trying to get sponsored by different brands, there were certain brands that wouldn't like the fact that I or some of my friends were gay, so I definitely had to hide it from the sponsors," Cox said. "[We had to] pretend that we were straight so that we could get sponsored because they were projecting this image of trying to appeal to men."
Since then, Cox has taken that mold and smashed it. She recently opened the Traveler Surf Club & Coastal Outpost in three California locations, including Pacifica and Santa Cruz. Owning Traveler has allowed Cox to create her own reality as a surfer and helped amplify the need for inclusivity and diversity for other aspiring surfers. "We're mostly women-operated, and I think having females behind the counter creates a more open and inclusive environment," Cox said. "So when a girl comes in and has a question, they're not gonna feel intimidated."
Beyond issues of gender representation, worldviews have been expanding to capture all intersectional identities. Outcries of injustice have been echoing across social media feeds and are evolving into daily practices. Diversity, representation, justice, accessibility—these are all terms currently found in corporate policies, brands, sports and conversations. Ben Bolanos, Paly teacher and avid surfer, is among the individuals on the frontline leading many of these conversations in California. "I think our culture is changing; your generation and my generation are becoming much more aware of these issues and bringing them into the light," Bolanos said. "We are generating a lot of movement for more diversity in general and for brown and black representation in outdoor activities."
Bolanos, a City Surf Project volunteer, is also a member of many other companies looking to promote diversity in outdoor spaces, including Latinx Surf Club and Latino Outdoors. He has also attended events hosted by Traveler Surf Club where Cox and her wife invite companies like Latinx Surf Club to speak and network.
"There's not as many role models of different races and ethnicities surfing; it's really important to show images of different races and ethnicities [surfing] to inspire all communities because it's so often been a straight white male sport," Cox said. "I want people to know that surfing is for everyone, whether they're good at it or not; the ocean is for everyone."
"
I want people to know that surfing is for everyone, whether they're good at it or not; the ocean is for everyone"
— Julie Cox
Something that other places have, which creates an empowering community, is representation in the lineup. "Hawaiian lineups are so much more diverse," Huang said. "It was really cool seeing people who looked like me surf, but also people who looked like me and surfed really freaking well, way better than I did. It's different from the narrative you see in California, you know?"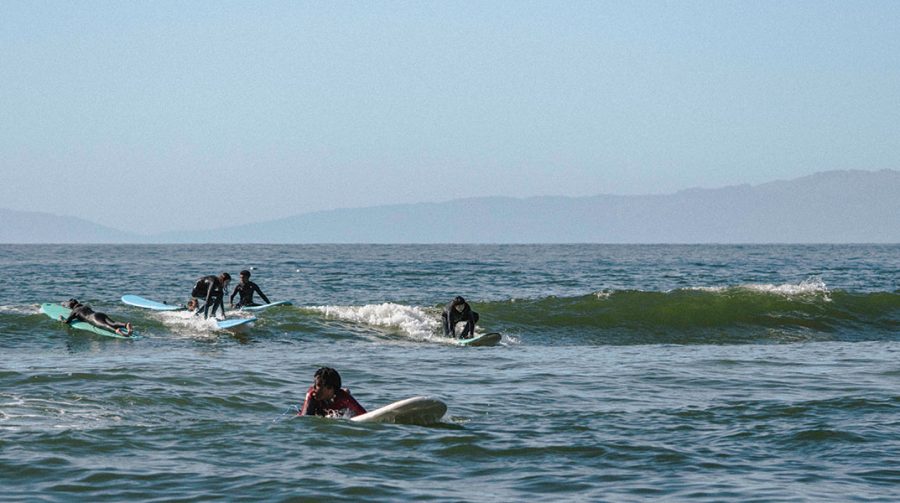 CSP is rewriting that narrative one surf session at a time; this ambitious new club is making strides and changing lives. "I'm really thankful that I got the chance to go surfing that one day; it changed my entire life," Lopez said. "I didn't know what to do other than school, and City Surf taught me how to live life and [helped me realize] what I want to be as an adult."
Since March of 2020 when COVID-19 hit, the California coast has seen a huge influx of surfers of all ages and backgrounds. With extra time, people saw the open ocean and took to learning a new skill. "I think there's a lot of loneliness and a need to be part of something bigger," Bolanos said. "It's fulfilling or at least gives you a moment of tranquility and joy, and I think that's really important."
Yet, welcoming new people into a sport without setting people up for conflict remains a balancing act that threatens this longstanding sport. With more surfers pouring into the most popular breaks in California, many of them beginners, rules and etiquette went out the window. "There is surf etiquette because surfing is dangerous," Bolanos said. "If you don't know what you're doing, you could run into something, and you could get really hurt. I've gotten hit by a board and by people before."
Of course, with any movement there is always a resistance. In surfing, this resistance is embodied by localism. Surf localism is a phenomenon where surfers become extremely territorial about the breaks in their area and actively discourage others from surfing there. When surfing was first born in Polynesia, the waves were reserved for royalty; some called it "the sport of kings."
As historical monarchies dissolved, it was the locals who took to claiming the crown jewels. And regardless of location, age, race, gender or sexuality, localism has been thriving for centuries. Paly senior and member of the Paly Surf Club, David Evans, has seen it first-hand. "It's scary and a lot of people might yell at you," Evans said. "Locals can be really bad, especially in Santa Cruz."
Although localism is not explicitly racist or sexist, if you paddle out into a break where you're not welcome, you become a target, and anything distinguishable about you becomes fair game. "There are so many stories I could tell where we would be sitting out there and male surfers would smirk on us, say sexist jokes, or just say things like 'y'all need to get out of the water,'" Irizarry said. "There's a lot of ocean to share and it's kind of sad, but I try not to put my energy into that because you can't really prove something with your words. You're not really out there to talk, you're out there to surf."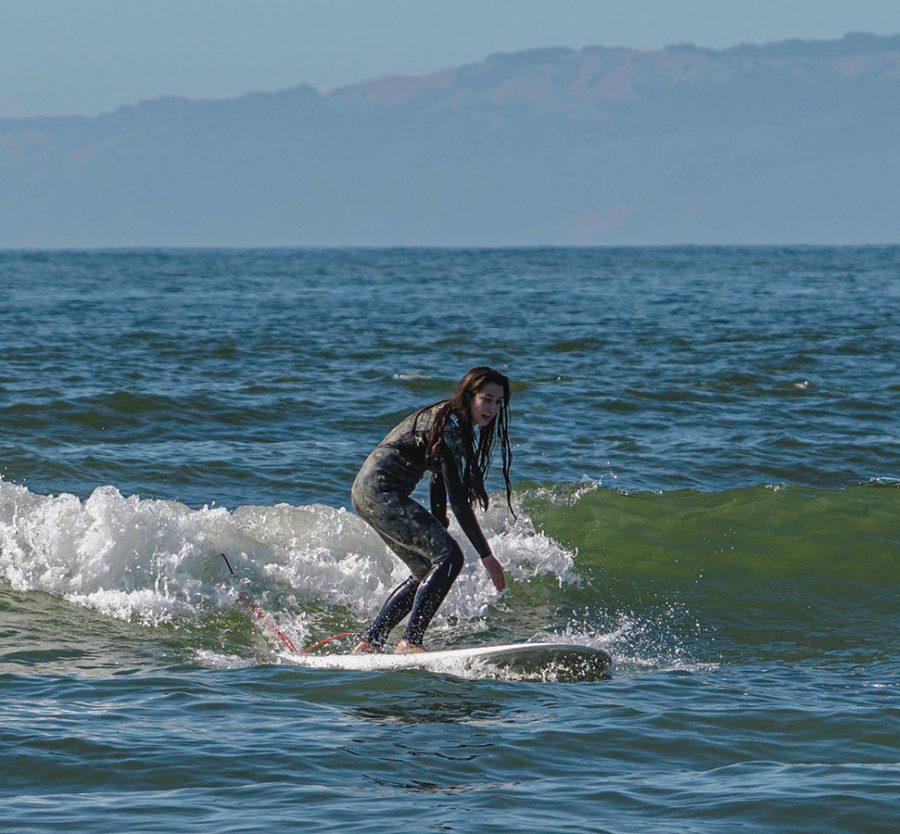 Localism isn't just about keeping the beginners out; there is also rampant localism against experienced surfers. Huang has had a lot of run-ins with locals who assume his level of surfing ability before he has even caught a wave. "A lot of people will look at an Asian surfer, or an African American surfer, and think, 'oh, they probably can't surf very well,'" Huang said. "The general opinion is there because people of color haven't been involved in surfing in California for as long, and when people see them, they think that they can't surf very well."
Chris Butler is a longtime surfer and, before moving to Hawaii in January of 2012, made a regular commute down to Santa Cruz from Stanford to surf. Similar to Huang, Butler has felt unwanted by California locals as an African American surfer and a non-local, especially when he first started surfing Santa Cruz in the early 2000s. "One time, as we were walking down the street, a car full of people drove by and saw us, slowed down and started yelling racial slurs at us before our surf session," Butler said.
Although he was taken aback by the event, Butler decided there was one path he could follow that would help him heal. "We came back the following week and that felt empowering because we didn't let it keep us from surfing that spot," Butler said. "Whereas most people would say, 'whoa, we're not welcome here,' for me personally, I thought, 'I'm coming back as much as I can, as often as I can, and they are going to see my ugly face in this surf spot.'"
After befriending Peter Mel and his father John, Butler started gaining recognition and confidence in the lineup. "My surfing improved to the point where people would have to say, 'wow, he's a good surfer,' not 'he's a good black surfer,'" Butler said.
Surf localism is a spectrum. Some of it can be attributed to self-proclaimed tough guys wanting to have a go at someone because their coffee was watery that morning, but some anger comes from the frustrating cycle of newcomers who disregard etiquette and turn a calm morning into a party wave fun-fest. "I think there is a level that comes into it, where [locals] are fearful of getting hurt or hurting somebody else and they definitely [get mad] that way," Bolanos said. "As long as you're safe, it's okay. If not, that's when you get yelled at. There's [another] way to do it though. You just let people know quietly, not to humiliate them out there, because you want people to enjoy the surf, and it seems some people don't get that."
In order to continue welcoming a diverse group of people into the surfing community, while still being able to find solitude and tranquility on a wave, there must be balance.
Every surfer in the lineup has to help uphold the community, both through respect and patience. "There are unspoken rules and etiquette," Cox said. "It's important to be respectful of what the etiquette might be and learning as much as you can about it will help make [surfing] a more fun experience."
"Don't drop in on people when you're out in the water," Butler said. "Be a constant ambassador of Aloha and share good vibes."
"
Don't drop in on people when you're out in the water. Be a constant ambassador of Aloha and share good vibes"
— Chris Butler
Respect is as important as patience. There was a time when every surfer was just starting out and felt that first rush. "You can get pounded dozens of times in a row but the first feeling of standing up is really foreign and it's like nothing else in the world," Evans said.
That first feeling of standing up is something special to all new surfers. "I could see almost a foot into the water, and oh my gosh, it was just like something you'd have seen out of a movie," Irizarry said.
"I popped up and then I fell like three seconds later, but it was amazing," Lopez said. "I was in control and I was so happy."
Surfing is unique in that it takes a lot of mental strength and grit to keep going. The learning curve is so steep that it requires a village to encourage one another to stick with it. But once you make it over the first hump, you unlock a world so indescribable you feel almost omnipotent.
"There's this idea," Bolanos said. "There's this energy coming from thousands of miles away that goes into the water. It then transports thousands of more miles until it hits the shore. And then you get to ride that 'something' that was created thousands of miles away. And what you're really experiencing is the last breath of that wave. The energy is being released… and it's dying. So, in many ways, you're entering the spiritual dimension of riding the wave's last breath, and it's almost an honor to do that. It's a sacred moment that you're taking on this last breath of this wave. It's traveled thousands of miles for your joy, but you're also honoring it too."