Born With a Screen
As the first digital natives, Generation Z uses social media as an outlet for assembly and a platform to create social change
6
MIN READ
For the first time in history, a young generation has access to technology that has forever changed the ways they think, communicate and live. As Generation Z navigates the world through their screens, they work together to overcome global issues in hopes of creating social change.
From the Civil Rights movement to the invention of the Internet, baby boomer April Komenaka has witnessed life throughout several monumental advancements across the world.
"
Gen Z has learned to not only tolerate, but to accept and even celebrate differences between their identities."
— April Komenaka
Komenaka believes that by growing up in a digitally-infused environment, Gen Z has acquired an understanding of technology unlike any other generation. "Social media and technology have enabled people to enjoy access to so much information," Komenaka said. "Among themselves, they have to learn to filter out what's important, what's accurate and what isn't."
Access to social media has a lasting impact on the formation of Gen Z's values and ideologies. "My life experience has led me to believe that Gen Z has learned to not only tolerate, but to accept and even celebrate differences between their identities," Komenaka said. "Gen Z wants the world and their country to be as good as it can be."
United by their advocacy for social change, Generation Z's belief that the world can progress is ratified by the positive revolutions of earlier generations.
"I believe Gen Z stands out because they have the understanding that the world can be a much better place and that major social changes have been made, which means social change can continue to be made," Komenaka said. "In that sense, the older generation has passed on to Gen Z the vision that they can make a difference."
A new way of life
Paly senior Rachel Owens is the president of Vote16 Palo Alto, a youth-led group working to lower the voting age to 16 for Palo Alto municipal elections. Through this position, she has found herself using social media platforms to spread awareness on Vote16's mission. "I use my phone every day, and so do most people I know," Owens said. "Gen Z knows how to navigate the world a lot better than older generations with respect to technology."
With the advancement of technology, our world has been more connected than ever before. "We are now able to reach large audiences of people very easily in a way that hasn't been done before," Owens said.

The bad comes with the good
Although technology has presented the world with a plethora of opportunities, living life through a screen has its faults.
When the answers to most questions are just a couple of clicks away, it can be difficult for Gen Z to develop important life skills on their own. "The biggest problem with technology is that it decreases people's creativity and their ability to think critically," Owens said.
By listening to younger audiences, LookUp, a nonprofit organization, is redefining the relationship between the youth and technology, providing them with opportunities to utilize multiple social media platforms in a beneficial and productive way. Susan Reynolds, Co-founder of LookUp, has dedicated her career to combatting the consequences of technology and social media on Gen Z.
"
Virtual living allows for the negative effects of tech and social media to amplify existing issues."
— Susan Reynolds, Co-founder of LookUp
"LookUp's approach to reverse the negative effects of technology is to support the ideas, initiatives and campaigns of the youth," Reynolds said.
From social isolation to digital addiction, the consequences of technology Gen Z faces are magnified as the coronavirus pandemic progresses. "Virtual living allows for the negative effects of tech and social media to amplify existing issues," Reynolds said.
Good social change can be initiated as LookUp believes that in order to resolve these negative influences, Gen Z needs to reach out to one another and communicate their ideas. "The youth need to continue to gather, organize and mobilize online to bring changes," Reynolds said. "Their optimism and energy bring hope to the older generations who are strong allies."
LookUp understands that Gen Z's experience with technology as digital natives differs from that of other generations. They have done research to find ways to alter the negative effects technology has on the newer generation "LookUp shares the [research] and turns to Gen Z and asks, 'What should you do? What should we do?'" Reynolds said. "We want to hand the power over to Gen Z, but also have adult allies waiting in the wings to support them."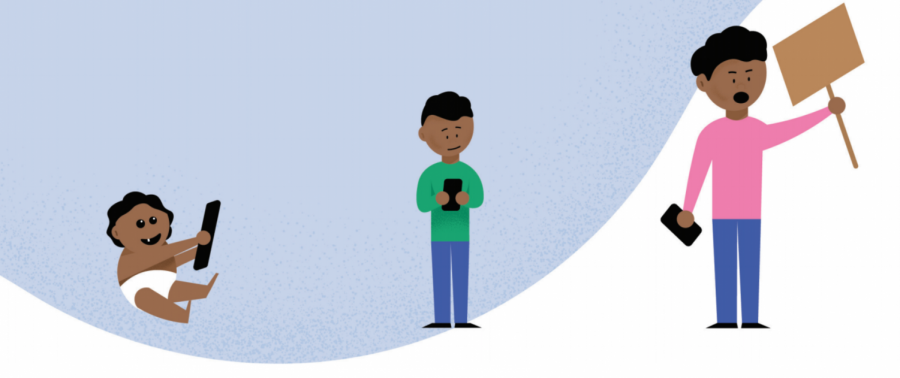 Rising up
LookUp provides opportunities for Gen Z to utilize social media as a platform for social justice. "One of LookUp's startup questions is about digital activism and using tech platforms to promote good solutions to problems," Reynolds said.
The internet and social media have served as a place where the voices of the youth are heard. "Gen Z has a platform to promote change, gather others who support their ideas for change and broadcast their message so much easier than before," Reynolds said. "Black Lives Matter, #Metoo, March for Our Lives and Greta Thunberg's campaign for Climate Change were all augmented with the potential to reach millions because of the power of tech and social media."
The universal nature of technology makes global communication possible in an influential way than previously possible. "[Gen Z] can organize across a physical distance and globally, particularly now during the pandemic, and the ability to host things virtually allows them to bring more people in," Reynolds said. "It's about finding a little bit of a silver lining in this current pandemic."
Throughout Reynolds' career working with children of all ages and backgrounds, she witnessed their interest in creating social change flourish. "I saw the difficulties Gen Z was facing, but I also met youth who were eager to become involved in reducing the stigma of mental health and organizing around other global issues," Reynolds said.
Through their desire to make a difference, Gen Z has the potential to better their futures. "The youth are the optimistic and fresh energy we need to solve the world's problems," Reynolds said. "Social media has given the youth a voice [to create change]."
From a screen to the streets
Menlo-Atherton junior Gwen Spencer has first-hand experience with the influence that technology has on her generation. She believes that what differentiates Gen Z from other generations is their access to social media at such a young age. "There are many spheres of influence and access to different types of media which has encouraged our generation to find different outlets and resources unlike our parents," Spencer said.
Spencer co-founded Teens Create Change, a program that encourages teens below the voting age to become more civically engaged. "I wanted to get more involved in a way that isn't performative and create a real change," Spencer said.
"
If we can use the power of social media for good and really get behind it, we can create actionable and tangible change."
— Gwen Spencer, Co-founder of Teens Create Change
The power of social media has set the stage for a uniquely stronger and more unified Gen Z. "If we can use the power of social media for good and really get behind it, we can create actionable and tangible change," Spencer said.
Lizzie DeKraai, one of Paly's Social Justice Pathway teachers, has witnessed Gen Z's action towards social change and offers a new perspective.
Dekraai's students are committed to finding ways to enrich society by working together and finding possible solutions. "They were at the protests and the Juneteenth rally," Dekraai said. "They're emailing city council members, they're interviewing city council members, community organizers, activists and people who are formerly incarcerated."
Throughout her teaching experiences of interacting with many students and adults, Dekraai has detected differences between Gen Z and other generations. "As digital natives, Gen Z has been exposed to so many more ideas, issues, people and thoughts than previous generations ever were," Dekraai said. "So I think that this is the most tolerant generation yet."
Overall, the powerful social progress in the world over the past century has inspired vast participation in activism amongst Gen Z. "I believe that many of them are on the track to saving the world," Komenaka said. "If we can just not stifle that passion and that energy, I think they will be able to transform the world."