Five Fresh Recipes for the Spring Season
These new foods will help you jump into the spring spirit from the comfort of your home
5
MIN READ
With Spring finally starting, it's time to crack open the cook books and take advantage of in-season produce by enjoying satisfying, fresh food– and C Magazine is here to help!
Bringing you a full-course meal plan full of comforting recipes, staff members Sarah Bakkash and Sarah Sheaffer help catapult you into the new season with delicious, memorable flavors.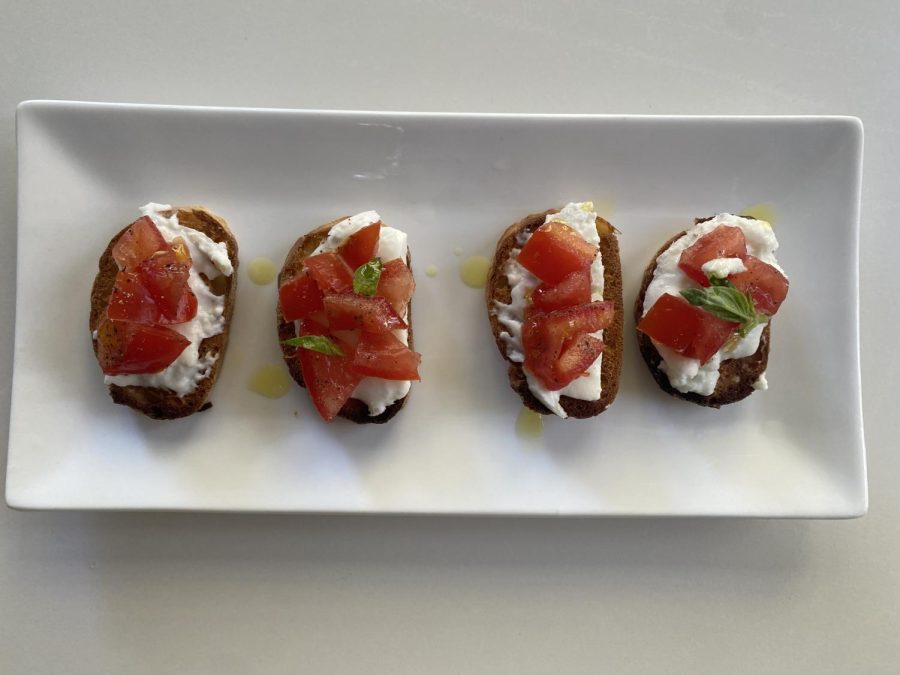 Tomato and Basil Bruschetta
With hints of seasoned basil, refreshing tomato and creamy burrata, these mini bruschetta hors d'oeuvres are easy to make and the perfect start to any spring meal.
To make bruschetta, you are going to start by cutting up a french baguette into thin slices, about two centimeters thick.
Before assembling the other parts of the meal, put the slices of baguette into the toaster oven until golden and crispy.
While they are toasting, it's time to prepare the burrata. Burrata, or buffalo mozzarella, is usually kept in water and the cheese must be dried in order to avoid making the bread soggy. After the cheese is dried, cut it into slices and spread it on the crispy baguette.
With that aside, take out tomatoes, basil, and olive oil. Wash both the tomatoes and the basil, dice the tomatoes according to the size of the bread slices and mix with salt and pepper.
Carefully place a tablespoon of tomatoes over the burrata and top with pieces of basil. Drizzle olive oil over the bruschetta and season again with salt and pepper, and you're ready to enjoy!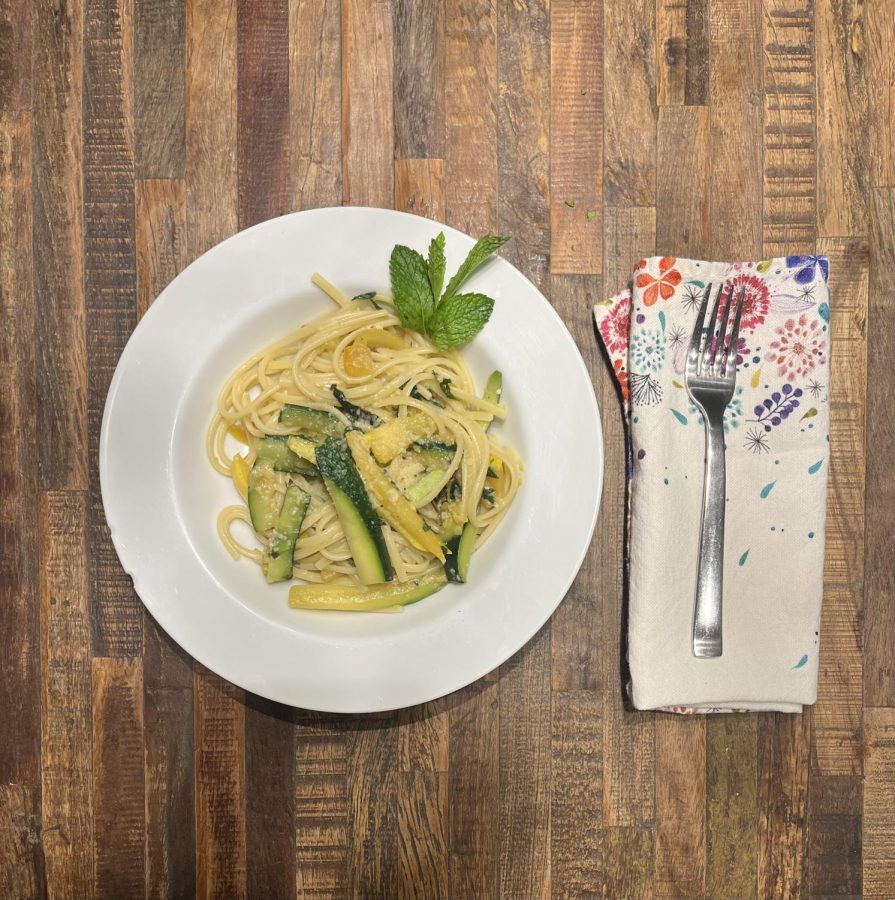 Zucchini and Squash Linguini
The main course of this meal plan is a light, citrusy pasta, perfect for taking advantage of the seasons' produce with delicious vegetables.
Start by bringing four cups of water. While the water heats, slice one zucchini, one yellow squash and around 20 mint leaves lengthwise and in half to create thin matchstick-like strips. Saute until brown in a frying pan with one tablespoon of olive oil on medium heat.
Once the water is boiling, add one half pound of linguine, stir and let it sit for ten minutes. In the meantime, zest and juice a full lemon and put aside.
If the pasta is soft and flexible, keep one half cup of the pasta water to the side before straining. Transfer the strained pasta to the frying pan containing the sauteed vegetables and pour the leftover pasta water, lemon juice and zest on top. Mix in around one half cup of parmesan cheese into the pasta while hot.
Garnish with mint and parmesan cheese to your taste!
Citrus Rainbow Salad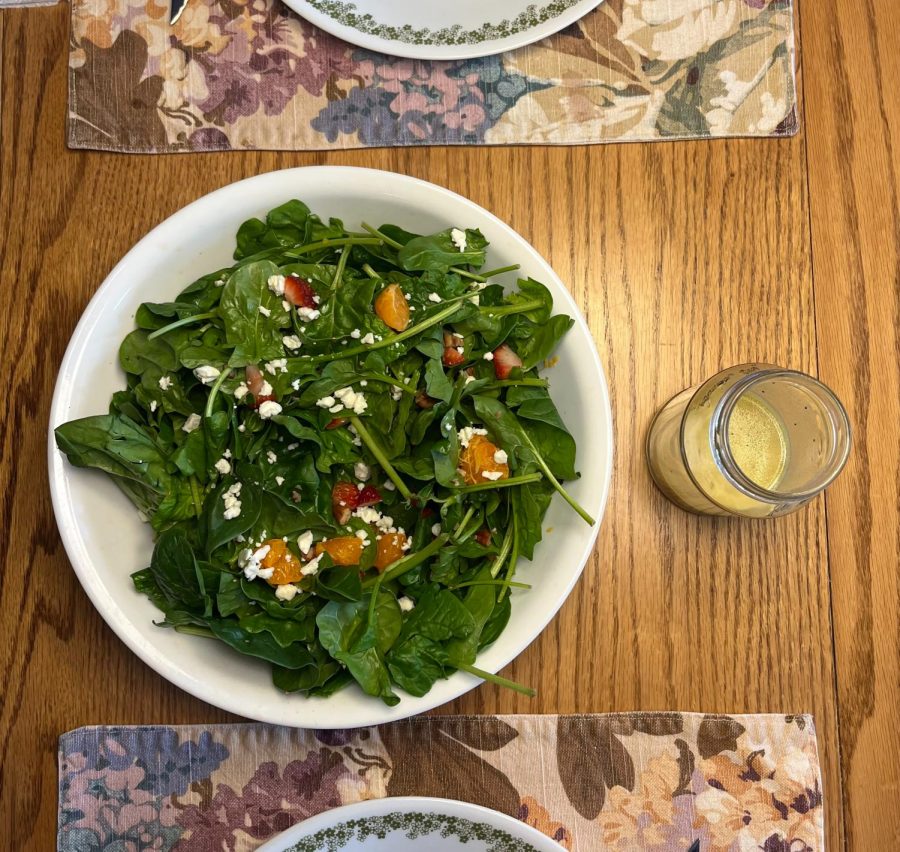 After a good helping of the vegetable penne, our sweet and flavorful spinach and strawberry salad is the perfect palette-cleanser.
Start by washing around seven ounces of spinach and drying thoroughly in a mixing bowl. Then cut five to ten strawberries into quarters and peel two mandarin oranges, removing as much of the skin as you can from each individual carpal and cutting each in half.
Dice around 20 walnuts and thoroughly mix all the ingredients in a bowl.
Top it off with feta cheese and a simple dressing made from the juice and zest of a lemon, one teaspoon of poppy seed and honey and one tablespoon of mustard.
This easy salad is a quick additive to the rest of our meal plan that will leave you in the perfect spring mood.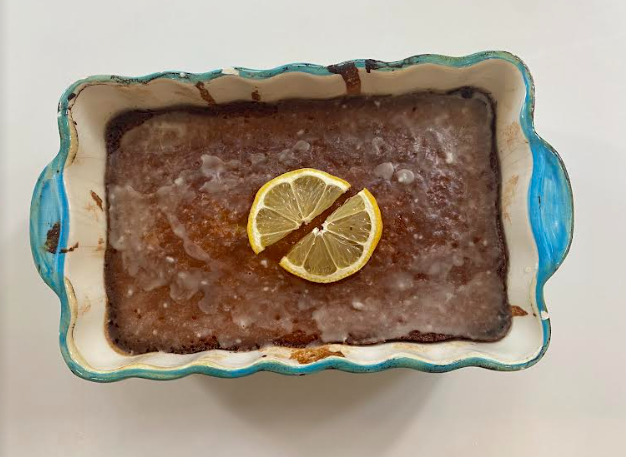 Lemon Bread with Vanilla Icing
After the delicious appetizers and main dish, it's time for dessert!
A great way to end the meal is with something sweet but not overpowering. That's where the lemon bread comes in, topped with lemon glaze. It's sweet, citrus, and a perfect summer treat!
Since this recipe does have a lot of steps, it's most reasonable to list the ingredients out first so nothing gets mixed up. The ingredients are listed below.
Batter:
1 ½ cups all-purpose flour
½ tsp of salt
1 ½ tsp baking powder
1 ¼ Tbsp lemon zest
½ cup of unsalted butter (1 stick and at room temperature)
1 cup of white granulated sugar
2 eggs
1 tsp of vanilla extract
2 Tbsp of lemon juice
½ cup of buttermilk
Icing:
1 ¼ cup of powdered sugar
2 Tbsp lemon juice
1 Tbsp of milk
First preheat the oven to 350 degrees Fahrenheit. To prepare all of the equipment, set aside two medium sized bowls and a stand mixer with beaters attached (a hand mixer is also acceptable).
In the first bowl, mix the flour, baking powder, lemon zest, and salt together until fully incorporated.
In the stand mixer, cream the butter and sugar together until light and fluffy. It's important that there aren't any clumps and that it's a smooth consistency. This will take about 5 minutes. After the two ingredients are creamed, add in each egg one at a time, mixing in between. Then add the vanilla extract and lemon juice.
Next is the dry ingredients and the buttermilk. Add in the flour mixture and buttermilk in sections (about 2-3). First add in a portion of the flour mixture and mix. Then add a portion of the buttermilk and mix. Continue alternating between the two until everything is mixed into the stand mixer.
With butter or oil, grease two loaf-sized pans. Evenly distribute the batter to each of the pans. Place inside the oven and set a timer for about 50 minutes. Once golden brown, stick a toothpick in the cake. If it comes out dry, it's done! Set aside to cool and prepare the ingredients for the icing.
In the second bowl, mix together all of the ingredients for the icing. Add more sugar or milk accordingly to get the consistency you want. Once the cake is cooled, you can add the icing on top! Once the icing is dry you can serve it and enjoy!
Strawberry Mint Lemonade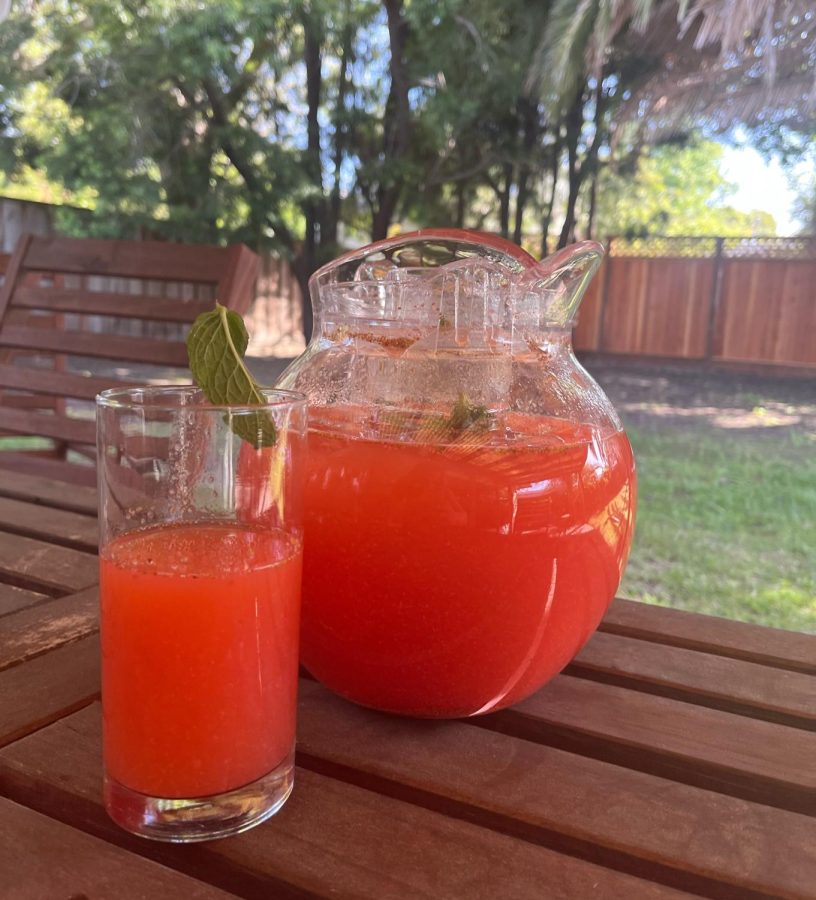 After this filling, decadent meal plan, it's nice to have something to wash it down with. This homemade strawberry mint lemonade is the natural choice with it's clean taste and in-season look.
Start by boiling eight cups of water, stirring in one cup of sugar. Once the sugar is fully melted, set the solution aside to cool to room temperature.
Blend around 10 strawberries into a puree, squeeze three lemons and combine.
Muddle approximately 20 mint leaves into the strawberry-lemon mixture or infuse the leaves into the sugar water.
Combine everything into a pitcher, ice and serve on a sunny, spring day!